Putin Ally Viktor Orban Asks Him to Declare Cease-Fire in Ukraine
One of Russian President Vladimir Putin's European allies stated that he has asked for an immediate cease-fire in Ukraine.
Hungarian Prime Minister Viktor Orban, during a press conference on Wednesday, said that he recently asked Putin for a stoppage of fighting in Ukraine.
Orban also said that he asked the Russian president to come to Hungary for peace talks. The talks would involve, according to the report, heads of state from Ukraine and France as well as Germany.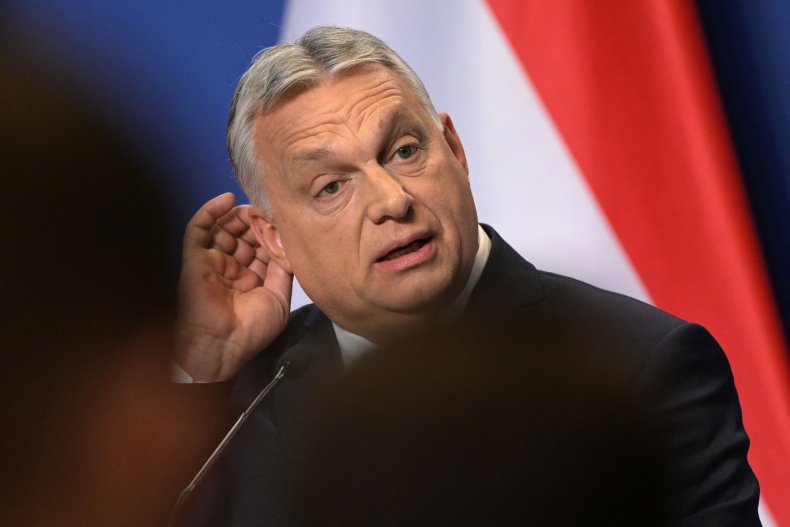 Reportedly, Putin's response to the idea appeared to be "positive." However, Orban did state that conditions would have to be met before moving forward.
"The response was positive but the Russian president said this had conditions. I cannot negotiate to meet those conditions—it should be him and the Ukrainian president agreeing on those," Orban said.
During the press conference, Orban was also asked about the recent images that have come out of Bucha, which appeared to show mass graves in the Ukrainian city and the bodies of hundreds of Ukrainian civilians on the streets. Some of the bodies were believed to have been shot at close range.
Orban stated that given the era we are currently living in, an examination of the photos should be conducted.
"With all atrocities, we have to examine them, even though we live in an era of massive manipulation where we can't be sure if we can trust our own eyes," Hungary's prime minister stated.
However, Orban did call out Russia for starting the conflict with Ukraine, referring to them as the aggressor.
"This is a war that the Russians started, they attacked Ukraine, and it's aggression. This is the joint stance of the European Union, and Hungary shares that stance," Orban said.
While Orban has condemned Russia's invasion of Ukraine previously, he did decline to stop importing gas and oil from Russia, a sanction that has been imposed by other countries.
Orban's comments come after he has just won re-election to his fourth term as Hungary's prime minister on Sunday. Following his victory, Putin sent his congratulations and on Monday, the Kremlin posted a photo of the two leaders along with a caption stating that Putin sent a "congratulatory telegram" to Orban.
Putin also said that he wanted to bring the two countries closer, deepening their ties.
After his re-election, Orban called Ukrainian President Volodymyr Zelensky an "opponent" in a speech.
In response to Newsweek, Hungary's International Communications Office sent a link to tweets from Zoltan Kovacs, the secretary of state for International Communication and Relations, International spokesman of the Hungarian government, on the press conference.