Alphabet's Two-Legged Robot Can Vacuum Your Stairs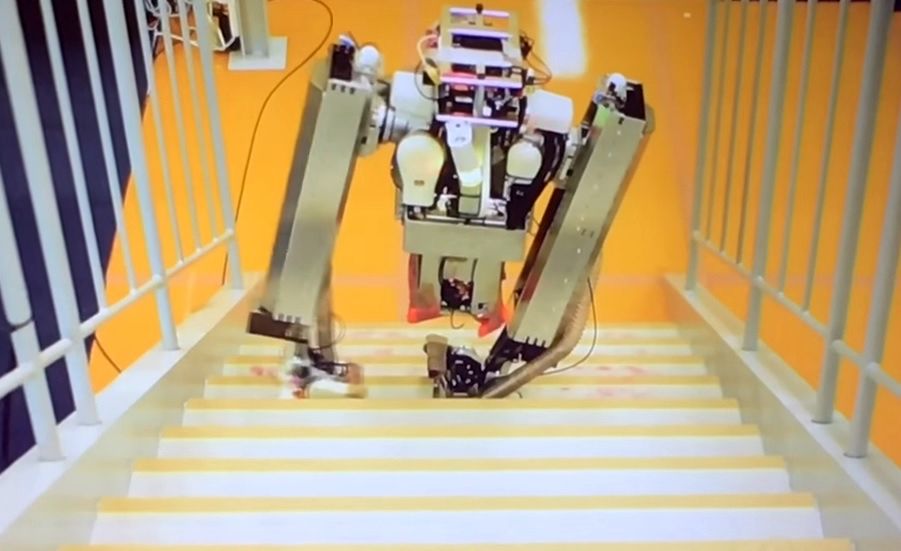 A two-legged robot capable of climbing stairs—and even cleaning them—has been developed by a subsidiary of Google's parent company, Alphabet.
The unnamed robot, built by Japanese robotics firm Schaft, shuns the humanoid form that several other leading robotics makers have adopted, instead removing the arms and using enlarged legs to improve balance and maneuverability.
In a video presentation at an event in Japan hosted by American entrepreneur Andy Rubin, Schaft's robot was shown carrying weights, stepping over obstacles, and cleaning a set of stairs through vacuum attachments on its feet.
Last month, Alphabet announced it was putting one of its other robotics subsidiaries up for sale amid negative reports of robots taking human jobs. Boston Dynamics had previously gained attention after developing a humanoid robot that was touted as the "soldier of the future."
The Atlas robot was demonstrated in a video that showed its ability to navigate rough terrain, pick up objects and self-right itself when pushed to the ground. Beyond military use, the commercial applications of Atlas were not immediately clear.
In contrast, the Schaft robot's ability to perform household chores could hint at it being developed as a domestic assistant in the future.
"The team were simply delighted to have a chance to show their latest progress," said an Alphabet spokesperson.
"As with all of the robotics teams that recently moved from Google to X [Alphabet's research division], we're looking at the great technology work they've done so far, defining some specific real-world problems in which robotics could help, and trying to frame moonshots to address them."