Alt-Right Linked Social Media Activists Welcomed As Members of Britain's UKIP
The United Kingdom's right-wing UKIP party has welcomed three new activists with links to the alt-right as members.
Paul Joseph Watson, Mark Meechan—who goes by Count Dankula on YouTube—and Carl Benjamin—known as Sargon of Akkad—have been accepted as members of the Euro-skeptic populist party, The Guardian reported on Monday. The decision comes as prominent UKIP members have raised concerns about the party's perceived shift to the far-right under the leadership of Gerard Batten, who took charge in April.
All three of the new members are controversial social media figures, with sizable followings.
Watson is a senior editor at the U.S. website Infowars, which has promoted numerous false conspiracy theories, including suggesting that the 2012 Sandy Hook Elementary School shooting in Connecticut was fabricated. His writings generally condemn Islam and call for anti-immigration policies.
Benjamin was banned from Twitter after anti-feminist comments led to rape threats against a female member of the British parliament. He continues to post videos on YouTube, however. Meechan is best known for posting videos of his girlfriend's dog doing Nazi salutes. As a result, he was fined £800 ($1,062) for sharing "grossly offensive" and "anti-semitic and racist" material online.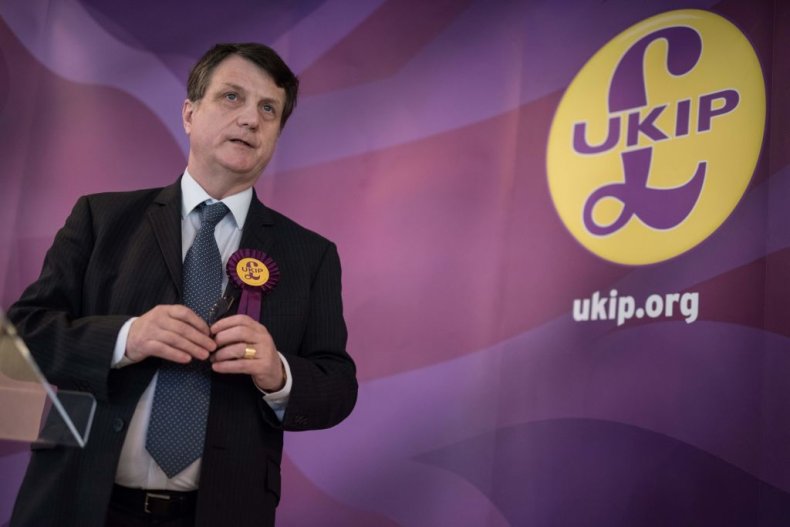 Despite their views, a spokesperson for UKIP told The Guardian that he "took issue" with the idea that the men are connected to the alt-right.
UKIP's decision to accept the controversial online activists is expected to draw further criticism of the party, which has seen decreasing support as of late. A recent poll showed that the party currently only enjoys three percent support in the U.K., despite winning nearly nine percent of the vote in 2015.
Nigel Farage, one of the party's most prominent members and the leading campaigner behind Brexit, has questioned Batten's recent decisions. Farage has specifically suggested the UKIP leader has made a mistake in supporting activist Tommy Robinson.
Robinson, whose real name is Stephen Yaxley-Lennon, is a far-right activist and a co-founder of the English Defense League. He was jailed in May for 13 months after broadcasting details of a trial subject to reporting restrictions via social media. He is also well-known for his staunch opposition to Islam.
Batten has criticized the decision to imprison Robinson and has also voiced anti-Islam positions. He has previously described the global religion as a "death cult." He also famously called for Muslims to sign a document denouncing their religious holy book, the Quran.
For his part, Farage has taken issue with the overtly anti-Islam stance of Batten and others in UKIP. While he said his party is correct to address Islamic extremism, he added that members of UKIP "absolutely have to get that Muslim majority living in many of our towns and cities on our side," The Guardian reported earlier this month
The British organization Hope Not Hate, which reports on alt-right groups, said that Batten is "leading UKIP down a dangerous route, and the acceptance of figures such as Watson is further evidence of this."