Is the Alt-Right Dying? White Supremacist Leaders Report Infighting and Defection
The white supremacist, alt-right movement that rose during the presidential campaign of President Donald Trump appears to be splintering.
Kyle Bristow, an attorney and key ally to alt-right leader Richard Spencer said this weekend he was dropping out of politics a day before he was slated to host a white nationalism-themed conference in Detroit, Michigan. As this was happening, other key figures in the movement lashed out at one another in a public way, accusing each other in heated terms of sabotaging their efforts to organize.
The chaos, defection and infighting shows a political movement mired in turmoil seven and a half months after appearing united at the deadly Unite the Right event in Charlottesville, Virginia.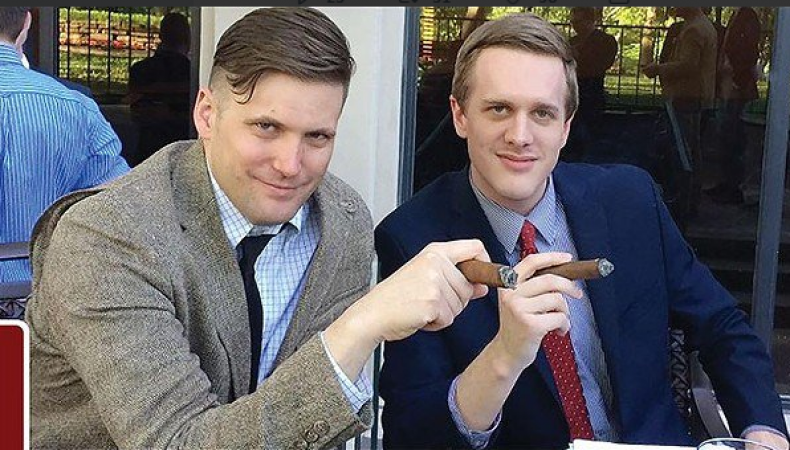 Bristow, a white nationalist lawyer based in Michigan, defected from the movement on Saturday just before his own organization, Foundation for the Marketplace of Ideas, was to hold an event in Detroit on Sunday. The event, which was billed as an opportunity to hash out the direction of the anti-immigrant, anti-Semitic alt-right movement, was cancelled. Spencer, who had been scheduled to attend Bristow's event ahead of a speaking engagement on Monday at Michigan State University in East Lansing, was forced to hold a small gathering at a private residence as a substitute, he told Newsweek.
"I support Kyle in whatever path he chooses to take," Spencer told Newsweek. "We're in touch."
Spencer spoke at Michigan State University in front of a sparse crowd of fewer than 50 people on Monday. He didn't address the subject of splintering in his movement, but acknowledged that the alt-right was going through "growing pains." The meager turnout for Monday's rally showed a significant decline from rallies the alt-right held as recently as last October, when slightly more than 200 people showed up to a "White Lives Matter" event in Tennessee.
Bristow represented Spencer in his attempts to give speeches at several colleges throughout the country, and argued successfully to allow his client a chance to speak Monday at Michigan State University, his own alma mater. He was also an integral and unifying figure in the so-called racist right going back for the better part of a decade. Bristow published in 2010 a novel called White Apocalypse, which detailed violent fantasies directed at Jewish people, people of color and characters that eerily resembled staffers at the Southern Poverty Law Center. He also voiced big plans of creating his own rights group, as a way to defend the alt-right movement on grounds of free speech, and was in the middle of raising money on the crowdsourcing site Patreon toward that goal. Bristow did not respond to a request for comment, but he blamed his exit from the movement on journalists in a statement.
"In light of the recent relentless and unjustifiable vilification of me, as well as the mischaracterizations of who I am as a person, I have unilaterally made the decision to provide this clarification and to withdraw from politics," Bristow wrote on Saturday in a parting statement to the alt-right, which was published on his wesbite.
Ryan Lenz of the Southern Poverty law Center told Newsweek Monday that Bristow's unexpected departure was significant for the movement in part because it would force Spencer to find new representation to continue his current efforts at galvanizing press attention, which typically occur when protesters mobilize to shut down his speaking engagements. Bristow has bragged in the past that Foundation for the Marketplace of Ideas was the "sword and shield of the Alt-Right." ​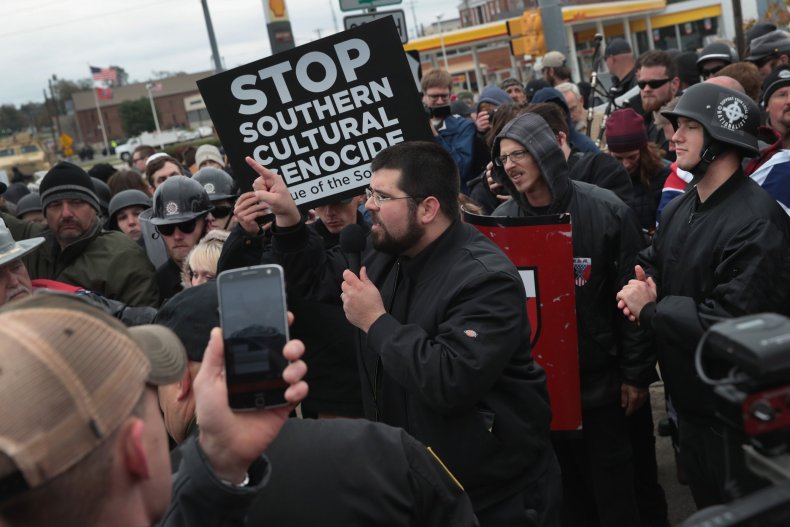 To be sure, recent turmoil in the alt-right movement has spread beyond Spencer's inner circle. Daily Stormer, a neo-Nazi website that once served as the de facto homepage for young white supremacists, was uncharacteristically silent Monday about Spencer's speaking appearance at Michigan State University. When Spencer spoke at the University of Florida in October, in contrast, the website promoted that event. The shift may have something to do with Spencer's recent alignment with the Traditionalist Worker's Party, a small, neo-Nazi group that has become a regular fixture at alt-right protests throughout the country over the last few years.
Andrew Anglin, Daily Stormer's editor, sniped publically at Matt Heimbach, the leader of the Traditionalist Worker's Party, calling him a "good-natured but socially awkward fat kid" on a popular alt-right forum on Saturday, while denouncing his influence as a leader. Anglin, and his colleague, Andrew "Weev" Auernheimer, took turns ridiculing the presentation of Traditionalist Worker's Party rallies, suggesting their uniforms and "communist" rhetoric were discouraging people from aligning with their cause.
"Everyone in the alt-right is a malignant contrarian," Lenz said about the growing divisions in their movement following the united front the alt-right displayed in Charlottesville. "They come from a culture where insults are the coin of the realm."
Anglin and Auernheimer were in turn criticized in a public way on the same forum throughout Saturday and Sunday for linking the alt-right to overt neo-Nazism, violence and misogyny. Auernheimer has publically praised Atomwaffen, for example, a neo-Nazi group linked to a string of brutal murders, a move that has caused embarrassment to Traditionalist Worker's Party and members of the "Southern Nationalist" outfit League of the South, two groups that marched in Charlottesville last August. Anglin has spoken in sadistic terms about white women, going so far as to celebrate the idea of them being raped and physically abused.
Daily Stormer are "hypocrites who are clinging to failed reactionary politics," Heimbach told Newsweek on Monday about the public collapse into infighting.