The Alt-Right's Worst Nightmare Is An Antifa Middle School Teacher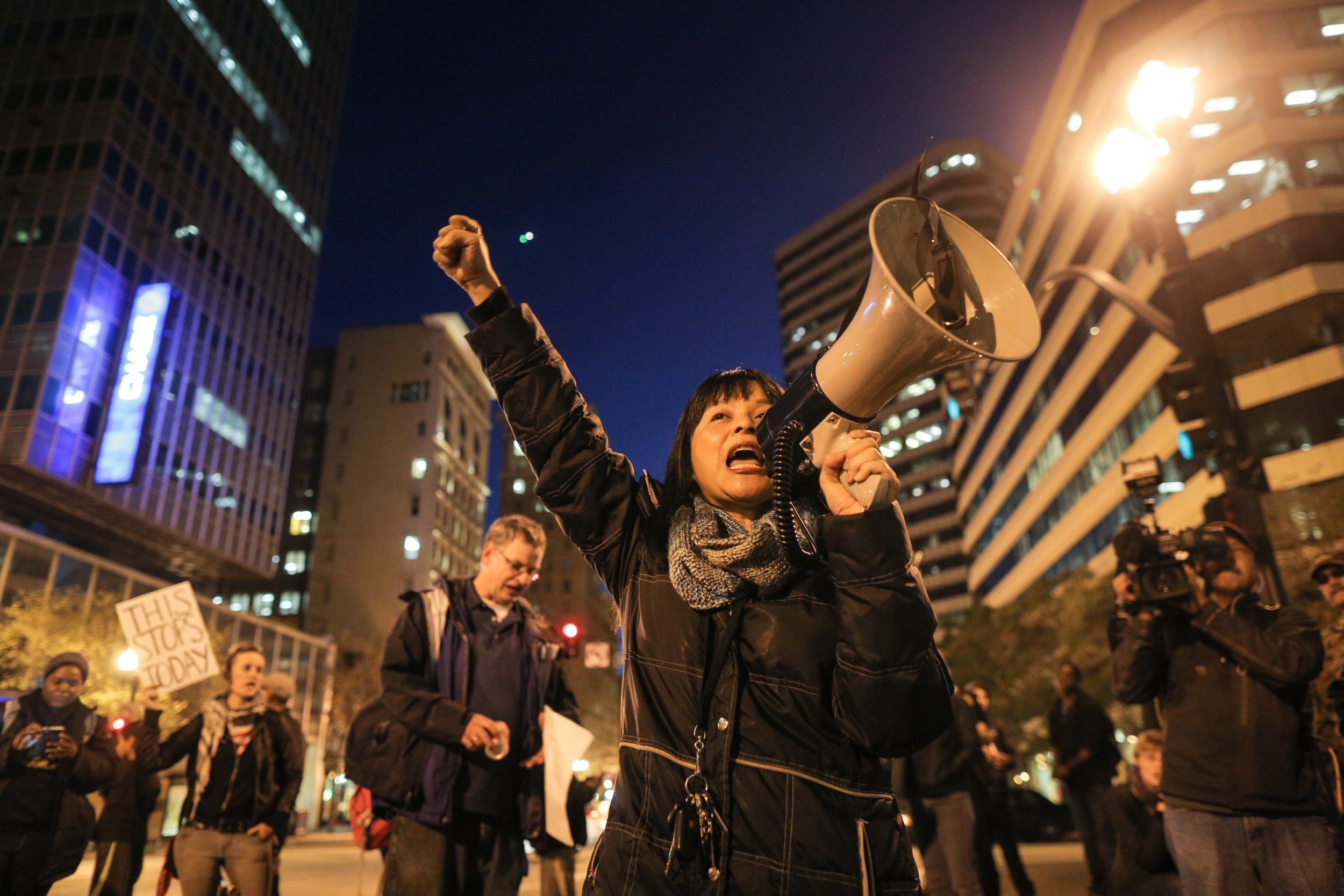 Anti-fascist leader Yvette Felarca doesn't seem particularly imposing: She's just 5 feet tall, for one thing. In TV appearances, like one in which she tangled with Fox News host Tucker Carlson, she's polite and keeps a schoolteacher's control of her emotions.
But the 47-year-old Filipino immigrant and middle school teacher is loathed by some figures on the right to the point of obsession. She has helped galvanize a series of counterprotests in her hometown of Berkeley, California, against conservative figures like Milo Yiannopoulos, as she did on Sunday, where his doomed "Free Speech Week" event lasted under a half an hour.
YouTube videos denouncing Felarca and her immigrants' rights organization, the Coalition to Defend Affirmative Action, Integration & Immigrant Rights and Fight for Equality by Any Means Necessary (BAMN), which employs loud, self-described "militant" tactics to disrupt conservative and white nationalist speaking engagements, have garnered hundreds of thousands of views. British YouTube commentator Carl Benjamin, who has more than 700,000 subscribers and is known as Sargon of Akkad, calls the group "a violent cult."
Anonymous social media comments are harsher and refer to BAMN as a group of "antifa retards," calling out for Felarca to be physically hurt.
Felarca claims she's received more violent threats "than she can count." The vitriol is sometimes directed at the school where she teaches young kids.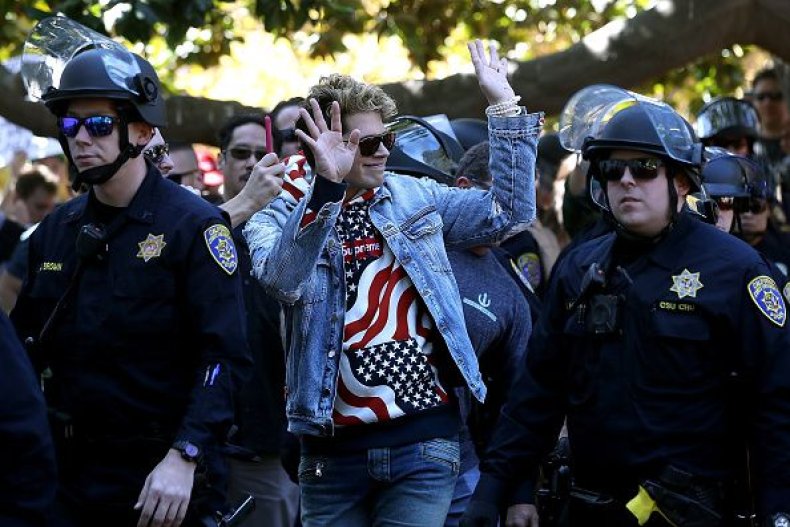 "These people are trolls, and all they do is live behind their computers," Felarca tells Newsweek, speaking of the "alt-right" activists who seem to monitor her every move. "It expresses how weak they really are, how threatened they are by immigrants and especially women."
She adds, "I've asked them directly: Do you have a problem with your mother?"
Felarca has developed a reputation for aggressively confronting men during protests who are sometimes over a foot taller than she is. Frequently, she organizes a whole crew of BAMN members and other activists to completely circle conservative and white nationalist political targets at these events and then shout them down—sometimes with women of color going chin to chin with big white men in "Make America great again" hats.
The activists chant slogans like "No Trump, no KKK, no fascist USA!" This tactic, which by her recollection she has been employing for over two decades now with BAMN, tends to create a cacophony of competing voices where no one can be heard with any reasonable degree of clarity.
Felarca has now tangled twice with Yiannopoulos. She claims to have played a role in "shutting down" a scheduled appearance with him at the Berkeley university campus in February and again on Sunday afternoon.
"We shut Milo [Yiannopoulos] down," Felarca says of Yiannopoulos's doomed event, which was to feature high-profile guests like former Trump adviser Steve Bannon and anti-immigration pundit Ann Coulter before collapsing as its start date drew near. "Once our march came through, he hightailed out of there. It was extremely embarrassing for him."
Yiannopoulos has a different account of what occurred on Sunday, when he spoke briefly on the University of California, Berkeley, campus. He cites security concerns as the reason why his speaking engagement was aborted so abruptly after Felarca and her fellow protesters arrived.
"She gives herself too much credit," Yiannopoulos told Newsweek about Felarca in an email. "My security told me they had to get me and the other speakers out of there. I felt no emotions. Certainly not fear."
Yiannopoulos added that he actually "loves" Felarca and admires her "grit and enthusiasm," even if those feelings aren't shared by his fans.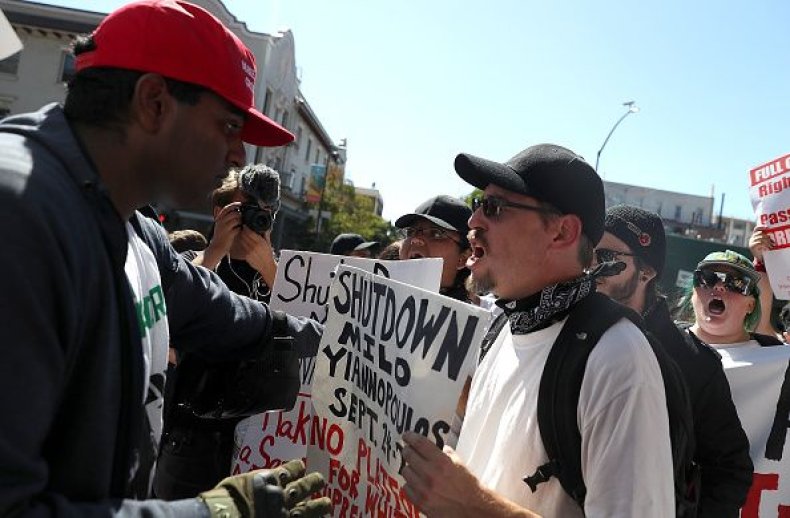 Felarca is paying the price for her brand of activism, beyond the threats she says she's received. In July, she was charged by police with assault and inciting a riot for her actions in a 2016 face-off between white nationalist groups and counterprotesters that took place in Sacramento.
She has been advised against discussing the charges in the Sacramento case, which is in pretrial, but claims she and other activists have been "scapegoated" for protesting. The next court date in the case is scheduled for October 4. The charges haven't deterred her from participating in protests, which she says she does to "defend immigrants."
"We have a right to dignity, and we have a right to live," Felarca says of immigrants.
Felarca is consistent in her attacks on Yiannopoulos and similar figures. Her belief is that such people shouldn't be given a platform to speak—period.
Yiannopoulos told Newsweek, "I hope she will debate me when I'm next in town." The conservative media star's page on Facebook has over 2 million likes, and a media spectacle between him and a woman who would likely be billed as the face of the antifa movement could certainly boost Felarca's name recognition. But the idea doesn't entice her.
"Absolutely not," she said of the invitation to debate Yiannopoulos. "There should be no platform for white supremacists."
Referencing Yiannopoulos's notorious manner of talking about the president, she sprinkles in a joke.
"I mean, I'm sorry but I'm not debating anyone that calls Donald Trump 'Daddy,'" she quips.