Alyssa Milano Says 'There's Not a Leadership Bone in His Body' After Trump's Return to White House
Alyssa Milano is back on the attack against President Donald Trump. During a Tuesday appearance on ABC's The View, the Charmed actress declared, "It's almost as if he tries hard to be the worst leader he possibly can."
Milano made her comments in the wake of what she perceives as a badly timed and outright dangerous public relations attempt by Trump to downplay the effect that COVID-19 has had on him, as well as the seriousness of the virus altogether.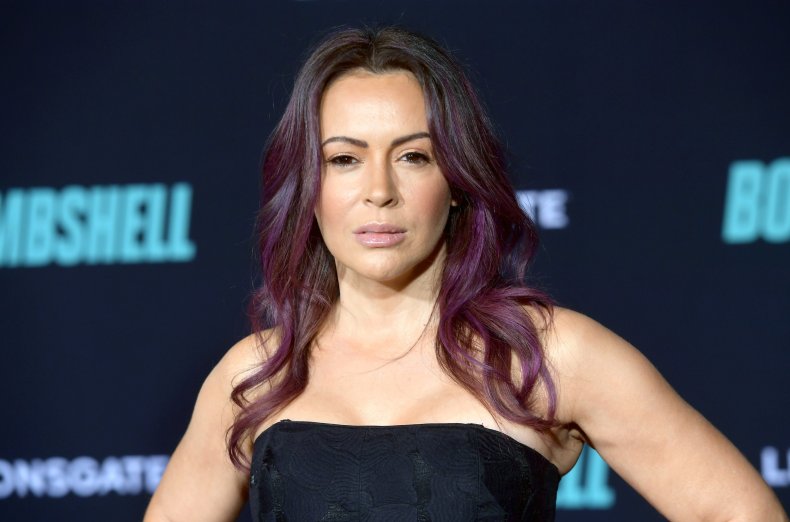 The actress-activist has long been a vocal critic of the president for all manner of policies and personal characteristics that she disagrees with. Recently, she objected to Trump's performance in the presidential debate against Joe Biden, particularly his comments apparently directed to the right-wing fringe group the Proud Boys. Milano tweeted after the debate ended, "You either denounce white supremacy or you're a f**king racist."
She retreated a bit from criticizing Trump on social media after he tested positive for coronavirus. Upon hearing the news, she tweeted out that she "wouldn't wish this virus on my worst enemy," while also encouraging her followers to wear a mask.
In August, Milano revealed that she had contracted COVID-19 earlier in the year and was still suffering from lingering symptoms, which for many include fatigue, muscle aches and problems with concentration. In an Instagram post, she said she was feeling better than she was a few weeks before, but still had "occasional heart palpitations." She was also briefly hospitalized around that time after experiencing heaviness in her chest. She reported she had been "acutely sick" with COVID-19 in April, but the lingering symptoms caused her to worry she had a blood clot, and she went to the emergency room as a precaution.
All of which might explain her current frustrations with the president. On October 4, following Trump's motorcade ride outside Walter Reed National Military Medical Center, she tweeted, "Is he trying to kill people? He's locked in a sealed SUV with members of secret service. No one told him this was a dangerous idea? A bad idea? A selfish idea?"
Milano went even further on The View. When one of the co-hosts, Joy Behar, asked her during a video call interview how she felt about the SUV ride and appearance at the White House—terming it "his histrionics"—Milano responded, "It's like a Michael Bay film, right?"
She said, "I think the thing that's most upsetting for me is that we're all walking around now like this is all normal, like his behavior is kind of normal, and America is in crisis. By the way, a lot of crises—there's a public health crisis which has killed 215,000 people; there's an economic crisis, right, that's left tens of millions of people out of work. I read a report this morning that 14 million children don't have enough food to eat in this country. There's also a big moral crisis, which has left our country incredibly polarized and very angry and there is a lot of anguish over systemic racism and yet we have this guy who's just worried about a photo-op or waving to whoever he thinks he's waving to."
Milano then delivered her most stinging critique, "There's not a leadership bone in that man's body. It's almost as if he tries hard to be the worst leader he possibly can."