AMA, Other Medical Orgs File Friend of the Court Brief Decrying Texas Abortion Law
More than a dozen of the United States' top medical organizations have filed an amicus brief in Texas' Fifth Circuit Court of Appeals arguing that the controversial abortion law undermines medical ethics.
The American Medical Association (AMA) is heading the court filing denouncing the state's ban on abortions once fetal cardiac activity is detected—usually around six weeks of pregnancy, which is before most people even know they're pregnant.
"The American Medical Association stands firmly against government interference in the clinical exam room, particularly laws and regulations like Texas SB 8 that criminalize the practice of medicine, obstruct the delivery of evidence-based care, and undermine the patient-physician relationship," AMA President Gerald E. Harmon, M.D. told Newsweek. "The deeply inequitable impact that this law will have on already-marginalized patients' access to reproductive health care is dangerous and unconstitutional. We must immediately stop this unnecessary government overreach into physicians' clinical judgment – or risk irreparable harm to the health of our patients in Texas and the overall health of the nation."
In the amicus brief—also known as a friend of the court filing that allows entities like businesses or nonprofits to take one side in a case—a number of medical organizations wrote the abortion law "undermines longstanding principles of medical ethics" and "intrudes into the patient-clinician relationship."
Nineteen medical societies—including the American College of Obstetricians and Gynecologists, the American Academy of Pediatrics, and the Society for Maternal Fetal Medicine—are named in the brief, believing that the Texas abortion ban "causes grave harm to patients and public health" and is "contrary to principles of medical ethics."
They argued that Senate Bill SB 8 is also contrary to patient health and well-settled law, and that the law's passage threatens the health and well-being of pregnant patients by "barring their access to a safe and essential component of reproductive health care."
"In doing so, it disproportionately harms the most marginalized people in Texas—communities of color, people with low incomes and those living in rural areas," it stated.
The 34-page court filing also criticized the bill's enforcement mechanism, which relies on private citizens suing those who have assisted women in getting abortions. It argued this means clinicians are potentially faced with personal and professional liability if they "provide care consistent with their best medical judgment, scientific evidence and moral and ethical duty."
Furthermore, the organizations stated that by deputizing members of the community, the patient-clinician relationship is intruded upon based on allegations.
They added that this will lead to a number of harassing lawsuits that favor the plaintiffs in court and hold anyone inside a woman's support network liable.
They also argued that SB 8 will "exacerbate the already perilous shortage of women's health care providers" as they're also likely to be harassed with lawsuits.
As a result, while the bill may be intended to prevent abortions, it will impact other forms of women's health and reproductive health care.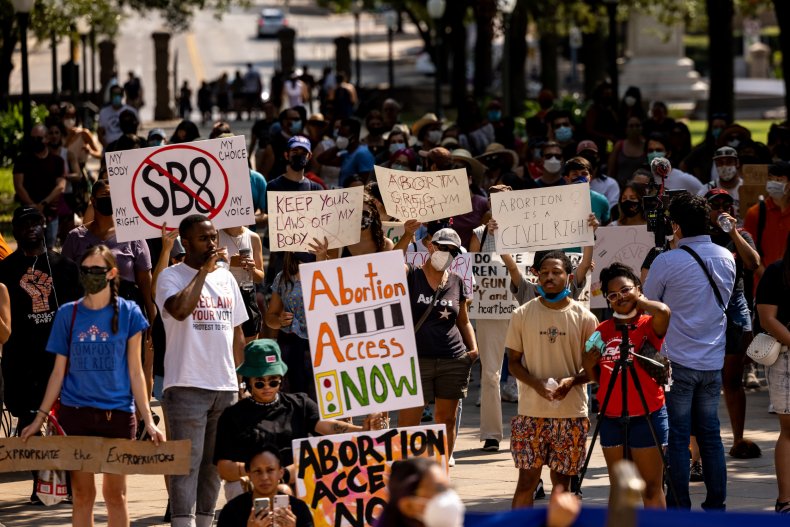 "The Act represents a harmful, unconstitutional and unethical intrusion into the ability of women in Texas to seek essential medical care," court documents stated.
The court filing comes three days after the Fifth Circuit Court of Appeals lifted a temporary injunction prohibiting the state's six-week abortion ban at the request of Texas Attorney General Ken Paxton.
Paxton's request came after U.S. District Judge Robert Pitman prohibited Texas judges and court clerks from accepting lawsuits filed under SB 8. Many speculated that Pitman's ruling would be quickly overturned by the court.
The Fifth Circuit is often considered the most conservative in the country.
They issued a temporary, administrative stay of Pitman's preliminary injunction to consider the state's request for a longer-term stay, which allowed the abortion ban to once again take effect.
"This Court's immediate intervention is necessary to vindicate Texas's sovereign interest in preventing a single federal district court from superintending every Texas court," Paxton's request read.
The Department of Justice (DOJ) has until Tuesday to respond to Texas' request.
Updated 10/12/2021, 4:06 p.m. ET, with a comment from the American Medical Association (AMA) to Newsweek.