What Is Texas' New 6-week Abortion Law That Undermines Roe v. Wade?
A controversial new Texas law banning all abortions after a fetal heartbeat has been detected—effectively prohibiting the procedure after around six weeks of pregnancy—took effect on Wednesday, September 1.
The law, which was signed by Governor Greg Abbott back in May, also allows citizens to sue women who go through with the procedure, including those who aid in getting an abortion.
As one of the nation's strictest abortion measures, the ban applies to cases where the woman was impregnated as a result of rape or incest and only includes an exception for medical emergencies.
The law has been criticized for effectively undermining the intent of Roe v. Wade, the landmark abortion rights ruling handed down by the Supreme Court in 1973 which guarantees a woman's right to access abortions without interference from the government.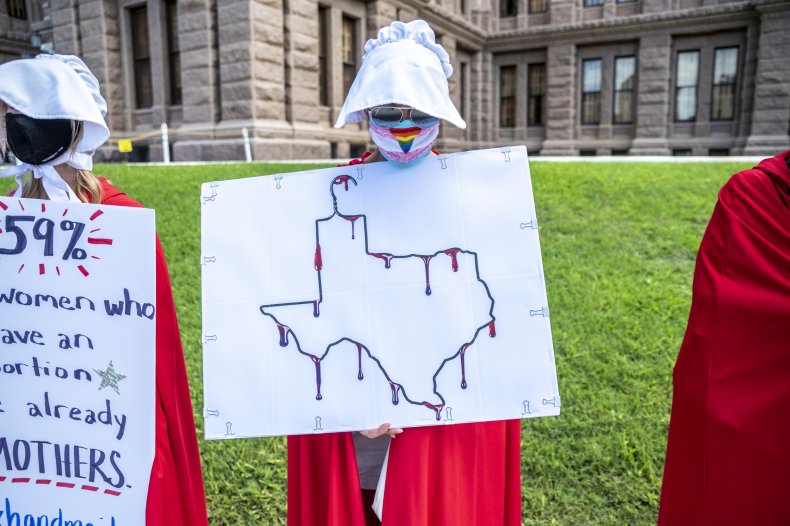 What Is The New Law?
The Texas law, Senate Bill (SB) 8, provides that "a physician may not knowingly perform or induce an abortion ... if the physician detect[s] a fetal heartbeat."
Fetal heartbeats can be detected as soon as six weeks into a pregnancy, when many women are unaware that they are pregnant.
Approximately 85-90 percent of people who obtain abortions in Texas are at least six weeks into pregnancy, according to the Center for Reproductive Rights.
The ban also deems it unlawful for any person to "aid or abet" an abortion, including doctors or health care workers involved in the procedure, anyone who drives a woman to a clinic to receive an abortion, and even those who help fund for the procedure.
The law does not impose criminal penalties for carrying out abortions after a fetal heartbeat is detected, but instead empowers private citizens to enforce it by suing doctors or anyone who assists a woman in getting an abortion illegally.
Anyone who successfully sues would be entitled to at least $10,000. There is no apparent maximum reward.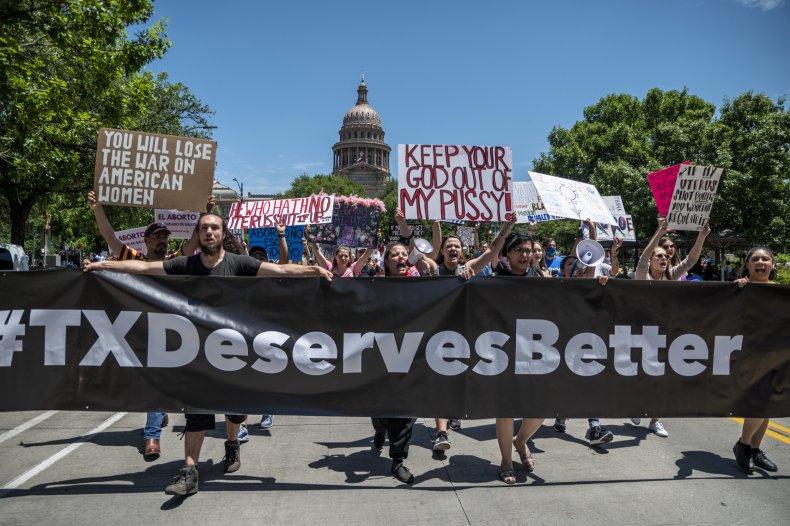 What Was The Supreme Court Ruling?
Abortion clinics across the state filed an emergency motion challenging the bill's constitutionality and asking the Supreme Court to block the law. However, the 5th Circuit Court of Appeals declined to bar enforcement of the legislation. This is not a ruling on the constitutionality of the law.
The matter would have been reviewed by Associate Justice Samuel Alito, who supervises federal courts of the 5th Circuit. The Supreme Court could still grant an emergency stay of SB8 this week. Alito could decide the request for injunctive relief on his own or refer it to the full nine-member court.
Beyond this, there is still the option to pursue a full appeal against the law with the Court of Appeals, and then to appeal any ruling there for review with the Supreme Court.
"In less than two days, Texas politicians will have effectively overturned Roe v. Wade. We have filed an emergency motion in the Supreme Court to block this law before clinics are forced to turn patients away," Nancy Northup, president and CEO of the Center for Reproductive Rights, said in a statement on Monday, August 30.
"Patients will have to travel out of state—in the middle of a pandemic—to receive constitutionally guaranteed healthcare. And many will not have the means to do so. It's cruel, unconscionable, and unlawful."
Alexis McGill Johnson, president and CEO of Planned Parenthood Federation of America, similarly said Texans should have a constitutional right to abortion.
"Without relief, starting Wednesday [September 1] most Texans will be forced to travel hundreds of miles out of state for their abortion, if they can afford to do so," Johnson said.
"The harm this law will cause will be insurmountable for far too many Texans, particularly Black, Latino, Indigenous people, those with low incomes, and Texans in rural areas who already face significant barriers to care."
The Center for Reproductive Rights claims the law will create "a bounty hunting scheme that encourages the general public to bring costly and harassing lawsuits against anyone who they believe has violated the ban."
The U.S. abortion rate is in steady decline according to the Centers for Disease Control and Prevention, as shown in the graphic below by Statista.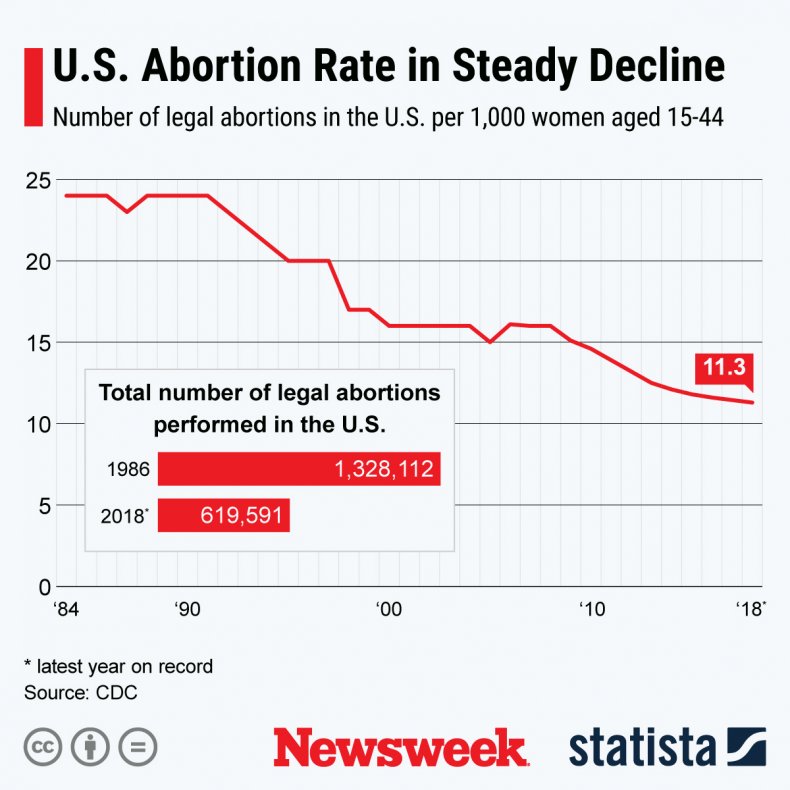 The History of Roe v Wade
In 1973, the U.S. Supreme Court made a landmark ruling in Roe v Wade that legalized abortion nationwide and prohibited states from regulating abortions before the fetus can survive outside the womb, typically around 24 weeks of pregnancy. The new Texas abortion law is seen by critics as a way to undermine that ruling.
Texas is among dozens of mostly Republican-led states that have enacted "heartbeat" and early stages of pregnancy abortion bans, which outlaw the procedure once the rhythmic contracting of fetal cardiac tissue can be detected, often at six weeks, sometimes before a woman realizes she is pregnant. Courts have blocked all such bans and none have as yet been allowed to take effect.
The new Texas abortion law uniquely incentivizes private citizens—not government officials such as prosecutors and health departments—to enforce the ban.
Before signing the bill on May 19, 2021, Governor Greg Abbott defended his decision, saying: "Our creator endowed us with the right to life, and yet millions of children lose their right to life every year because of abortion. In Texas, we work to save those lives, and that's exactly what the Texas Legislature did this session."
The American College of Obstetricians and Gynecologists (ACOG), the nation's largest professional organization of doctors who specialize in women's health, has previously criticized abortion bans that rely on a fetal heartbeat.
"Arbitrary gestational age bans on abortion at six weeks that use the term 'heartbeat' to define the gestational development being targeted do not reflect medical accuracy or clinical understanding," ACOG's former president Ted Anderson said in June 2019.
"Pregnancy and fetal development are a continuum. What is interpreted as a heartbeat in these bills is actually electrically induced flickering of a portion of the fetal tissue that will become the heart as the embryo develops," he said.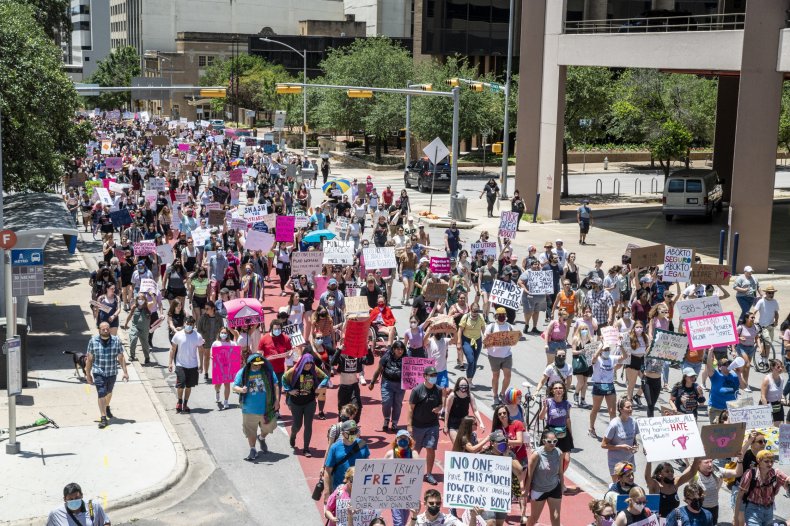 Correction 9/1/21, 7:00 a.m. ET: The headline of this article was corrected to state the law undermines Roe v. Wade.