The U.S. Supreme Court has allowed a Texas law banning abortions after six weeks of pregnancy to go ahead in a move that could be a major blow to the historic precedent set by Roe v. Wade.
The court did not act on an emergency petition from abortion providers in Texas to stay the law, which came into effect at midnight on September 1. The law bans abortions where an ultrasound detects what the law defined as a "fetal heartbeat."
The decision is cause for concern for abortion rights advocates as the court is also expected to examine a Mississippi law that is seen as a direct challenge to Roe. The justices agreed in May to consider the law, which prohibits abortions after 15 weeks of pregnancy.
The Texas Law, Senate Bill (SB) 8, does not impose criminal penalties for carrying out abortions after a fetal heartbeat is detected.
Instead, the law empowers private citizens to enforce it by suing doctors or anyone who assists a woman in getting an abortion illegally.
Anyone who successfully sues would be entitled to at least $10,000.
Texas abortion providers sought an emergency stay of the law from the 5th U.S. Circuit Court of Appeals but the court denied this on Sunday. The plaintiffs then applied to the Supreme Court for emergency relief on Monday.
The matter would have been reviewed by Associate Justice Samuel Alito, who supervises federal courts of the 5th Circuit, and the Supreme Court could still grant a stay of SB8 this week. Alito could decide the issue on his own or refer it to the full nine-member court.
The graphic below, provided by Statista, shows the decline in the rate of abortions in the U.S. among women aged 15 to 44.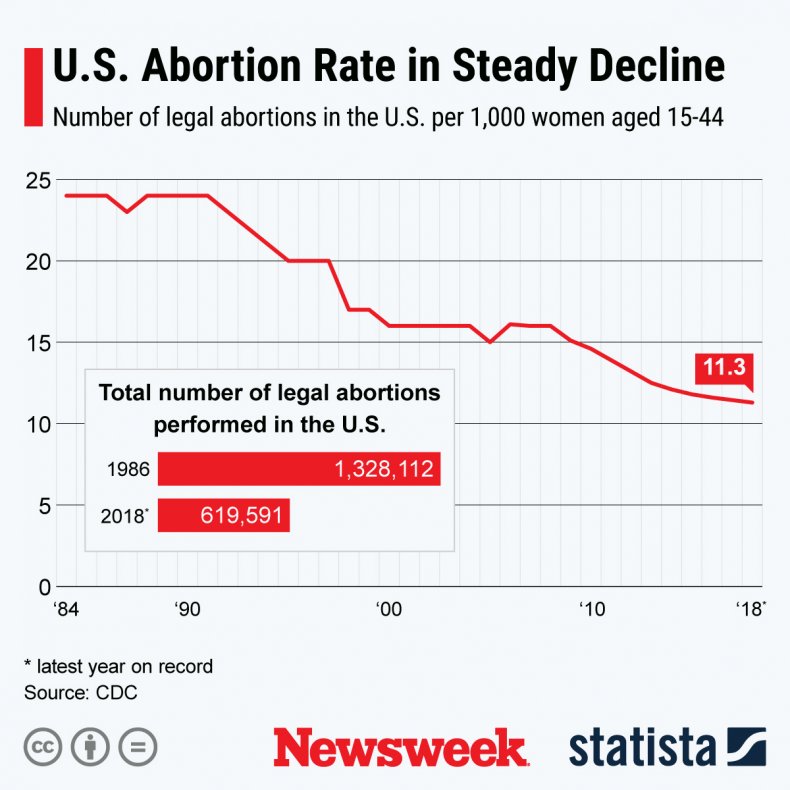 The Supreme Court's failure to respond to the emergency application is not a ruling on the Texas law's constitutionality, however. No court has yet ruled whether SB8 is constitutional. If the 5th Circuit Court of Appeals upholds the law, the plaintiffs will still be able to appeal to the Supreme Court on its constitutionality and the nation's highest court will be able to decide whether to take the case.
Those who sought the emergency relief on Monday had warned about the consequences of letting the law proceed. They argued SB8 would limit abortion access for 85 percent of patients in Texas, as well as forcing many clinics to close.
Nancy Northup, president and CEO of the Center for Reproductive Rights, said on Monday: "In less than two days, Texas politicians will have effectively overturned Roe v. Wade."
"Patients will have to travel out of state—in the middle of a pandemic—to receive constitutionally guaranteed healthcare. And many will not have the means to do so. It's cruel, unconscionable, and unlawful," she said.
Whole Women's Health also referred to Roe v. Wade in their filing to the court. The landmark 1973 Supreme Court ruling made abortion legal throughout the U.S. and SB8 has been seen by critics as a way to get around that ruling.
Whole Women's Health said the law "unquestionably contravenes this Court's precedent and will cause clear harm beginning at midnight tonight, with abortions after six weeks banned throughout Texas — something that has never been allowed to occur in any other state of the nation in the decades since Roe."
"Through no fault of their own, thousands of pregnant Texans will lose constitutionally protected access to abortion in mere hours unless this Court acts," the filing said.
Six weeks is before many women know they are even pregnant and the American College of Obstetricians and Gynecologists (ACOG), the nation's largest professional organization of doctors who specialize in women's health, has previously criticized abortion bans that rely on a fetal heartbeat.
"Arbitrary gestational age bans on abortion at six weeks that use the term 'heartbeat' to define the gestational development being targeted do not reflect medical accuracy or clinical understanding," ACOG's former president Ted Anderson said in June 2019.
"Pregnancy and fetal development are a continuum. What is interpreted as a heartbeat in these bills is actually electrically induced flickering of a portion of the fetal tissue that will become the heart as the embryo develops," he said.
UPDATE 09/01/21 9.20 a.m. ET: This article was updated to include a graphic.
UPDATE 09/01/21 8.02 a.m. ET: This article was updated to include more information.