Amanda Gorman, Inauguration Poet, Wants to Be President One Day
Amanda Gorman, the youngest-ever inauguration poet, stole the show at President Joe Biden's swearing-in ceremony, and the 22-year-old is already making plans for her return to the Capitol.
Gorman, who was named the first youth poet laureate of the United States in 2017, was widely praised after delivering her poem "The Hill We Climb" on Wednesday.
And while her achievements in poetry are impressive, the recent Harvard graduate has an even bigger aspiration: to occupy the same White House where she was invited to perform only several years ago. She has shared her plan with both her alma mater's college paper and The New York Times.
"Gorman described her background as a 'skinny Black girl, descended from slaves and raised by a single mother,' who can dream of being president one day, 'only to find herself reciting for one,'" reporter Alexandra Alter wrote in the Times on Tuesday.
And a 2018 Harvard Crimson profile of Gorman called the young poet "a self-described future candidate for the United States presidency."
After her performance, Hillary Clinton also chimed in on a potential presidential run, saying she would support Gorman's candidacy. Clinton tweeted a selfie with Gorman and former President Bill Clinton with the caption "Wasn't @TheAmandaGorman's poem just stunning? She's promised to run for president in 2036 and I for one just can't wait."
Much like Biden's inaugural address, Gorman's poem called for unity.
In her interview with the Times, she said was struggling to finish the poem on January 6 when a violent, pro-Trump mob stormed the Capitol. She said the day's events led her to stay up late into the night to finish her latest work.
The new verse reads:
We've seen a force that would shatter our nation rather than share it,
Would destroy our country if it meant delaying democracy.
And this effort very nearly succeeded.
But while democracy can be periodically delayed,
It can never be permanently deleted.
Biden shared a similar message just moments before, saying in his inaugural speech, "Here we stand, just days after a riotous mob thought they could use violence to silence the will of the people, to stop the work of our democracy, to drive us from this sacred ground."
He went on, "It did not happen. It will never happen. Not today. Not tomorrow. Not ever."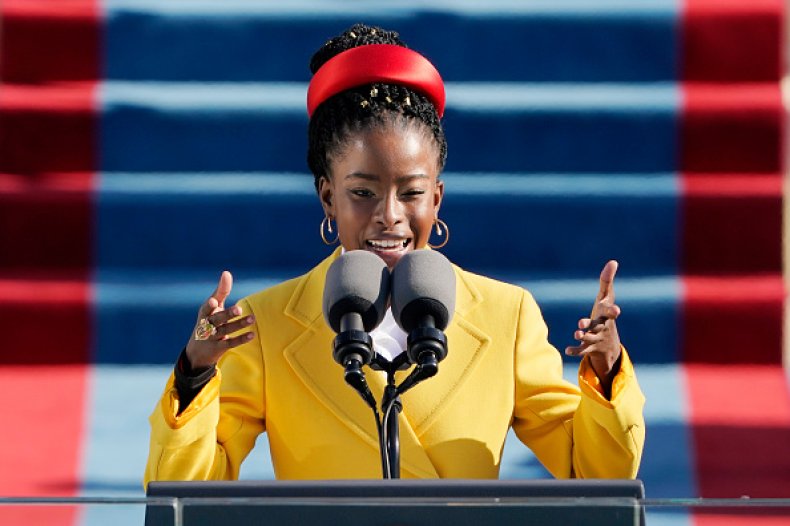 Gorman was chosen to write a poem for the ceremony after first lady Jill Biden saw her perform at the Library of Congress.
A dream of sitting behind the desk in the Oval Office isn't the only thing that she and Biden have in common. Gorman also struggled with a speech impediment at a young age.
She said her stutter is what drew her to poetry. Earlier this week, she told the Los Angeles Times, "It's made me the performer that I am and the storyteller that I strive to be. When you have to teach yourself how to say sounds, when you have to be highly concerned about pronunciation, it gives you a certain awareness of sonics, of the auditory experience."
On Wednesday, Gorman joined a small group of poets who have been asked to participate in the ceremony making the historic transition of presidential power. Among them are Robert Frost, Maya Angelou and Miller Williams. Her performance garnered her more than 300,000 Twitter followers.
Newsweek reached out to Gorman for comment but did not hear back before publication.