Amanda Knox Hopes to 'Welcome' Melissa Lucio to Her 'Exoneree Family'
Amanda Knox has joined calls for the exoneration of death row inmate Melissa Lucio a week before the Texas mother is scheduled to be executed, saying she wishes she could "welcome her to our exoneree family."
Knox, who was exonerated by Italy's highest court in 2015 after a murder conviction, wrote a Medium post late Tuesday drawing parallels between her and Lucio and touching on various topics, from wrongful convictions to motherhood.
Lucio was convicted of murdering her 2-year-old daughter in 2007 and sentenced to death. She is the only Hispanic woman on Texas' death row and is set to be executed next Wednesday. Knox joins a growing list of celebrities and legislators, from Kim Kardashian to a bipartisan majority of the Texas state House, who are calling for Lucio's execution to be halted.
In her blog post, Knox began by recalling an incident from a few months ago when her infant daughter rolled off the couch. She described the first time a child falls as "a rite of passage" for mothers and how, after the initial shock wears off, "they're okay and you're okay, and life goes on. Unless it doesn't."
She added, "Unless you're Melissa Lucio, whose daughter died from just such an accident, whom the state of Texas plans to execute on April 27th for a crime that never even occurred."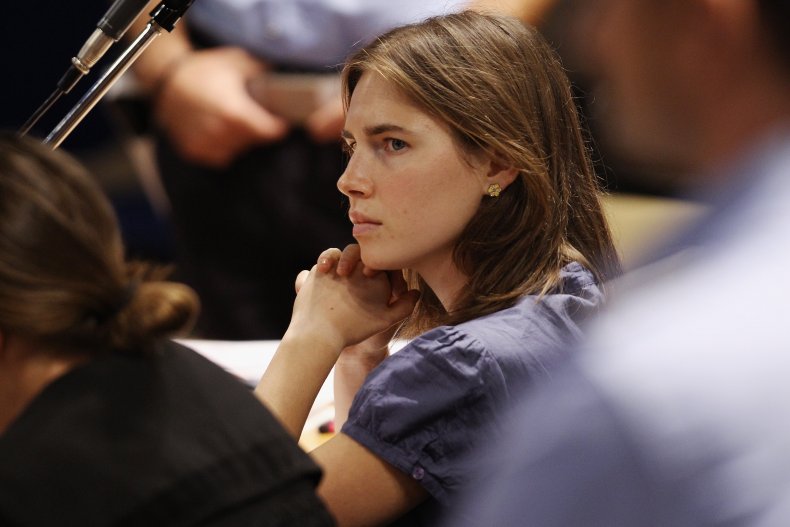 Lucio's daughter Mariah had a mild disability that made her unstable while walking, and she fell down the stairs on February 15, 2007. Two days later, the toddler went to sleep and never woke up.
That same night, authorities interrogated the Texas mom and obtained what Lucio's attorneys argue was a coerced "confession." While Lucio asserted her innocence more than 100 times during questioning, she went on to falsely take responsibility for some of her daughter's injuries, according to the Innocence Project, a nonprofit that works to exonerate individuals who have been wrongly convicted.
During the trial, prosecutors portrayed Lucio as an abusive mother who was responsible for Mariah's injuries. Lucio was sentenced to death in 2008, becoming the first Latina in Texas to receive the penalty.
Since the conviction, five of the 12 jurors in the case have expressed doubts about the verdict and have called for a new trial based on unheard evidence.
On Tuesday, Knox recalled her own false admission of guilt in Italy, saying that innocent people are more likely to implicate themselves if they are in a vulnerable position.
"In my case, I was 20, alone in a foreign country, thousands of miles from home, being interrogated in a foreign language," she wrote. "My roommate had just been senselessly and brutally murdered, the killer was on the loose, and I had no one to turn to for help. No one but the police. And over 53 hours in five days, they broke me. Melissa Lucio was vulnerable, too."
Knox pointed to several factors, which others have cited, that made Lucio more likely to confess, such as the short time frame between her daughter's death and the interrogation and her history as a lifelong survivor of sexual abuse and domestic violence.
Lucio's family has called for clemency, disputing the prosecution's argument that she was abusive, and describe her as "a great mother" who "never laid a hand" on Mariah or her other 13 children.
"We don't want our mother executed," Lucio's oldest son, John, told CNN. "We already lost our sister. And now to lose our mother for an accident is just horrible."
Cameron County District Attorney Luis Saenz has indicated he may step in and block Lucio's execution if she "does not get a stay by a certain day."
Saenz, who was not the district attorney at the time of Lucio's conviction, has the power to withdraw the execution warrant.
But Knox warned that there is no guarantee that those with the power to stop next week's execution will do so. And even if that happens, it would not mean justice for Lucio, she said.
"Justice, at the least the beginning of justice, would be an exoneration and immediate release from custody," Knox wrote. "Justice would be seeing Melissa at next year's Innocence Network Conference, where she would find, as I did, that she isn't alone," Knox wrote.
The annual conference brings together exonerees, lawyers, forensic experts and advocates who are dedicated to overturning wrongful convictions and criminal justice reform.
"I wish I could meet [Lucio] on the other side of those double doors in a hotel ballroom and welcome her to our exoneree family, and say, 'You don't have to explain a thing, sister. We know,'" Knox wrote.