2020 NFL Free Agency Rumors: Amari Cooper 'Wants to Be a Dallas Cowboy for Life'
With just over two weeks to go before NFL free agency begins, Amari Cooper has insisted he wants to remain with the Dallas Cowboys for the rest of his career.
Free agency officially opens on March 18 and the Cowboys have a fight on their hands to keep hold of Cooper and quarterback Dak Prescott.
Dallas is determined to ensure both players wear white and silver next season, but with no long-term deal agreed with either player so far the franchise looks set to use its franchise-tag on the quarterback.
That would leave Cooper hitting the open market, but the former Alabama alumni hinted an agreement with the Cowboys front office could yet be found and reiterated he had no intention of leaving Dallas.
"I love being a Dallas Cowboy," Cooper said Thursday night on 105.3 The Fan. "I think about it almost every day. Just the aura of being a Dallas Cowboy, you can't beat it. I want to be a Dallas Cowboy for life."
Cooper's words echoed the message he repeated throughout last season, when he stated he had no reason to seek a move away from Texas.
Since being traded to Dallas halfway through the 2018 season, Cooper has flourished into one the Cowboys' most devastating offensive options. The 25-year-old racked up six touchdowns and 725 receiving yards on 53 receptions in his first nine games with the franchise.
In his first full season with the Cowboys, Cooper finished with a team-best 1,189 receiving yards with 79 receptions and eight touchdowns. It was a remarkable return for a player who despite playing every game in the regular season was a routine entry on the Cowboys' injury report, as he battled with a foot, ankle, knee and quadriceps injuries.
NFL teams have until March 12 to use their franchise tag, but Cowboys executive vice president Stephen Jones dismissed the suggestion time was running out for the franchise.
"When things get momentum they can happen in 24 hours," he was quoted as saying by ESPN.
"It's just a matter of can you get some traction and headed in the right direction. So sometimes time is not a good thing [and] having a short fuse is a good thing," he added.
According to figures from overthecap.com, the Cowboys will have approximately $77.3 million worth of cap space this year, the fifth-most in the league behind Miami, Indianapolis, Buffalo and Tampa Bay.
The figure is bigger than what Dallas has had in the past, but Jones admitted the team would have to be extremely careful when it comes to handing out major contracts.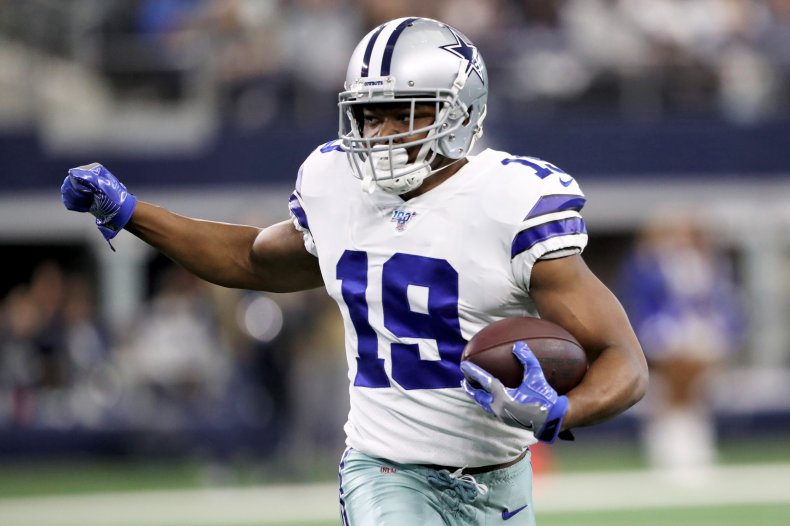 Aside from Prescott and Cooper, the Cowboys have another 25 players set to become unrestricted free agents, including star cornerback Byron Jones and defensive end Robert Quinn.
"We're going to have some challenges with our cap," he said. "Certainly, it's Dak and Amari that are going to shrink it in a hurry. We're going to have challenges, but they're not challenges that we can't overcome. It's going to be something that we've really got to keep our fingers on."
The uncertainty over the new proposed collective bargaining agreement isn't helping matters for the Cowboys either.
Under the current CBA, this year is an exception which allows teams to use both the franchise and transition tag in the same offseason.
The proposed new CBA, meanwhile, stipulates a return to the original rule of using one tag per season.
While the owners have approved the new deal, the players are yet to ratify it. Should they do that before March 12, teams will not be allowed to using both tags this offseason.