Amazon Argues It Didn't 'Win' Union Fight, Its Employees 'Made the Choice'
Amazon on Friday clinched enough votes to defeat a unionization attempt at one of its Alabama warehouses, defeating the most significant labor drive in the company's history.
The majority of Amazon's workers in Bessemer, Alabama, voted against joining the Retail, Wholesale and Department Store Union (RWDSU). Of the ballots cast, 1,798 votes opposed the union and 738 votes were in favor.
Amazon thanked its employees for participating in the vote in a statement released shortly after it was over, saying that "there's been a lot of noise over the past few months, and we're glad that your collective voices were finally heard."
While the company noted that just 16 percent of the fulfillment center's workforce voted in favor of the union, it said it didn't consider the result a victory.
"It's easy to predict the union will say that Amazon won this election because we intimidated employees, but that's not true," the statement said. "Our employees heard far more anti-Amazon messages from the union, policymakers, and media outlets than they heard from us. And Amazon didn't win—our employees made the choice to vote against joining a union."
The union said after Friday's election that it will immediately file a legal challenge to the result. The group is requesting a hearing by the National Labor Relations Board "to determine if the results of the election should be set aside because conduct by the employer created an atmosphere of confusion, coercion and/or fear of reprisals and thus interfered with the employees' freedom of choice."
RWDSU President Stuart Appelbaum said at a press conference Friday he thinks another vote is likely. He also charged that Amazon "harvested votes in direct violation of the law."
Amazon's Drew Herdener, the vice president of worldwide communications, denied Appelbaum's assertion.
"We didn't harvest ballots or say we'd shut the building down," Herdener said. "These fabrications are tiresome but expected. You're going to hear a lot of untruths from the union now because they have to explain the lopsided result and their answer can't be Amazon pays more than $15 an hour, offers health care from day one, up to 20 weeks of parental leave, and a safe, clean work environment in state-of-the-art fulfillment centers. They're going to have to come up with something else."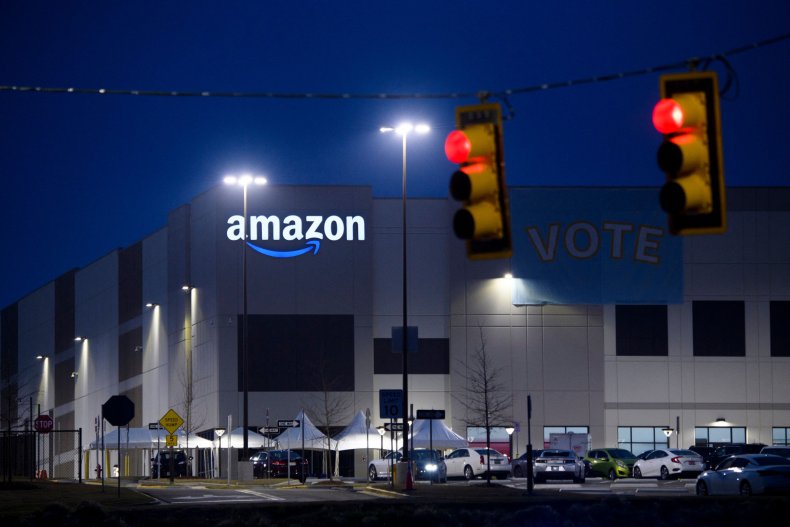 The unionization effort garnered attention from prominent Democrats and progressives. Both President Joe Biden and Vermont Senator Bernie Sanders voiced support for the campaign.
Sanders visited the Bessemer facility last month to boost the unionization effort, saying that the Alabama facility could make history. If it had been successful, it would have been the first time Amazon workers in the U.S. formed a labor union.
"If you pull this off here, believe me, workers all over this country are going to be saying, 'If these people in Alabama could take on the wealthiest guy in the world, we can do it as well,'" Sanders said.
In its statement Friday, Amazon said that its employees are "the heart and soul" of the company and that it has "always worked hard to listen to them, take their feedback, make continuous improvements, and invest heavily to offer great pay and benefits in a safe and inclusive workplace."
The statement added, "We're not perfect, but we're proud of our team and what we offer, and will keep working to get better every day."
This story was updated April 9 to include comments RWDSU President Stuart Appelbaum made at a press conference and comment from Drew Herdener, Amazon's vice president of worldwide communications.