Amazon Claims Worker Was Fired for 'Bullying,' Not Protesting COVID Safety
Amazon is planning to appeal a new court ruling that ordered the retail giant to reinstate an employee, claiming that he was not terminated for protesting a lack of safety protocols but rather for "bullying" another worker at the warehouse.
On Monday, administrative law judge Benjamin Green ruled that Amazon "unlawfully" terminated Gerald Bryson, a former employee at Staten Island, New York's JFK8 warehouse, in April 2020 and ordered the company to reinstate Bryson and pay him in lost wages and benefits resulting from the "discriminatory discharge."
"We strongly disagree with this ruling and are surprised the NLRB would want any employer to condone Mr. Bryson's behavior," an Amazon spokesperson said in a statement shared with Newsweek. "Mr. Bryson was fired for bullying, cursing at, and defaming a female co-worker over a bullhorn in front of the workplace."
Bryson's termination centers on an altercation that occurred at a protest outside the warehouse in the early days of the pandemic.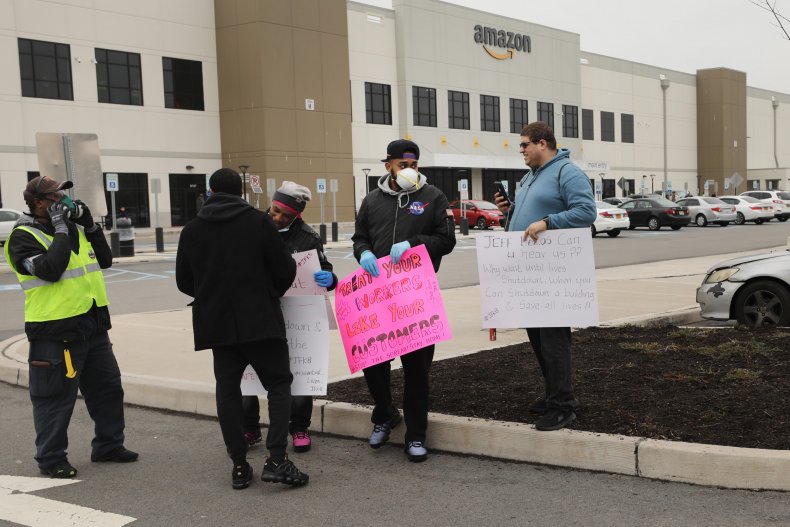 According to court documents, Bryson was engaged in a heated exchange with another worker who disagreed with him that the facility should be shut down for COVID safety purposes. While both of them traded insults, only Bryson was fired. The other employee received a written warning.
The National Labor Relations Board (NLRB) took up Bryson's case, arguing that he was fired in retaliation for protesting Amazon's safety conditions—a claim similar to the one made by union organizer Chris Smalls, who was also fired by Amazon in the spring of 2020 after he organized a walkout over the company's COVID protocols.
The dispute between Bryson and the other Amazon employee occurred during a demonstration Bryson led after Smalls was fired. Bryson first participated in the protests led by Smalls.
Court filings show that both Bryson and the other worker exchanged profanities, and a recording detailed by NLRB shows that the woman tried twice to provoke Bryson into a physical altercation.
The woman, who is white, also told Bryson, who is Black, to "go back to the Bronx," which the judge said could be construed as "racial" seeing that Bryson "might question why, other than his race, someone would assume he is from the Bronx."
Amazon said Bryson was fired for violating the company's policy against "abusive, vulgar, or harassing language," adding his termination was consistent with how other workers are treated.
In his decision, Green called the internal investigation Amazon pointed to in its defense "skewed" and said that the company wanted to fire Bryson for his "protected concerted activity instead of fairly evaluating" the argument between the two workers.
"I find it implausible that six individuals would view the argument and coincidentally provide these one-sided, exaggerated accounts unless such accounts were solicited from them," the judge wrote.
Bryson is active in the Amazon Labor Union, which won a historic vote earlier this month in which the Staten Island warehouse become the first facility of the e-commerce giant to unionize in Amazon's 27-year history.
"For me to win and walk back through those doors changes everything," Bryson told The New York Times on Monday. "It will show that Amazon can be beat. It will show you have to fight for what you believe in."
In its statement, Amazon said that the incident between Bryson and the other worker was broadcast on social media and that Bryson has "remained unapologetic and the videos remain online to this day."
"We do not tolerate that type of conduct in our workplace and intend to file an appeal with the NLRB."
Update 04/19/22, 12:40 p.m. ET: This story was updated with comments from Amazon.