New York Amazon Workers Vote to Be Company's First Unionized U.S. Facility
Amazon workers at a Staten Island, New York, warehouse successfully voted to join a union Friday, establishing the major retail company's first organized facility in the U.S.
The vote count was still underway Friday, but enough workers had voted in favor of unionizing to secure the victory, the Associated Press reported. Of the 8,300 workers who were on the voter list, about 57 percent ended up voting.
The Staten Island warehouse was not the first Amazon facility to hold a vote to unionize, but it was the first to get enough votes to join a union. The Amazon Labor Union (ALU) celebrated its first successful organizing effort on Twitter after the results came in.
The National Labor Relations Board still needs to formally certify the vote results. Both parties need to file any objections by April 8.
The ALU's president, Christian Smalls, was a former manager at the Staten Island facility. Amazon fired him in 2020 under the allegation that he breached social distancing guidelines, but Smalls claimed that his firing was a retaliatory move for a protest he staged calling for better safety rules in the early weeks of the COVID-19 pandemic.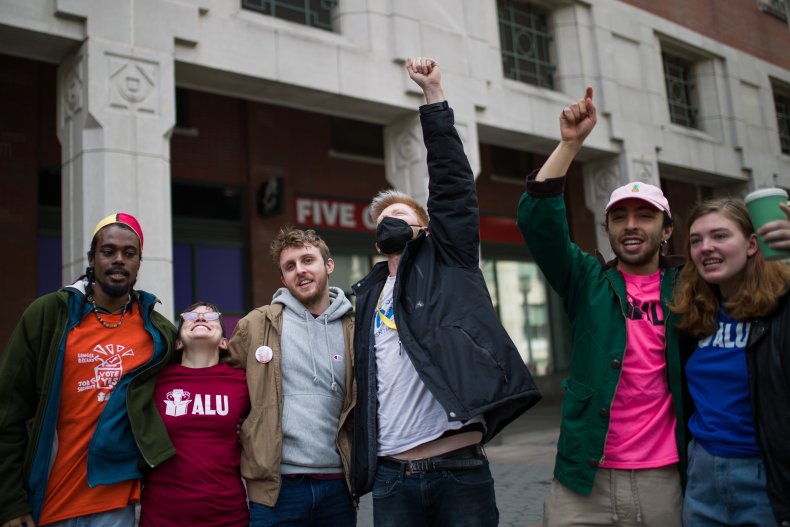 He has been immersed in activism since and helped lead the independent grassroots effort that culminated in the successful unionization vote. Smalls was seen in a video posted on Twitter Friday popping a bottle of champagne in celebration.
He directly addressed the company, founder Jeff Bezos, and Amazon General Counsel David Zapolsky in a tweet after the results came in. Amazon "wanted to make me the face of the whole unionizing efforts against them.... welp there you go!" the tweet read.
Notes from an internal Amazon meeting in 2020 obtained by VICE revealed Zapolsky had purportedly called Smalls "not smart or articulate." The notes also showed that Zapolsky allegedly outlined a strategy to make Smalls "the most interesting part of the story, and if possible make him the face of the entire union/organizing movement."
Overall, 2,654 workers at the Staten Island facility cast votes in favor of unionizing, and 2,131 voted against it, the Associated Press reported,citing the National Labor Relations Board. Sixty-seven ballots faced challenges either from Amazon or the ALU, but the number of challenged votes was not numerous enough to have an impact on the final results.
Amazon said in a statement that it was "disappointed with the outcome of the election in Staten Island because we believe having a direct relationship with the company is best for our employees."
Newsweek reached out to the Amazon Labor Union for comment and an updated vote count, as well as Amazon for comment on the union vote.
Update 04/01/22, 1:55 p.m. ET: This article was updated with additional information.
Update 04/01/22, 1:10 p.m. ET: This article was updated with additional information and background.