A popular video online has become the latest to show the extreme lengths Amazon delivery drivers will go to make sure parcels are delivered on time.
On August 14, TikTok user @camihardman shared a clip of an Amazon delivery truck driving using an unconventional method to avoid the heavy traffic on the I-45 in Texas. The truck can be seen driving off the highway and cutting across a large strip of grass towards another smaller, empty road along it.
"When Jeff personally guarantees next day delivery," she captioned the clip, using Bo Burnham's "Bezos I" to soundtrack it. Burnham's song pokes fun at the power held by Amazon founder Jeff Bezos and his climb to being one of the world's richest people.
Often, the audio is used on the app to match videos about Amazon and commonly the employees' working conditions.
As confirmed by Hardman in a later video, the Amazon truck wasn't the first to make the cut across. "I saw probably 10 cars do it before them," she said, adding that the service road actually ended up coming to a dead end, causing another traffic jam of vehicles attempting to merge back onto the highway.
The video can be seen in full here.
This video certainly isn't the first time Amazon delivery drivers have gone viral for going to an extreme length to deliver parcels.
In June, a TikTok user shared a clip of an Amazon van driving through the Detroit flood, capturing it driving straight through a deep puddle, while abandoned cars decorated the road.
Detroit had faced heavy flooding across the city, and Michigan Governor Gretchen Whitmer had declared a State of Emergency in Wayne County, but that didn't stop the Amazon driver.
Highways across the city had been shut as a consequence of the heavy rainfall, and many drivers were forced to leave their cars at the side of freeways in order to be rescued by emergency services.
That same month, another video showed an Amazon worker delivering parcels during the aftermath of a storm which occurred just a few hours earlier in various Chicago suburbs.
The worker could be seen stepping over tornado debris while carrying parcels to be delivered. An emergency Servpro van was parked up behind him while workers were sorting through the rubble. He walked past multiple buildings with missing roofs, bricks and windows.
Just like with the previous videos, this latest clip has sparked concern online over speculated pressure on Amazon drivers to make sure their parcels are delivered, despite the conditions.
"It's a good joke, but I'm worried about them for real," wrote one user.
"This low key makes me sad because that truck driver is probably legitimately stressed," wrote another.
Amazon spokesperson Branden Baribeau told Newsweek that, "safety is our top priority, and this does not reflect the high standards we have for our line haul partners who help transport customer packages."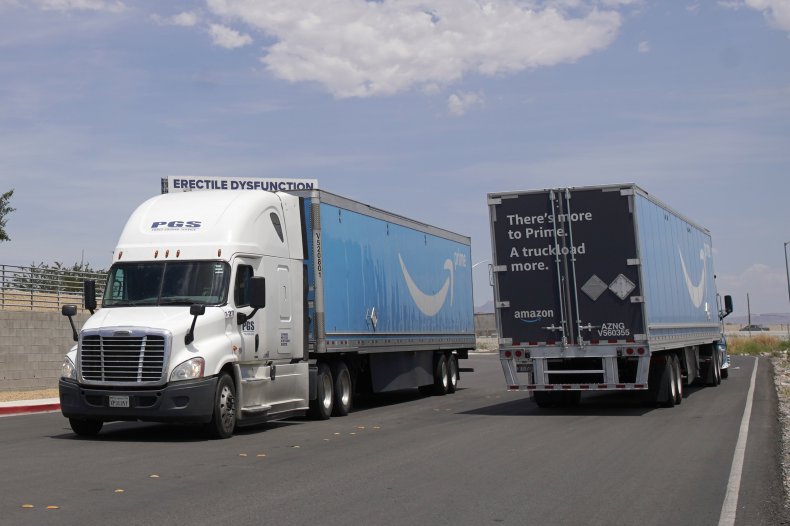 Update 8/16/21, 10:56 a.m. ET: This article has been updated to include a statement from Amazon.