Viral Video Shows Amazon Delivery Driver Working Through Detroit Floods
A video showing an Amazon delivery driver working during the Detroit floods has amassed over 6.5 million views.
TikTok user @plantmami5, real name Brigid Tepe, shared the clip on June 27, and documented an Amazon delivery van driving straight through a deep puddle, caused by the ongoing Detroit floods.
Other vehicles can be seen parked and abandoned on the side of the road.
The video was comically paired with Bo Burnham's satirical song "Bezos I" which focuses on Amazon's CEO Jeff Bezos and his power.
Although the water captured in the video isn't incredibly deep, the rest of Detroit, and all of its freeways, have been plagued by storm-induced floods over the past weekend.
Gov. Gretchen Whitmer declared a State of Emergency in Wayne County because of the flooding on Saturday, and has submitted a request for a presidential declaration of disaster.
The State of Emergency allows the Michigan State Police, Emergency Management and Homeland Security Division (MSP/EMHSD) to increase state efforts to aid the situation, along with local resources.
Whitmer tweeted: "I've activated the Michigan State Emergency Operations Center in response to flooding across the state. As communities continue to experience extraordinary rainfall, this will help us better direct resources to meet local needs."
According to WXYS Detroit, more than 47,000 metro Detroit residents are still without power and some areas of Detroit saw over six inches of rain.
Individuals have been forced to abandon cars and be rescued by emergency services along various freeways, highlighting the lengths the Amazon driver will have gone through.
Important freeways like the I-94 were forced to close over the weekend, with stretches of it still remaining closed due to flooding, according to CBS.
On June 26, the MSP Metro Detroit tweeted that "All freeways in Wayne County still have flooding issued and those freeways where water has receded are now littered with abandoned vehicles."
"The TikTok is funny but the reality of it is actually really sad," wrote one viewer of the video.
In a statement to Newsweek, Branden Baribeau, a spokesperson for Amazon, said: "Our Delivery Service Partners (DSPs) and their drivers should never make a delivery if they feel unsafe on road.
"When it comes to severe weather, we have processes in place to monitor weather events at the local level and adjust route lengths, cancel routes, or even close Delivery Stations and call drivers back off road if necessary. If any of these were to happen, the drivers receive push notifications via their Amazon Delivery App and via their DSP instructing them on next steps and to return to station, if necessary.
"Above all, drivers can always return to station if necessary or contact us for additional help via their Delivery App."
Just last week another Amazon driver went viral for continuing to deliver parcels after a tornado hit Illinois.
The video showed houses in the background heavily damaged by the tornado and surrounded by rubble and debris spread across front yards.
Similarly, that video was also sound tracked by Bo Burnham's "Bezos I".
Newsweek has contacted Brigid Tepe for comment.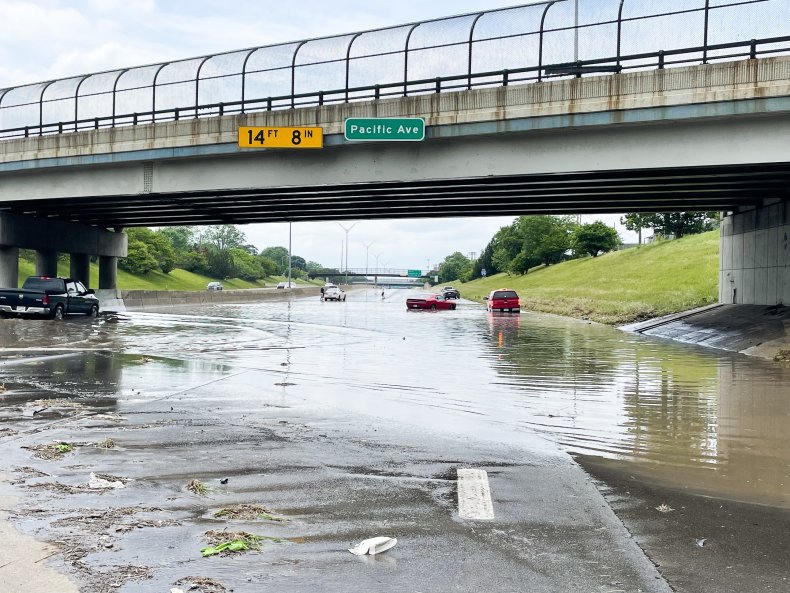 Update 6/29/21, 10:53 a.m. ET: This article was updated with a statement from Amazon.