Amazon's 'Hunters' Creator Defends Fictional Holocaust Atrocities Following Criticism From Auschwitz Memorial
Amazon's new series Hunters launched to controversy over the weekend, including criticism from the Auschwitz Memorial for fictionalizing some of the horrors faced by Jewish prisoners at concentration camps.
The highly stylized action drama stars Al Pacino as the leader of a vigilante group, the Hunters, who track down and exact justice against Nazis who have covertly infiltrated America in the late 1970s.
In one scene in the opening episode, a flashback to the atrocities of World War II depicts a deadly game of human chess in which Nazi concentration camp guards force inmates to kill each other.
On Sunday, the Auschwitz Memorial, which maintains a museum at the site of the former concentration camp, criticized the show's depiction of fictional atrocities at Auschwitz and other camps.
"Auschwitz was full of horrible pain & suffering documented in the accounts of survivors. Inventing a fake game of human chess for @huntersonprime is not only dangerous foolishness & caricature. It also welcomes future deniers. We honor the victims by preserving factual accuracy," the Memorial tweeted.
In response to other Twitter users, the Memorial said it was "disrespectful and dangerous" to create events that didn't occur, adding: "Invent an non-existing camp and Nazi atrocities perpetrated there. If you however use a real place, respect it's history and suffering of its victims."
The Memorial concluded that "we prefer a true story that will lead to a million truths. One should not create fake reality if the details about this reality are so well documented."
Hunters creator David Weil responded to criticism Sunday in a statement, published by Deadline and other publications, stating that while the series is a "dramatic narrative series, with largely fictional characters, it is inspired by true events. But it is not documentary. And it was never purported to be."
Weil, whose grandmother was an Auschwitz survivor, said he intentionally avoided recreating events that occurred in the concentration camps and from alluding to real-life people. "It was for this reason that I made the decision that all of the concentration camp prisoners (and survivors) in the series would be given tattoos above the number 202,499," said Weil, referring to the highest-recorded identification number tattooed on an Auschwitz prisoner.
"I didn't want one of our characters to have the number of a real victim or a real survivor, as I did not want to misrepresent a real person or borrow from a specific moment in an actual person's life," Weil explained.
"That was the responsibility that weighed on me every night and every morning for years, while writing, producing, editing this show. It is the thing I go to sleep thinking about and the thing I wake up working to honor."
Weil also addressed the chess game depicted in the opening episode, saying that while it is a "fictionalized event," it is "representationally truthful" of the "sadism and violence that the Nazis perpetrated against the Jews and other victims." The show creator explained he "simply did not want to depict those specific, real acts of trauma" inflicted upon the victims of concentration camps.
Weil went on to argue that "we can and should" be able to "tell stories about the Holocaust that are not documentary," adding that films and television shows about the subject do not "always adhere to literal truth in its pursuit of capturing the representational truth of the Holocaust." Weil said "symbolic representations provide individuals access to an emotional and symbolic reality that allows us to better understand the experiences of the Shoah and provide it with meaning that can address our urgent present."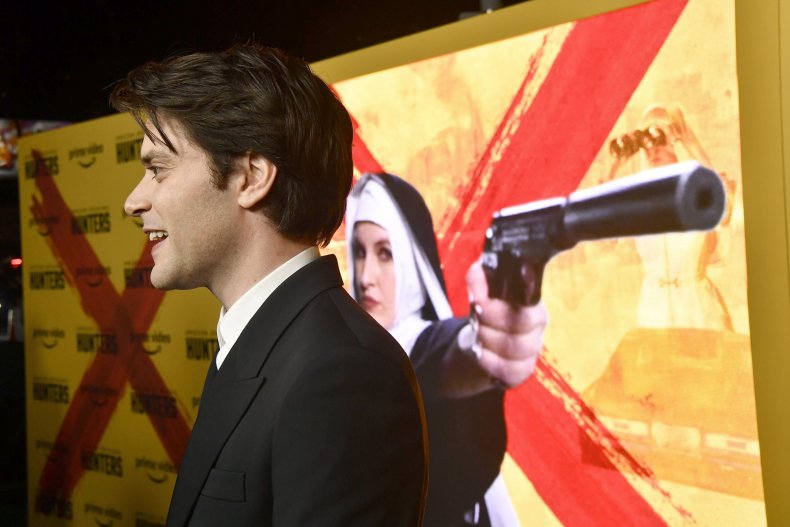 Hunters, which also stars Logan Lerman, Josh Radnor and Carol Kane, has received mixed-to-positive reviews; it currently maintains a 63 percent fresh rating on Rotten Tomatoes.
Among the criticism of the show, The Hollywood Reporter's Daniel Fienberg in his review said, "So many horrifying and specifically inhuman real things were done to people in the Holocaust that it's a strange choice to create new ones. It doesn't divorce the Holocaust from reality and it doesn't trivialize it, but it certainly sensationalizes aspects of it in ways that left me feeling uncomfortable."
The Guardian's headline called the show "dangerously insensitive," with reviewer Lucy Mangan writing that the creation of a fictional horror—the chess game scene—"felt like exploitation—maybe fetishisation—and part of a cloud of doubt that settles over the whole."
The Auschwitz Memorial has been contacted for further comment.