Police in a Massachusetts town are investigating the mystery of how 20 Amazon packages ended up in the woods.
The Plympton Police Department said the packages were discovered off Brook Street by a motorist who was passing through the area on Wednesday.
In a post on Facebook, the department said the packages had been there for up to three days.
Boston 25 News reported that although the packages were found in the woods, they could easily be seen from the road.
The area is remote and has only one residence nearby. The person who lives there told the TV station that he didn't witness anything and doesn't know how the packages came to be dumped.
Officer John Simon said about 20 packages had been found, containing household products, food, toys and other items, according to Boston 25 News.
Around half were found intact, but the rest were opened. However, police said that could be from the packages having been thrown or simply from being left outdoors.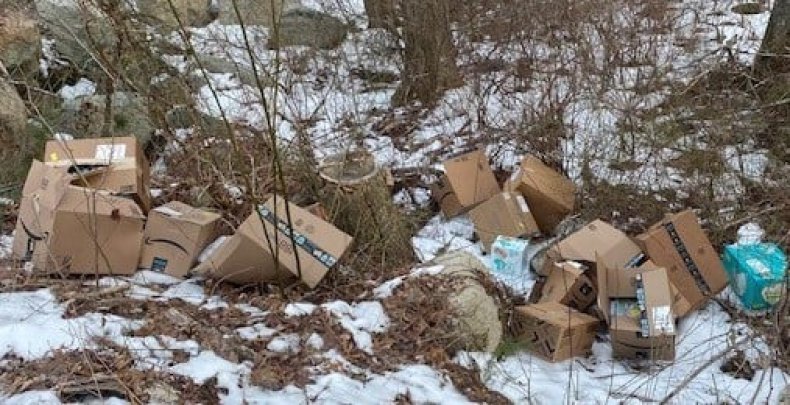 Police believe the packages may have been dumped, but are still working to determine who was responsible.
"We found approximately 20 packages that were down the hill off the main road," Simon said.
"We have an investigation going on to determine if the driver of Amazon actually dumped these boxes or if they were stolen," he added.
In a statement to Newsweek, an Amazon spokesperson said the company was conducting its own review into what happened.
"We have high standards for delivery service partners and expect every package to be handled with care. We've notified the right teams internally and will work with the customers directly on matters related to their package delivery," the company said.
Many Americans have relied on Amazon deliveries during the coronavirus pandemic. The company's net sales increased 44 percent to $125.6 billion in the final quarter of 2020, up from $87.4 billion in the same quarter of the previous year.
Plympton police said all the packages were addressed to residents of the town or nearby Kingston.
On Thursday, the police department said officers would be calling all the recipients.
"Those notifications will take place within the next 24 hours. If you live in Plympton or Kingston and feel you have an overdue Amazon delivery, please call Amazon not PPD," the police department wrote on Facebook.
"If we have your package you will be hearing from us. Amazon is actively assisting our investigation and is conducting their own internal review and want to hear from you."