Jeff Bezos to Step Down as Amazon CEO After Company's Sales Grew $38 Billion In One Year
Amazon founder and CEO Jeff Bezos will stop down as head of the company, according to a Tuesday Amazon press release. Andy Jassy, the CEO of Amazon Web Services is expected to replace Bezos as CEO of the company.
Bezos's announcement came as Amazon announced financials for the fourth quarter of 2020, which saw net sales increase 44 percent to $125.6 billion as opposed to $87.4 billion in the fourth quarter of 2019. In a Tuesday statement, Bezos said it was the "optimal time" for the leadership change.
"If you do it right, a few years after a surprising invention, the new thing has become normal," Bezos said. "People yawn. That yawn is the greatest compliment an inventor can receive. When you look at our financial results, what you're actually seeing are the long-run cumulative results of invention. Right now I see Amazon at its most inventive ever, making it an optimal time for this transition."
Bezos is expected to transition to the executive chair position in the company.
In an internal memo to Amazon employees provided to Newsweek, Bezos said he was "excited" about the leadership transition. Bezos wrote that being Amazon's CEO was "a deep responsibility. When you have a responsibility like that, it's hard to put attention on anything else."
Bezos also expressed confidence in Jassy's ability to lead the company.
"Andy is well known inside the company and has been at Amazon almost as long as I have," Bezos wrote. "He will be an outstanding leader, and he has my full confidence."
Bezos is one of the wealthiest people in the world, with Forbes reporting his net worth as $196.4 billion as of Tuesday. Bezos also owns The Washington Post and aerospace company Blue Origin.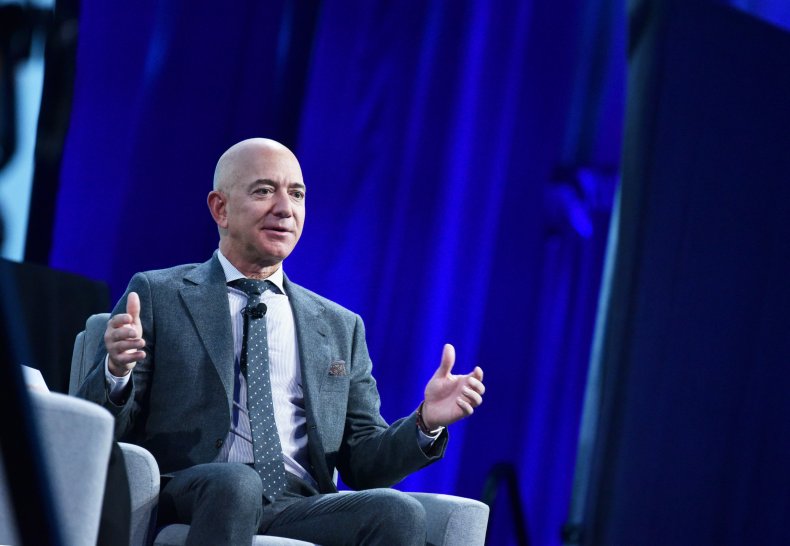 As many Americans were asked to shelter in place during the COVID-19 pandemic in 2020, many relied on Amazon to deliver goods to their door driving the company's net sales up. Amazon's sales increased 38 percent in 2020 to $386.1 billion compared to $280.5 billion in 2019.
In October 2020, a report by the Democratic members of the House Judiciary Subcommittee on Antitrust said Amazon had engaged in anti-competitive business practices. The report alleged that Amazon favored its own brands over those of other sellers, giving its own products priority in search engine results. Amazon also allegedly continually increased fees to sellers.
Amazon denied the allegations in a blog post.
"All large organizations attract the attention of regulators," the post read, "and we welcome that scrutiny. But large companies are not dominant by definition, and the presumption that success can only be the result of anti-competitive behavior is simply wrong."
The graphics below, provided by Statista, illustrate amazon's growth over the years.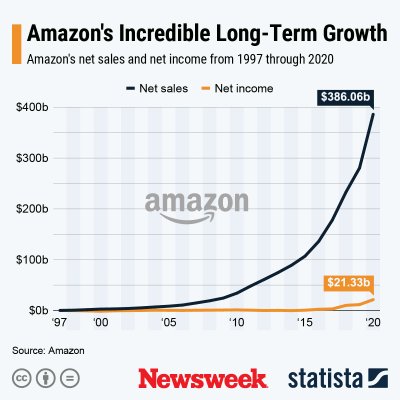 Update 2/3/21: This article was updated to include infographics.