After being fired from Amazon in March, Chris Smalls, 32, has been an active protester against the online retailer. In one of the most recent protests, he and others set up a guillotine outside CEO and founder Jeff Bezos' Washington D.C. mansion, drawing media attention.
After working for Amazon for five years, Smalls said he'd taken action prior to nationwide shutdowns due to the COVID-19 pandemic, trying to get the warehouse that he worked in in Staten Island, NY prepared for the virus in early March. On March 28, Smalls was placed on quarantine. On March 30, he held a protest in front of the warehouse, but a few hours he was fired for violating the quarantine and social distancing policies.
In a statement, an Amazon spokesperson said that Smalls was fired for violating social distancing guidelines and instructions despite multiple warning.
"We terminated Mr. Smalls for putting the health and safety of others at risk and violations of his terms of his employment. Mr. Smalls received multiple warnings for violating social distancing guidelines. He was also found to have had close contact with a diagnosed associate with a confirmed case of COVID-19 and was asked to remain home with pay for 14-days. Despite that instruction to stay home with pay, he came onsite further putting the teams at risk," Amazon spokesperson Lisa Levandowski said in a statement.
Since his departure from Amazon, Smalls has begun the The Congress of Essential Workers (TCOEW), which is the group that organized Thursday's protest. The company has a list of demands for the company, some of which Smalls told Newsweek on Friday.
"Raise the minimum wage to $30 an hour, pay the families that lost a loved one at Amazon [from COVID-19]... We're demanding that the company pays these families a minimum $200,000. We also want free Medicare for All, childcare provided by the company for all single parents and we also want PPE to be provided by the company at all times. Lastly, we want the wealth tax," he told Newsweek. "A wealth tax can absolutely relieve the people, the citizens of this country."
Smalls noted that these are not the only demands, as others are listed on the TCOEW website. He also included making employees shareholders a part of the demands.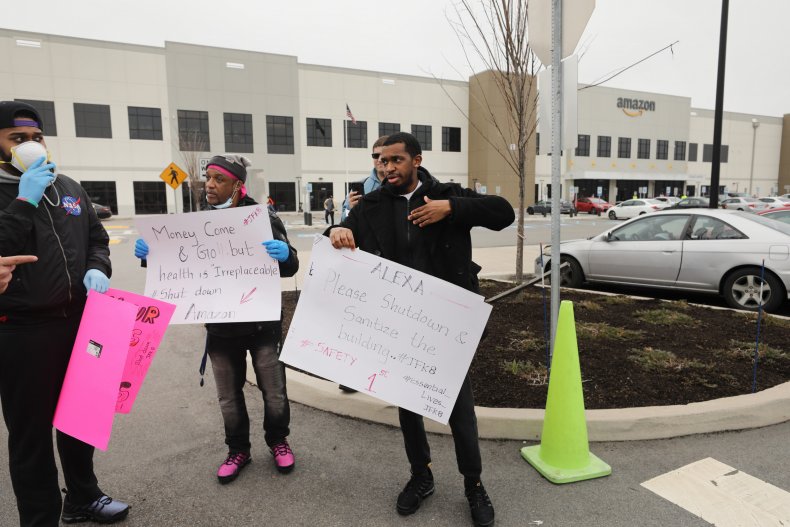 Amazon has put in place a number of process changes to adhere to cleaning and social distancing guidelines, including a large number of masks, handwashing stations and more added. Amazon offers at least $15 minimum wage to all employees across the U.S., as detailed in a 2018 blog. A new benefit from the company gives full and part time employees 10 days of subsidized child or adult care, according to a company blog.
Besides the demands starting with Bezos making changes for his employees, Smalls hopes that the organization will be able to adapted to keep attention and provide a platform for workers to share stories.
"We absolutely believe in our demands 100 percent. This man controls so much wealth and power that he could end so many world crises, and he needs to start with his own employees," Smalls said. "We're hoping as an organization is [that] as we do these demonstrations that we want to stay relevant... The labor movement kind of drowned in all the media attention that was being distributed to all the other issues in this country, and we just wanted to change to keep our stories relevant so we can make change for the future."
While the guillotine is certainly shocking and gets attention, Smalls said that the protests aren't meant to be violent, and they're not wishing harm on Bezos.
"People gotta realize, nobody's trying to behead the man. We're not murderers. We're not communists. We're not violent people... We're just regular people that came together to form a family, an alliance, and an organization. We're workers—essential workers. We're supposed to be essential workers, and for people to just categorize us as stereotypes is ridiculous. We're part of the place where you live and part of the communities you reside in," he said.
Smalls explained that the guillotine was more a symbol for what the organization wanted, not just from Bezos, but all billionaires.
"The guillotine was just a statement saying that for all billionaires, working class people are fighting back to get some of the power and wealth. It's a statement for that. A statement for the fact that, 'We're coming for you, and we're trying to get a piece of what we rightfully deserve,' which is a decent living pay wage. $15 an hour is not doing it in 2020. I don't care what part of the country you live in. The minimum should be $30 an hour, and it should probably be more than that in certain parts of the country, depending on where you live—like New York City, for example," he said.
"It's not fair that I have to struggle with $15 an hour to bring home a check every two weeks and only live check to check. I want to live comfortable. I want to take vacations. I want to have a savings. I want to live a decent life, be able to travel and enjoy life... We feel like as workers we deserve $30 an hour," he added.
Smalls called on the Amazon executive to listen to his employees, saying it was most important for them to act as if they're customers.
"What Bezos needs to hear is the stories of his own employees. He's so customer-driven, but we're supposed to be customers too—his employees. So as customers, if you're supposed to take care of the customers, the customer is always right. Then, he needs to listen to the stories of these workers that are coming to my demonstrations. These are their experiences," he said.
Update (8/28/20 6:09 p.m. ET): This story has been updated to include comment from an Amazon spokesperson.