Alexandria Ocasio-Cortez Accuses Amazon of 'Racist' Smear Campaign Against Fired Worker Who Organized COVID-19 Walkout
New York congresswoman Alexandria Ocasio-Cortez has accused Amazon of trying to conduct a "racist" smear campaign against one of their recently fired workers who organized a walkout at one of their warehouses over concerns about the novel coronavirus.
Ocasio-Cortez was responding to a leaked memo, obtained by Vice News, which detailed a discussion during a daily meeting of Amazon executives, which was attended by owner Jeff Bezos.
The memo outlined how Amazon planned to deal with Chris Smalls, an African American warehouse employee who was fired after staging a walkout at their Staten Island distribution center on March 30.
Smalls, who had been with the company for five years, called on Amazon to close the facility after one employee tested positive for COVID-19, and demanded better protection for the other workers.
Amazon said Smalls was fired after refusing to adhere to social distancing guidelines and for not self-isolating despite having contact with the worker who had tested positive.
"He's not smart, or articulate, and to the extent the press wants to focus on us versus him, we will be in a much stronger PR position than simply explaining for the umpteenth time how we're trying to protect workers," Amazon General Counsel David Zapolsky wrote in a memo after the meeting, which was shared among the company.
"We should spend the first part of our response strongly laying out the case for why the organizer's conduct was immoral, unacceptable, and arguably illegal, in detail, and only then follow with our usual talking points about worker safety," Zapolsky wrote. "Make him the most interesting part of the story, and if possible make him the face of the entire union/organizing movement."
In response, Ocasio-Cortez, who previously fought against Amazon building a second headquarters in Queens, New York, wrote on Twitter, "Amazon's attempt to smear Chris Smalls, one of their own warehouse workers, as 'not smart or articulate' is a racist & classist PR campaign.
"If execs are as concerned abt worker health & safety as they claim, then they should provide the full paid sick leave ALL workers deserve."
In a statement to Newsweek, Zapolsky said his comments from the memo were "personal and emotional."
"I was frustrated and upset that an Amazon employee would endanger the health and safety of other Amazonians by repeatedly returning to the premises after having been warned to quarantine himself after exposure to virus Covid-19," Zapolsky said. "I let my emotions draft my words and get the better of me."
In response to Ocasio-Cortez's remarks, an Amazon spokeserson told Newsweek: "That's not true. In fact, Mr. Zapolsky didn't even know the race of the person at the time he made his comments."
In a statement to Newsweek, Smalls said, "Amazon wants to make this about me, but whether Jeff Bezos likes it or not, this is about Amazon workers — and their families — everywhere.
"There are thousands of scared workers waiting for a real plan from Amazon so that its facilities do not become epicenters of the crisis. More and more positive cases are turning up every day.
"Instead of protecting workers and the communities in which they work, however, Amazon seems to be more interested in managing its image."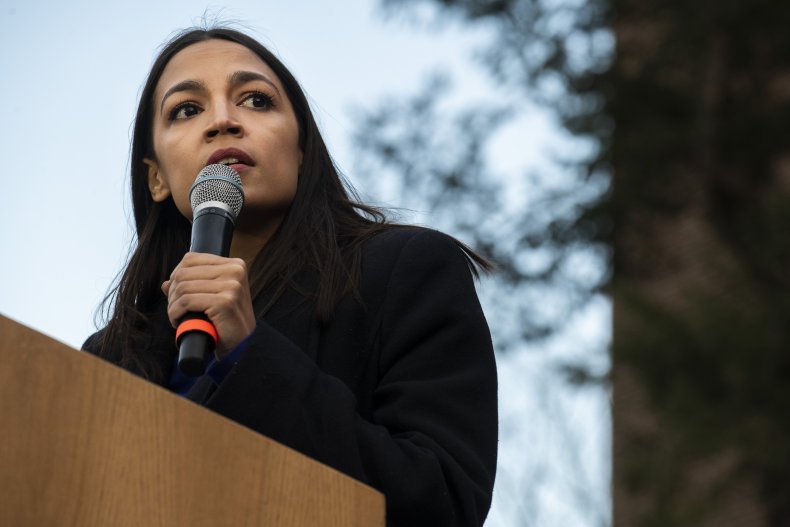 Presidential candidate Bernie Sanders, who is backed by Ocasio-Cortez, also condemned Amazon for firing Smalls.
"It's disgraceful that Amazon, which is owned by the richest man in the world, is not only failing to protect its workers but has now fired a worker for protesting dangerous conditions," Sanders wrote on Twitter on March 31. "I stand with Chris and all Amazon workers fighting for their safety."
There are now more than 245,000 confirmed cases of COVID-19 in the U.S., the highest figure in the world according to Johns Hopkins University. There have been more than 6000 fatalities, with a total of 9,228 people managing to recover from the virus.
The graph, provided by Statista, shows the number of coronavirus cases confirmed worldwide as of April 2.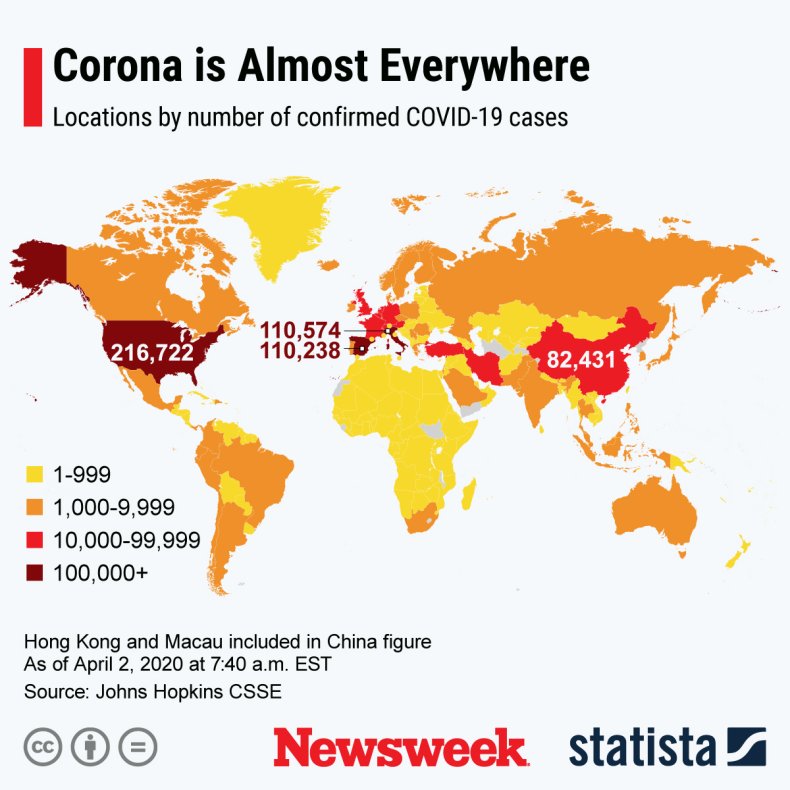 World Health Organization advice for avoiding spread of coronavirus disease (COVID-19)
Hygiene advice
Clean hands frequently with soap and water, or alcohol-based hand rub.
Wash hands after coughing or sneezing; when caring for the sick; before, during and after food preparation; before eating; after using the toilet; when hands are visibly dirty; and after handling animals or waste.
Maintain at least 1 meter (3 feet) distance from anyone who is coughing or sneezing.
Avoid touching your hands, nose and mouth. Do not spit in public.
Cover your mouth and nose with a tissue or bent elbow when coughing or sneezing. Discard the tissue immediately and clean your hands.
Medical advice
Avoid close contact with others if you have any symptoms.
Stay at home if you feel unwell, even with mild symptoms such as headache and runny nose, to avoid potential spread of the disease to medical facilities and other people.
If you develop serious symptoms (fever, cough, difficulty breathing) seek medical care early and contact local health authorities in advance.
Note any recent contact with others and travel details to provide to authorities who can trace and prevent spread of the disease.
Stay up to date on COVID-19 developments issued by health authorities and follow their guidance.
Mask and glove usage
Healthy individuals only need to wear a mask if taking care of a sick person.
Wear a mask if you are coughing or sneezing.
Masks are effective when used in combination with frequent hand cleaning.
Do not touch the mask while wearing it. Clean hands if you touch the mask.
Learn how to properly put on, remove and dispose of masks.
Clean hands after disposing of the mask.
Do not reuse single-use masks.
Regularly washing bare hands is more effective against catching COVID-19 than wearing rubber gloves.
The COVID-19 virus can still be picked up on rubber gloves and transmitted by touching your face.