A senior Amazon executive has resigned from his role over dismay at the company's decision to fire the "whistleblowers" who called on the e-commerce giant to do more to protect warehouse workers amid the coronavirus pandemic.
Sharing his decision to resign in a blog post, Tim Bray, who had served as a Vice President and "Distinguished Engineer" in Amazon's Vancouver office, said he could no longer work for a company that fired workers for "making noise about warehouse employees frightened of COVID-19."
"It's a matter of fact that workers are saying they're at risk in the warehouses," Bray said, adding that he did not feel the media has done "a terribly good job of telling their stories."
"It's not just workers who are upset," he said, however, noting that attorneys-general from at least 14 states have raised concerns about the conditions Amazon employees are being asked to work in amid the pandemic. Further, he pointed out, in France, Amazon has been forced to close distribution centers after a court ruled that it was not doing enough to protect workers amid the pandemic.
After attempting to raise his concerns through "the proper channels," Bray said that he felt his only choice was to resign.
"VPs shouldn't go publicly rogue, so I escalated through the proper channels and by the book," he said. "That done, remaining an Amazon VP would have meant, in effect, signing off on actions I despised. So I resigned."
"Firing whistleblowers isn't just a side-effect of macroeconomic forces, nor is it intrinsic to the function of free markets," he said. "It's evidence of a vein of toxicity running through the company culture. I choose neither to serve nor drink that poison."
As a result, Bray said Friday, May 1, was his "last day as a VP and Distinguished Engineer at Amazon Web Services, after five years and five months of rewarding fun."
"With big-tech salaries and share vestings, this will probably cost me over a million (pre-tax) dollars, not to mention the best job I've ever had, working with awfully good people. So I'm pretty blue," he said.
The now-former Amazon executive's decision to resign from his role comes as the e-commerce giant continues to face scrutiny over recent firings of workers who have spoken out against the conditions warehouse workers face.
"The victims weren't abstract entities but real people," Bray wrote in his blog post. "Here are some of their names: Courtney Bowden, Gerald Bryson, Maren Costa, Emily Cunningham, Bashir Mohammed, and Chris Smalls."
"I'm sure it's a coincidence that every one of them is a person of color, a woman, or both. Right?" Bray added.
Speaking with Newsweek early on Monday morning, Cunningham, who was one of the first Amazon workers to be fired after speaking out about concerns for workers' safety amid the pandemic, commended Bray for taking action.
"It's really heartening to see someone so high up in the company act with integrity," said Cunningham, who was fired from her role as a user experience designed for Amazon last month. "I think more employees want to see Amazon do the right thing," she said.
Cunningham's termination had come after she repeatedly spoke out on social media against the e-commerce giant's response to the coronavirus outbreak, including tweets accusing the company of putting workers and the public at risk.
At the time, an Amazon spokesperson told Newsweek that Cunningham was fired for "violating internal policies" which bar employees from commenting publicly on the business without approval from executives.
"We support every employee's right to criticize their employer's working conditions, but that does not come with blanket immunity against any and all internal policies," the spokesperson said.
However, Cunningham said those policies had only been introduced after she and other Amazon workers had started organizing other advocacy efforts prior to the pandemic, including an initiative calling on Amazon to do more to lessen its impact on climate change.
As one of the leaders of the Amazon Employees for Climate Justice group, Cunningham said she believed she had already been targeted by her company for her activism, even before she spoke out about her concerns over Amazon's coronavirus response.
Even then, she said, Bray had been supportive, with the former Amazon executive being the only VP to sign an open letter from Amazon employees calling on the company to do more to address its impact on the climate.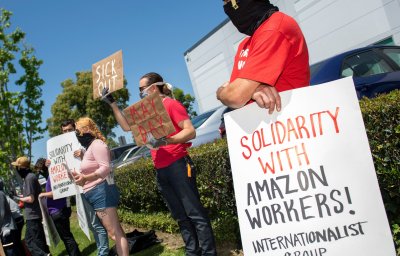 Now, Cunningham said, she hopes more Amazon executives will take a stand and call on the company to take action to protect workers.
Coinciding with Bray's last day at Amazon, on Friday, workers at the e-commerce giant, joined with workers from Whole Foods, Target and other companies, in a nationwide "sick-out" day of action to demand changes to their employers' responses to the pandemic.
In their list of demands, workers called on their companies to provide hazard pay, introduce better-paid leave policies and strengthen communication regarding sick employees. They also called on companies to do more to ensure that employees who are still coming into work every day are able to work in safe conditions that allow for social distancing and access to sanitation.
For her part, Cunningham said she believed the decision made in French court to bar Amazon from selling non-essential goods while the company works on improving safety measures is the right call.
"The French courts have ruled that it has been a danger to warehouse workers and the public and so they ordered Amazon to only sell essential products," she said.
Meanwhile, in the U.S., Cunningham said: "I can't have tea with my next-door neighbor. I can't go to a funeral. I can't go to a wedding and yet, Amazon is able to sell non-essential products at this time. So, workers are putting themselves and their families and the greater public at risk for ping pong balls and rubber chickens."
"Amazon has the opportunity to lead in both the climate crisis and the coronavirus pandemic," Cunningham said. "But, it has to start listening to workers and stop firing."
Newsweek has contacted Amazon and Bray for comment.