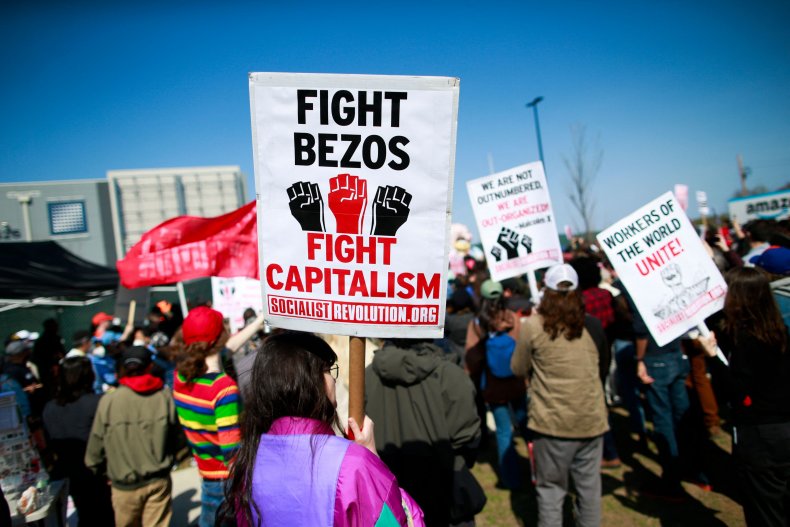 Amazon workers have been urged to continue efforts to unionize after the overwhelming rejection of a bid for a second union in New York's Staten Island.
Early last month, 8,300 Amazon warehouse workers in Staten Island voted in favor of forming the company's first labor union. On Monday, it was announced that more than 60 percent of workers at a smaller Amazon facility nearby had voted to reject unionization, despite a well-publicized pro-union campaign endorsed by prominent progressives like Senator Bernie Sanders of Vermont and Representative Alexandria Ocasio-Cortez of New York.
"I'm proud that once again these organizers came together, months ago, and they brought a trillion dollar company to the brink of an election," Amazon Labor Union President Chris Smalls said during a press conference after the vote tally was announced, according to Gothamist. "That's all we could do as organizing workers is, is get the coworkers the chance and opportunity to vote. We are not happy with the results but we've got to continue to organize."
Amazon aggressively urged workers to reject the unionization ahead of the vote, with efforts including mandatory meetings to spread an anti-union message, creating a "vote NO" website and posting anti-union posters at the warehouse, according to the Associated Press.
Spokesperson Kelly Nantel said in a statement obtained by Newsweek that Amazon was "glad" workers at the facility "were able to have their voices heard" by rejecting the union, while pledging that the company would be "continuing to work directly together as we strive to make every day better for our employees."
Prominent figures supporting the push to unionize took to Twitter to encourage organizers and workers to continue their fight following Monday's setback.
"Amazon's latest egregious anti-union campaign has prevailed," former U.S. Labor Secretary Robert Reich tweeted. "The company prevented a second facility in Staten Island from unionizing. Amazon may have won today, but the company is on its heels. Worker power will win."
"Don't be disappointed, The Labor Movement wasn't built easily," tweeted Democratic New York state Senator Diane Savino. "Working folks have been voting against their own self interest for centuries. Dig deeper for your current members, and the rest will follow. Solidarity!"
"Bummed to hear about the SI Amazon union vote, but the struggle continues!" tweeted New York City Council member Sandy Nurse, a Democrat. "Going up against a massive union busting corp and one of the richest men in the world will take many attempts. @amazonlabor - We're all just so impressed with what you've been able to do! Keep fighting!"
"The @AFLCIO stands in solidarity with the brave @amazonlabor workers who are changing the world and just getting started," AFL-CIO President Liz Shuler tweeted. "In the words of [union organizer] Mother Jones, in the face of adversity we don't mourn—we organize!"
"While today's outcome in Staten Island is disappointing, I am proud of the organizers and workers who continue to fight for better, safer, and more equitable workplaces," tweeted Democratic Representative Jerry Nadler of New York. "When workers fight for respect and dignity on the job, we all win."
Last month's vote in favor of unionizing the larger Staten Island facility was part of a national push to form labor unions. The results of an Amazon unionization vote in Alabama earlier this year are still to be announced, with over 400 ballots having been challenged in a close vote.
Newsweek reached out to Amazon and Amazon Labor Union for comment.