Amazon CEO Jeff Bezos Responds to Donald Trump's Twitter Attacks: 'I Expect Us to Be Scrutinized'
Amazon CEO Jeff Bezos has a long history of trading barbs with the current president of the U.S., Donald Trump. But in the face of criticism, the 54-year-old chief executive claims to be taking the high road—saying in a recent interview that he fully expects his company to be scrutinized.
Bezos—one of the richest men in the world and owner of The Washington Post—congratulated Trump in 2016 after he won the election. But the relationship has seemingly soured since, with the president's Twitter feed recently spewing accusations that Amazon is harming the U.S. Postal Service. Trump alleged last year that the company was failing to pay "internet taxes," which do not exist.
Donald Trump, who has declined to publish his own tax returns, frequently lambasts so-called "fake news" coverage from The Washington Post. Until now, Bezos has remained quiet about the clash. But in an interview published by Business Insider from the Axel Springer Award 2018, he opened up about the dispute.
"Whether it's the current US administration or any other government agency around the world–Amazon is now a large corporation and I expect us to be scrutinized," the billionaire CEO said during the event, hosted in Berlin.
"We should be scrutinized," he continued. "I think all large institutions should be scrutinized and examined. It's reasonable. And one thing to note about is that we have gotten big in absolute terms only very recently." He said that in the past 8 years the company had jumped from 30,000 employees to 560,000.
Bezos added: "I know we should be scrutinized and I think it's true that big government institutions should be scrutinized, big non-profit institutions should be scrutinized, big universities should be scrutinized. It just makes sense."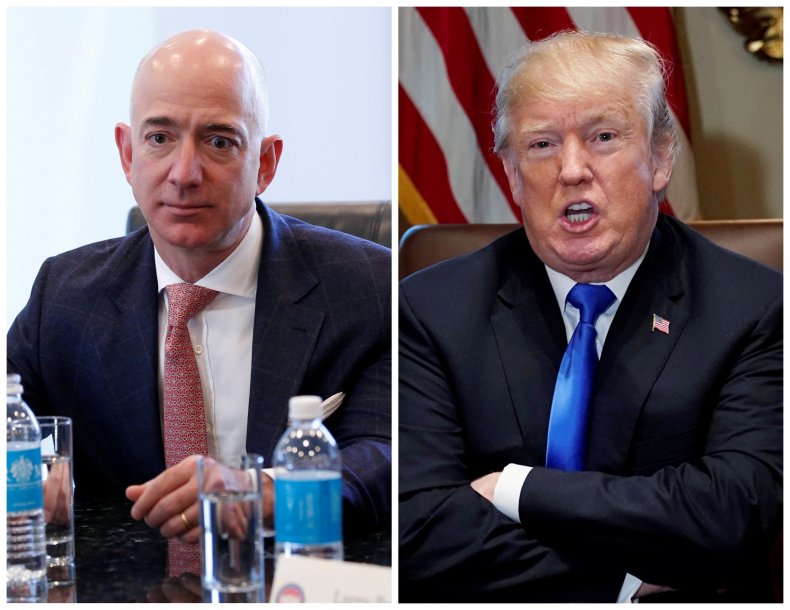 In the wide-ranging interview, Bezos said that he believes the debate over data privacy—in the wake of the Cambridge Analytica Facebook scandal—is "one of the great questions of our age," because the internet can now shape democracies.
"The fact that I can look up almost anything on Wikipedia in 5 seconds is an unbelievable capability that just simply didn't exist 20 years ago," he said. "And so on and so on. But we're also finding out that these powerful tools enable some very bad things, too, like letting authoritarian governments interfere in free democratic elections in the world. This is an incredibly scary thing."
Bezos added: "How do you safeguard people's physical safety against terrorists and bad actors all over the world, and how do you balance that against privacy? These are very challenging questions. And we're not going to answer them, even in a few years. I think it's going to be an ongoing thing for quite a while."
Amazon maintains that it remains in full compliance with U.S. tax laws. Last week, its financial results indicated the company was thriving, with a net income of $1.6 billion in the first quarter of this year, compared to $724 million in the first quarter of 2017. Net sales increased 43% during the same period, it said.