Amber Heard Botox Bruise Rumors: Cosmetic Doctor Weighs In
All aspects of Amber Heard's testimony have been scrutinized on social media following her explosive allegations of domestic violence at the hands of Johnny Depp in court last week—including whether her bruises were caused by altercations with her ex-husband or not.
The Pirates of the Caribbean star is suing Heard for $50 million for defamation over an op-ed she wrote about domestic abuse in The Washington Post in 2018. She is counter-suing for $100 million for damages.
While giving testimony in court on May 5, Heard alleged she was head-butted by Depp during an altercation in December 2015.
"Punching me, punching me repeatedly with his fist, I don't even remember the pain, just the sound of Johnny's voice. 'I f****** hate you,' over and over," Heard said.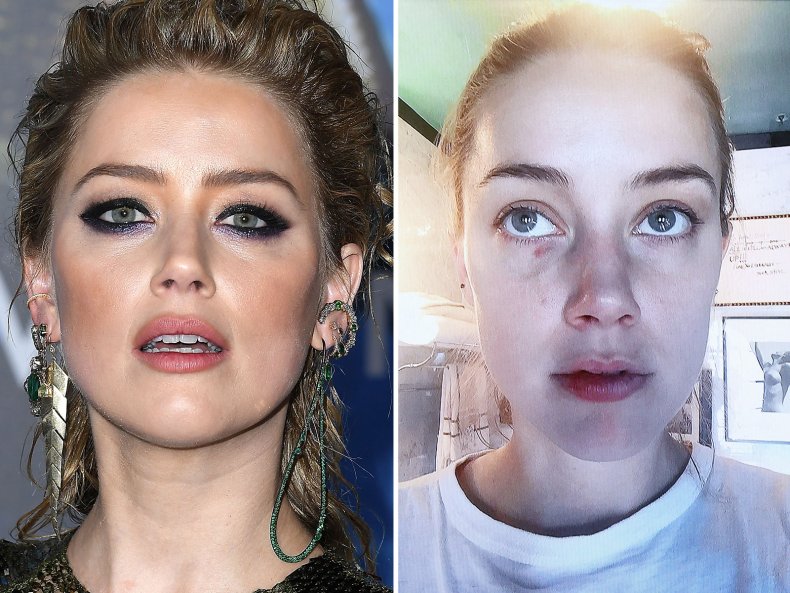 "Pounding the back of the head I could just hear him saying he was going to kill me, he sounded like an animal in pain," Heard continued.
A photo of the seemingly bruised Heard in the days after the alleged assault was displayed for the court.
Such photos had previously been shown in court during Depp's 2020 legal battle with The Sun newspaper and fans of the actor have long scrutinized Heard and her claims.
One Twitter user shared a thread "debunking the 'bruises'" last week which gained more than 500 likes.
Another thread claiming the bruises were caused by Botox or filler injections has amassed more than 1600 likes.
Dr. Dan Dhunna of London's Harley Street has said it is difficult to give a firm opinion on the bruising as such injuries can can have many causes.
"Bruising can occur in a multitude of different patterns and itself can vary over time in depth, color and distribution. So it is very difficult to give a solid opinion," Dr. Dhunna told Newsweek.
"Bruising from Botox itself is generally unlikely to occur and the pattern of bruising seen in this case doesn't fit the typical Botox injection sites, as bruising from Botox procedures tends to be more pinpoint and less diffuse in nature," he explained.
The cosmetic doctor said that some of the images could resemble a pattern caused by filler treatment.
"Filler injections tend be to placed deeper than Botox and may give more of a widespread pattern of bruising should it occur as shown," he said. "However, some of the imagery does show a bruise pattern which may be a result of a filler treatment for an under-eye tear trough deformity."
Heard also claimed last week that she was forced to use makeup to cover up bruises when she appeared on The Late Late Show with James Corden in 2015.
"I got worried that I wouldn't be able to hide the bruising and swelling," Heard said. "I iced it all night and the next day checked in the mirror to see if I could get away with it, meaning hiding it, so I could make an appearance.
"I gambled and thought maybe I could pull it off, I had my hair and makeup team come. They worked around it, meaning worked around the lesions on my head with the hair spray because that stings," Heard continued. "They worked around the bruising by covering it with heavy makeup, heavier makeup than normal bruise covering makeup.
"I remember my lip was still bleeding and swollen so we did this really thick super heavy matte red lipstick and I remember very well at the time that we had no choice in color, and that was one of my favorite colors to wear," she added.
The Depp vs. Heard trial will resume at 9 a.m. EDT on May 16.