Amber Heard Confirms She Has Hit, Thrown Things at Johnny Depp Under Oath
Amber Heard reiterated in the Fairfax County courtroom in Virginia that she has previously hit and thrown things at her ex-husband Johnny Depp.
The admission under oath on the witness stand has been latched onto by social media users and become a major talking point on social media. Depp's attorney, Camille Vasquez, was questioning Heard when the actor clarified that it was always her testimony that she had "hit" Depp.
Depp and Heard are currently embroiled in a $50 million defamation lawsuit after Heard wrote a 2018 op-ed stating she was a survivor of domestic violence. She never mentioned her ex-husband Depp by name but his legal team argue the insinuation has caused a massive loss of potential earnings.
While on the stand Tuesday, Heard was once again asked about her own violent actions towards Depp.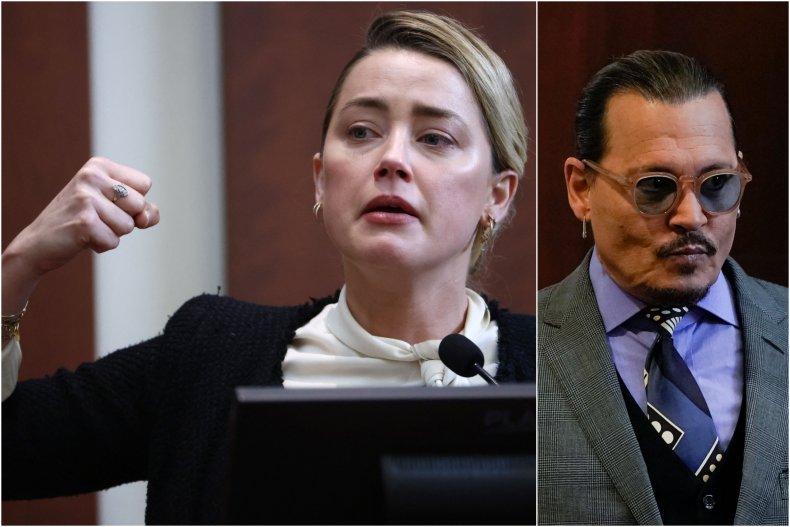 "It's always been my own testimony that I hit Johnny," Heard told the court, turning to address the jury. Asked whether she threw anything at him during a specific incident, she continued, "I hit him in defense of my sister, I didn't have anything to throw at him, I never threw anything at him.
"I hit him when he attacked me and my sister. Specifically, when he moved for her, that's when I hit him," Heard said.
"So it's your testimony under oath that you threw nothing at Mr. Depp?" Vasquez asked.
"I have thrown things at Johnny to be clear, but not on that occasion," Heard replied.
Vasquez was asking Heard about Travis McGivern's testimony, in which he claimed he had witnessed Heard throw a can of Red Bull at Depp, hitting him in the back. McGivern, part of Depp's security team, was a witness called by Depp's lawyers.
"So it's your testimony that Mr. McGivern imagined you throwing things at Mr. Depp down from the mezzanine level down towards where Mr. Depp and Mr. McGivern were standing?" Vasquez pressed.
"Well he certainly wasn't going to say it about his client," Heard said.
The brief exchange in the courtroom was viewed hundreds of thousands of times on YouTube and discussed across Reddit and Twitter by those invested in the case.
On Reddit, the user @UtopiaDystopia got thousands of upvotes for pointing out that "Heard stated under oath that she never started a physical altercation, and only hit Depp in self-defense." They continued, "Meanwhile, the "self-defense" part is completely absent from the audio recordings with her and Depp discussing her hitting him, and she explicitly admits to starting a physical altercation with Depp when he was trying to get away from her." More Reddit users replied in this thread pointing out specific quotes from the audio recordings played out where Heard verbally taunts Depp after he tried to walk away from fights.
Depp's attorney Vasquez has been the subject of a lot of discussions online, and Reddit user @Background_Action_92 added to the praise she's received. "Camille is such a boss, just grilling her left and right, while Johnny draws his new manga," they wrote.
Over on Twitter and many users took umbrage with Heard's quotes in court. @DanteStVincent contrasted some of Heard's comments. They wrote, "'I've never assaulted Johnny' Half an hour later, 'It's my testimony that I hit Johnny'."
The trial continues today. Newsweek's live blog will bring you all the breaking revelations from the Circuit Court of Fairfax County, Virginia.