Amber Heard Flinches After Nearly Running Into Johnny Depp in Court—Clip
A video showing Amber Heard flinching in the courtroom after seeing Johnny Depp up close is doing the rounds on the internet.
Heard had continued her testimony on Day 15 of the trial and made further allegations of abuse and violence against her ex-husband Depp. In a moment which has since gone viral and been mocked on the internet, Heard gasped and recoiled when she saw Depp walking her way across the courtroom.
The moment came after Judge Penney Azcarate had announced the afternoon break on Thursday and Heard was stepping down from the witness stand.
Depp, 58, filed a $50 million lawsuit against Heard, 36, accusing her of defaming him in an op-ed published by The Washington Post in 2018, in which she said she was a victim of domestic abuse.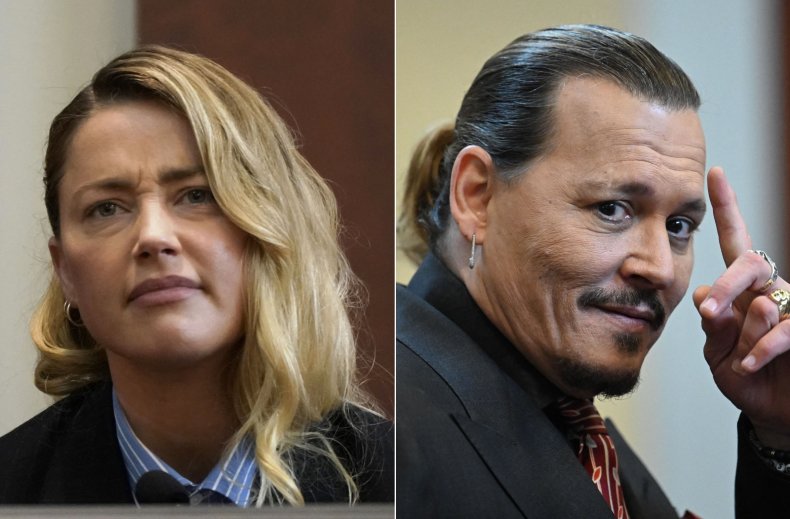 While Heard didn't name Depp in the article, his lawyers have argued that it was obvious she was referring to the actor.
Heard has counter-sued for $100 million for nuisance, with her attorneys arguing that the op-ed was a matter of public interest.
Once again throughout her testimony, Depp had largely spent his time looking down and not making eye contact with Heard. The bailiff standing between the pair stopped Depp and turned him around to allow Heard to pass.
The video clip is being widely shared on social media. The comment section from many of the videos show Johnny Depp supporters criticizing Heard's "performance."
A TikTok user mocked the moment by uploading the video with the caption, "Not her moving away from Johnny like she's afraid" followed by the clown emoji.
The comments to this video are filled with scathing words aimed towards Heard.
"Even the officer looked like he rolled his eyes a bit and sighed," noted stardustcaravel.
Meanwhile, lar.diggity.dawg said: "Wow! Best scene of her show yet!" Another TikTok user laughed and wrote, "wow, she never did that all the first part of the trial, new role activated."
Heard accused Depp of domestic abuse during their divorce proceedings in 2016.
While Depp had repeatedly denied ever having been violent to Heard during a three-week trial in London, a judge found that The Sun's claims (published by the British tabloid after the divorce) that the Kentucky-born actor was abusive to Heard were "substantially true."
Over on Twitter the most recent video was also being discussed.
User @twiggywitch suggested the stagger from Heard was out of character as it showed her walked by Depp on May 4, the first day she gave testimony, and then the clip from May 5 which shows her recoiling when seeing him.
The translated post reads, "Amber Heard walking off the stage yesterday, not caring about Johnny's presence. Amber Heard walking off the stand "scared" earlier today. It's a performance. Everything you're doing, it's ridiculous"
Not all of the comments were supporting Depp. Getting into Heard's mindset from the relationship, @aloe_juliadunn said: "It's complicated when you are married to someone who is abusing you. You don't necessarily do want you should do. You're very mixed up. There's psychological abuse too which messes with your head. They make you feel like it's your fault. You feel guilt and shame, try to hide it."
Another user put the blame on Depp for the awkward courtroom encounter.
"That came across as passive aggressive on his part. His team should have known enough to tell him to wait until she was back at her table before he got up," wrote @Chanel732.
Capturing a screenshot of the day before, @Lofara thought Heard showed "arrogance" because she looked Depp in the eye the day before.
The court has now adjourned for the week and will reconvene on May 16 at 9 a.m. ET.