Johnny Depp's Refusal to Look at Amber Heard During Testimony Sparks Debate
Johnny Depp's refusal to look at Amber Heard as she testified about the alleged abuse she suffered during their relationship has sparked a debate online.
Depp, 58, filed a $50 million lawsuit against Heard, 36, accusing her of defaming him in an op-ed published by The Washington Post in 2018, in which she said she was a victim of domestic abuse.
While Heard didn't name Depp in the article, his lawyers have argued that it was obvious she was referring to the actor.
Heard has counter-sued for $100 million for nuisance, with her attorneys arguing that the op-ed was a matter of public interest.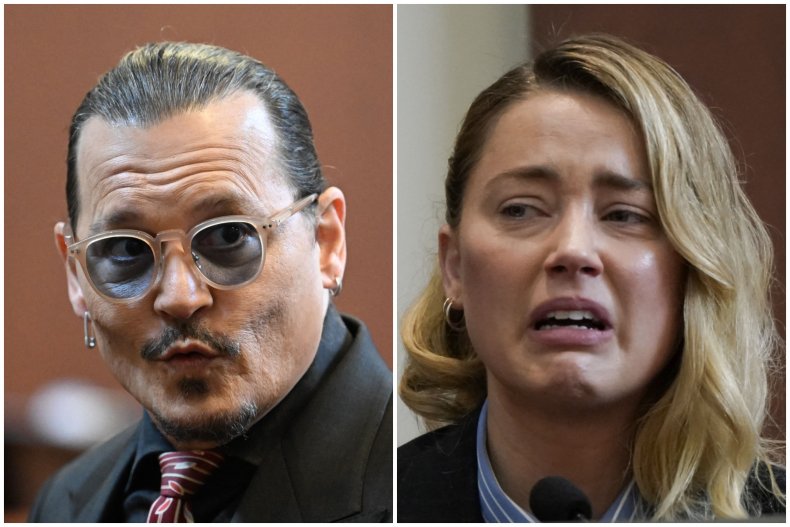 "Painful and Difficult"
As the trial's fourth week rolls on in Fairfax, Virginia, the Aquaman actress took the stand on Wednesday as she detailed her allegations, and said that the past few weeks had been "the most painful and difficult thing I've ever gone through."
"This is horrible for me to sit here for weeks and relive everything," Heard said. "Hear people that I knew—some well, some not—my ex-husband with whom I shared a life, speak about our lives in the way that they have."
During the first 10 minutes of testimony, Depp kept his head down. The actor first looked to be wearing sunglasses and kept his eyes on the table in front of him, avoiding watching Heard.
As the testimony continued, he seemed to have taken his sunglasses off, but continued to avoid looking up, instead appearing to doodle.
"Concerning" Behavior
Julie Grant, a host on Court TV, which is broadcasting the trial, told U.K. TV show Good Morning Britain that she found Depp's behavior to be "concerning."
"I thought Amber Heard testified as well as she could," said Grant. "Him looking down most of the time was concerning. Sometimes it can be effective to look like you're not paying attention to a jury. That's a trial advocacy trick.
"But to do it for such a prolonged period of time on Wednesday, that to me was a problem. I'm mindful that these two are actors. It's really hard to know what is authentic and what is an act."
Support for Depp
Depp's refusal to look at his ex-wife during her testimony sparked spirited debate among each of the stars' supporters on Twitter, as they shared their opinions on the matter.
Eastern Eye columnist Asjad Nazir shared side-by-side shots of Heard and Depp in court to illustrate his suggestion that Depp's behavior was the result of past abuse.
"I have been told abusers stare at victims in court," Nazir wrote. "The Abused can't look at the tormentor. When #JohnnyDepp testified #AmberHeard was staring at him and has done throughout. He refuses to look at her."
Nazir's personal assessment was echoed in a wave of comments shared by fans of The Pirates of the Caribbean star Depp.
On Twitter user stated: "what johnny depp is doing in court right now is admirable. he won't look at her, he listens and chats with his lawyers while doodling on his notebook as a coping mechanism. i am sick to my stomach watching from home, can't imagine how he must be feeling."
Another posted a photo of Depp looking down while he was in court, surmising that the actor's lack of eye contact was something that made his fans proud.
They wrote: "as a community we are SO proud of you, Johnny! She kept trying to catch your eye but you never allowed it. We are so proud of you for being able to get through her testimony. We are with you, Johnny Depp."
Support for Heard
However, the hashtag #IStandWithAmberHeard also trended on Twitter, with a number of people speaking out in support of the actress.
"Listening Amber Heard's testimony. I believe her," tweeted domestic abuse researcher Dr. Emma Katz.
"I believe her because of my careful assessment of this case, and my very extensive understanding of what DA is like, what it involves, & how perpetrators & survivors think, behave and react."
British TV personality Narinder Kaur also weighed in on the day's court proceedings, as she suggested that opinions had been formed based on the people concerned, rather than their actions.
"Just because #JohnnyDepp keeps his head down doesn't make him innocent!" Kaur commented. "If [Heard] had kept her head down when he was talking she would have been accused of being guilty! [Stop] changing the narrative to suit your love for Depp. be FAIR."
"Johnny Depp is so cowardly (we already knew it) that he doesn't even dare to look Amber Heard in the eye and tries to escape this by smiling with his lawyer, drawing," wrote another. "His behavior will be observed."
Emotional Testimony
During her testimony on Wednesday, Heard was asked to recall the first time Depp allegedly hit her. "I will never forget it," she said. "It changed my life."
She said she asked him about a tattoo on his arm that looked like black marks. He told her it said "wino," and she laughed, believing he was joking. Depp then slapped her "across the face," she testified.
"I felt safe talking to my mom because I knew she understood those dynamics and she wouldn't judge me for staying with him, for loving him even though this was happening to me," Heard said.
Depp had previously lost a 2020 libel case against British tabloid The Sun, which had labeled the Charlie and the Chocolate Factory star a "wife-beater," in reference to Heard's allegations of domestic abuse.
Heard accused Depp of domestic abuse during their divorce proceedings in 2016.
While Depp had repeatedly denied ever having been violent to Heard during the three-week trial in London, a judge found that The Sun's claims that the Kentucky-born actor was abusive to Heard were "substantially true."
Depp, who was dropped from the Pirates of the Caribbean franchise in 2018, was "asked to resign" from Fantastic Beasts 3 following the 2020 verdict. He was replaced in his role as Gellert Grindelwald by Mads Mikkelsen.