Amber Heard's Five Most Notable Moments From Testimony Against Johnny Depp
Actress Amber Heard testified in her defense on Wednesday as part of a defamation lawsuit filed by her ex-husband, Johnny Depp.
The trial, which is in its fourth week, has been filled with testimonies from psychologists and medical physicians, as well as both actors' assistants and entertainment agents who worked for them during Heard and Depp's relationship.
Depp, who previously spent four days testifying on the witness stand in his lawsuit against her, is suing Heard for $50 million in damages, claiming she defamed him in a 2018 op-ed she wrote for The Washington Post, in which she insinuated, without using his name, that she was abused in their marriage.
In turn, Heard is countersuing Depp for $100 million in damages. Wednesday she began her testimony on the witness stand, in which she recalled emotional and controversial moments during her relationship with Depp.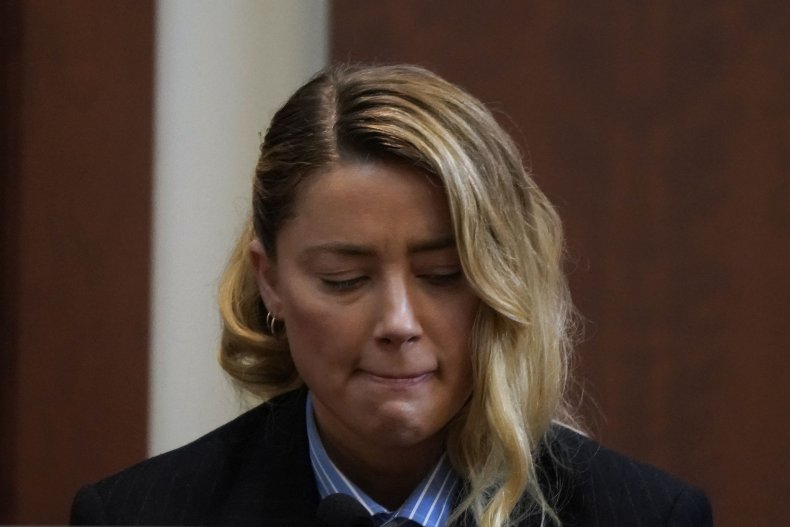 Here are five notable moments from Heard's testimony, which will continue tomorrow.
Heard Recalls First Time Depp Allegedly Hit Her
On the witness stand, the Aquaman actress recalled the first time Depp allegedly hit her, saying that she "will never forget it. It changed my life."
She recalled that she was sitting on the couch with Depp in 2012, where the two were having a normal conversation. She stated that Depp had been drinking, and believes he may have also used cocaine, as she remembered "a jar of cocaine out on the table."
Heard said she asked him about a tattoo on his arm that looked like black marks. When Depp replied that the tattoo said "wino" she laughed, believing it was a joke. Heard said that he slapped her "across the face."
Once again, she recalled laughing, saying, "I laughed. Because I didn't know what else to do. I thought, 'This must be a joke.'" She testified that Depp hit her twice more, the third time hitting her "hard."
"We're sitting next to each other on the edge of the couch, or I was on the edge of the couch. And I'm all of a sudden realizing that the worst thing just happened to me," she said.
Depp Avoids Looking at Heard While She Testifies
While Heard testified on Wednesday, Depp appeared to keep his head down, avoiding looking at his ex-wife while she was on the stand.
For a majority of Heard's testimony, Depp seemed to be distracted by something on the table, keeping his head down and his sunglasses on. Some fans speculated that Depp was doodling or drawing and wondered what his behavior might signify.
One Twitter user wrote, "While Johnny testified Amber never took her eyes off of him. Now that she is testifying he hasn't looked up at her once. Not once. But she's the one who suffers with PTSD. You do the math."
Others thought that Depp's avoiding eye contact was suspicious, with another user tweeting, "If he was innocent he'd be head up, focused, listening to the testimony. Not his witness though is it? Questionable behavior."
Heard Accuses Depp of Hanging His Dog Out of a Car Window
In one of Heard's longer testimonials, she recalled an instance in which Depp allegedly held his dog out of a moving car window and "howled."
She stated that she had called her sister to help get Depp out of her apartment after he allegedly drank and did cocaine. When they were driving somewhere together, Heard said, "At some point, he starts howling out of the window."
She testified that he grabbed his dog, Boo, a small Yorkie, "and holds Boo out of the window of the moving car. And he's howling, like an animal while holding the dog out of the window."
She stated that "everyone just froze."
"It was just this eerie moment where he's howling and holding this animal's head out of the car window," she added.
Heard Says Depp Cavity Searched Her Looking for Drugs
One of the more shocking moments of the actress' testimony took place when Heard claimed that Depp performed a "cavity search" for cocaine while the couple was on a trip in Hicksville, New York.
She recalled that in May 2013, both of them met with friends to do "laughy" drugs in Hicksville, where she described staying at a fancy trailer park. She explained that a group of them sat around a fire and took mushrooms, while one woman took MDMA.
Heard recalled the woman leaning on her in what she assumed to be a reaction to the drugs, and said that Depp became "activated" and "upset," grabbing the arm of the woman and threatening to break it.
Heard stepped in and got Depp to go back to a trailer with her and talk. Inside, she recalled he began throwing things and screaming at her, accusing her of having a relationship with the woman. She then stated that Depp went into the bedroom area before coming back out, accusing her of hiding "it."
Heard said he began searching her body for his cocaine. "He ripped my dress. The strap top part of my dress," she said, and then explained that he performed a "cavity search."
"I just stood there staring at the stupid light, I didn't know what to do," Heard testified. "I just stood there while he did that."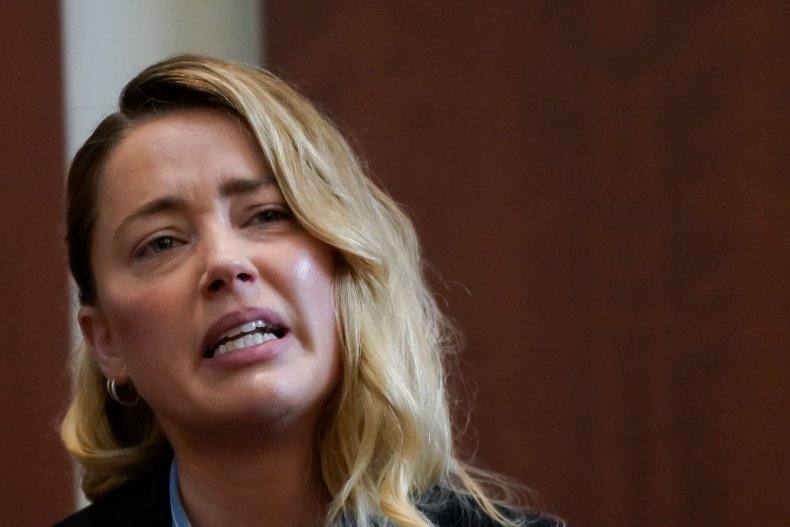 Heard Testifies Depp Was "Off the Wagon" on a Trip With His Kids
Toward the end of her testimony, Heard recalled an incident in the Bahamas on a trip with Depp's kids, Lily-Rose and Jack. They went on one last trip before Depp sold his yacht to author J.K. Rowling.
"Johnny was upset that he had to sell the boat and he was off the wagon again," Heard testified, adding that Depp was "hiding" alcohol in coffee cups to keep his children from finding out.
"There's no off button with Johnny," the actress said. "So we just kept drinking and the behavior kept getting more obviously drunk."
She said that Lily-Rose began getting "panicky" when Depp threw himself over the edge of the boat. She added, "It looks a little scary, like not something somebody would do. If they're completely okay."
Heard recalled that Lily-Rose began crying and she comforted her before Depp came in and asked his daughter to leave. She said he was "accusing me of kind of, like telling on him and calling him you know, a drunk in front of his kids. And I hadn't done that. I was actually trying to protect Johnny."
She recalled that Depp held her by her neck and told her "he could f**king kill me" and "I'm embarrassing to him."