Johnny Depp Brings Gummy Bears, Sketchpad Into Court Hearing
Actor Johnny Depp showed that he had a sweet tooth during Thursday's hearing in his ongoing defamation trial with ex-wife Amber Heard as the actor brought gummy bears into the courtroom along with the sketchpad he was seen with on Wednesday.
The colorful candy caught the notice of multiple people who have been following every detail of the trial online.
Several photos, such as the one below, posted across the internet showed the pile of gummy bears located on Depp's table in court.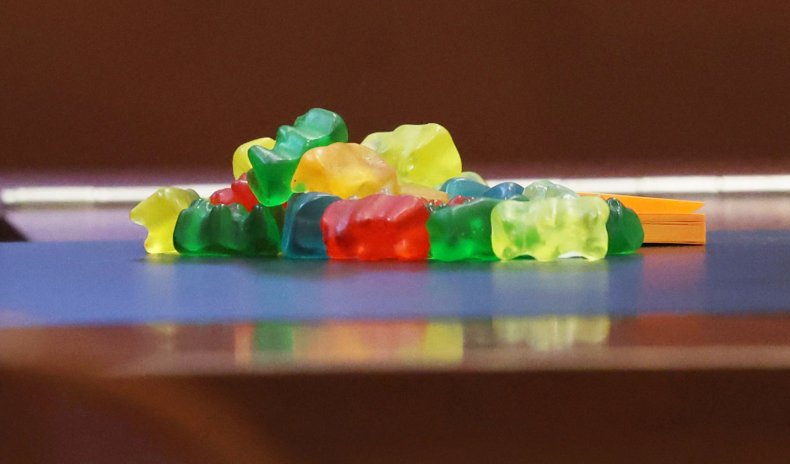 Other photos that captured Depp's gummy bears in court were also posted on Twitter.
In addition to the gummy bears, Depp was also once again seen bringing a sketchpad into the hearing, Depp made headlines on Wednesday after he was seen drawing on the pad during the hearing.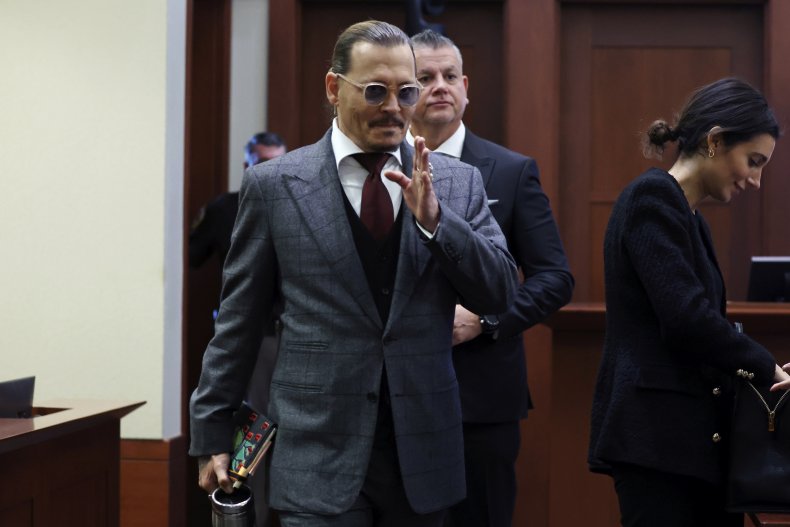 The pictures of Depp come amid the ongoing trial between the Pirates of the Caribbean actor and Heard, who previously starred in the Aquaman movie. Depp is suing his ex-wife for $50 million after she published a Washington Post op-ed in 2018, discussing her experiences with domestic abuse. Depp was never named in the op-ed but claims that Heard's remarks damaged his career as an actor.
In response to Depp's lawsuit, Heard filed her own countersuit against her ex-husband for $100 million.
Earlier this week, Depp was first seen with gummy bears on his table and appeared to be drawing on a sketch pad during the hearing. In one video posted to TikTok, Depp can be seen drawing on the sketch pad and showing his attorney, Benjamin Chew, what he drew. In the video, Depp's drawing appeared to be of a person's face.
Another photo posted on Twitter on Wednesday captured more gummy bears on Depp's table and another drawing he appeared to create during the hearing.
"Johnny Depp is drawing," one Twitter user wrote with the two photos.
Throughout their ongoing hearing, both Depp and Heard have accused each other of physical violence during their relationship, when the couple was married from 2015 to 2017.
On Wednesday, a Los Angeles Police officer testified about a 2016 fight the couple had. During his testimony, Los Angeles Police officer Tyler Hadden, who responded to the 2016 incident, said that he did not see Heard suffering from any sort of injuries, despite Heard saying that she was assaulted by Depp.
"Just because I see a female with pink cheeks and pink eyes doesn't mean something happened," Hadden said during the hearing.
During the hearing, Depp said that he "never" physically struck Heard during their relationship. Depp then went on to testify that he experienced "verbal abuse" from Heard.
"There was quite a lot of verbal abuse, there was quite a lot of name-calling," Depp said during the trial last week. "Bullying. You know, making fun of whatever defect one might have."
Newsweek reached out to reps for Depp for comment.