A video clip of Johnny Depp appearing to sketch a picture before showing it to his attorney during the ninth day of his court battle with Amber Heard has gone viral.
As proceedings continued in his ongoing defamation trial against ex-wife Heard, 36, on Tuesday, Pirates of the Caribbean star Depp, 58, was at one point seen intently scribbling away on a piece of paper.
In footage of the moment, which was shared on TikTok, Depp's attorney, Benjamin Chew, was shown stealing glances at what the actor was doing. Depp then slid what appeared to be a sketch of a person's face on a yellow sticky note over to Chew.
As the camera zoomed in to capture a clearer image of Depp's apparent work of art, Chew was seen putting on his spectacles to inspect the piece of paper.
Appearing impressed with what he saw, Chew nodded at Depp, who smiled as the two briefly discussed the screen star's work, before the attorney removed his glasses and continued to focus on the proceedings at the trial.
The video has amassed more than 3.1 million views since it was uploaded on Tuesday.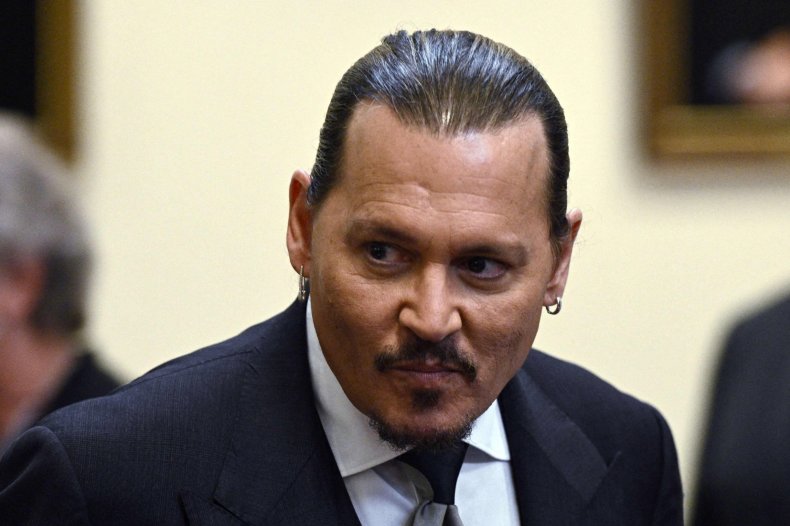 Tuesday marked the ninth day of the high profile court battle, after Depp filed a $50 million lawsuit against Heard, alleging that she defamed him in an op-ed published by The Washington Post in 2018, in which said she was a victim of domestic abuse.
While Heard didn't name Depp in the article, his lawyers have argued that it was obvious she was referring to the actor. Heard has countersued for $100 million for nuisance, with her attorneys arguing that the op-ed was a matter of public interest.
A number of famous faces are expected to testify in the trial, including Elon Musk, James Franco, Paul Bettany, and Ellen Barkin. The trial is taking place in Fairfax, Virginia, due to proximity to the Post's headquarters.
Depp had previously lost a 2020 libel case against British tabloid The Sun, which had labeled the Charlie and the Chocolate Factory star a "wife-beater" in reference to Heard's allegations of domestic abuse.
Heard accused Depp of domestic abuse during their divorce proceedings in 2016. The Rum Diary co-stars, who wed in 2015, had their union officially dissolved in January 2017, months after Heard filed for divorce.
While Depp had repeatedly denied ever having been violent to Heard during the three-week trial in London, a judge found that The Sun's claims that the Kentucky-born actor was abusive to Heard were "substantially true."
Depp, who was dropped from the Pirates of the Caribbean franchise in 2018, was "asked to resign" from Fantastic Beasts 3 following the 2020 verdict. He was replaced in his role as Gellert Grindelwald by Mads Mikkelsen.