Johnny Depp Takes the Stand, Tells Judge He Never Struck Amber Heard
Johnny Depp has insisted that he "never" hit Amber Heard while testifying at the defamation trial against his ex-wife.
Depp is suing Heard for $50 million, alleging that she defamed him in an opinion article that accused him of violent abuse, which was published by The Washington Post in December 2018 and did not explicitly name Depp. While testifying in Virginia's Fairfax County Circuit Court on Tuesday, the actor said that the allegations were false and that he had never been physically violent towards women.
"Nothing of the kind had ever happened," Depp told the jury. "Though [in] the relationship there were arguments and things of that nature...but never did I, myself, reach the point of striking Miss Heard in any way. Nor have I ever struck any woman in my life."
"I am obsessed with the truth," he continued. "Today is...actually the first opportunity that I've been able to speak about this case in full."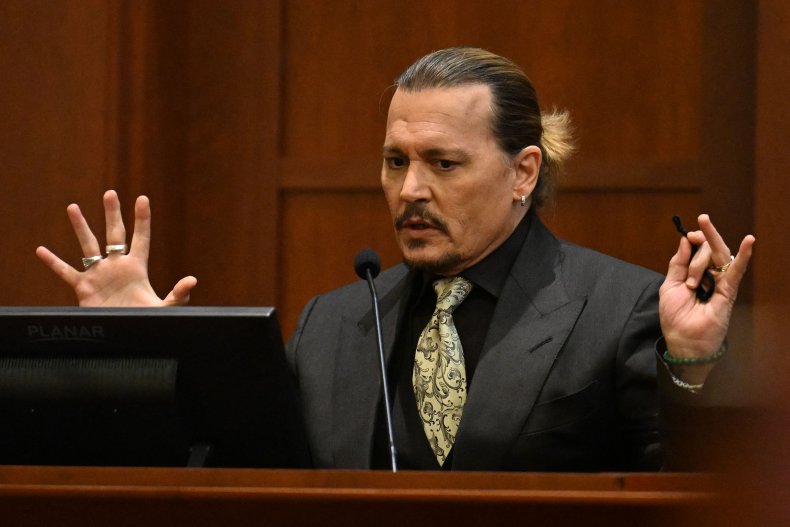 Depp went on to testify that his former wife had instead subjected him to "physical abuse" that was "constant." He also accused Heard of "bullying" himself and others.
"There was quite a lot of verbal abuse, there was quite a lot of name-calling," said Depp. "Bullying. You know, making fun of whatever defect one might have...My brother wore glasses, so of course, he was 'four eyes.'"
Depp's testimony came after Sean Bett, a member of his security team, and sound engineer Keenan Wyatt testified that they had never seen him be violent or abusive.
Earlier in the trial, Heard's former personal assistant Kate James also testified that she had never seen violence from Depp. James accused Heard of being "belligerent and abusive" instead.
Depp is expected to return to the stand to face cross-examination on Wednesday. Heard is likely to testify later in the trial, as are high-profile witnesses including actors Paul Bettany, Ellen Barkin and James Franco, as well as billionaire Tesla CEO Elon Musk.
Heard is countersuing Depp for $100 million. She first accused her ex-husband of domestic abuse during the couple's divorce proceedings in 2016.
During opening statements in the defamation trial, attorneys for Heard accused Depp of becoming a "monster" while abusing drugs and alcohol. Depp was described as "delusional" and "paranoid."
"Amber made a mistake millions before her and millions after who are victims of domestic abuse—she chose to stay," attorney Elaine Bredehoft told the jury. "She thought she could fix him."
"We're going to ask you...to hold Mr. Depp responsible," added Bredehoft. "Enough is enough."
Depp previously lost a U.K. libel suit against a British tabloid that labeled him a "wife-beater" due to the allegations.
Heard's attorneys declined to comment in response to an inquiry from Newsweek.