Amber Heard vs Johnny Depp: 4 Trial Revelations
Johnny Depp and ex-wife Amber Heard are continuing to face off in a highly publicized libel trial.
Depp, 58, has sued Heard, 35, for $50 million, saying she defamed him when she penned a 2018 op-ed in The Washington Post about being a survivor of domestic abuse.
Although the op-ed did not mention Depp by name, his lawyers said it was clear Heard was referencing him and that it damaged his reputation and career. Heard's lawyers have argued that her opinion piece was accurate and didn't defame him.
Here, Newsweek rounds up five revelations from the past week of the trial in Fairfax, Virginia.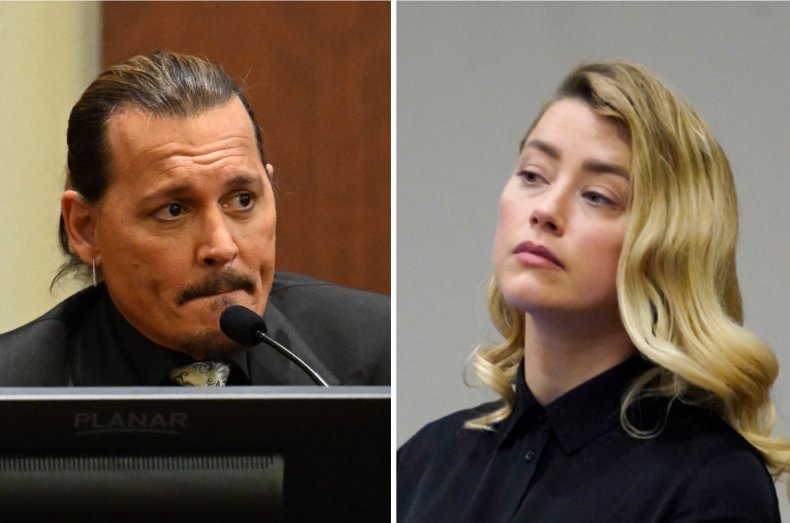 Depp, Paul Bettany's Texts About 'Drowning' Heard
Heard's attorney Ben Rottenborn showed the court text exchanges between Depp and WandaVision star Paul Bettany, including one where the actors joked about killing Heard.
"Let's burn Amber!!!" Depp wrote in a text from 2013. "I'm not sure we should burn Amber," Bettany wrote back. "She is delightful company and pleasing on the eye. We could of course do the English course of action and perform a drowning test. Thoughts? You have a swimming pool."
Depp replied: "Let's drown her before we burn her!!! I will f*** her burnt corpse afterwards to make sure she is dead."
Depp Accuses Heard of Defecating in Bed
Depp told the court that after he and Heard had an argument at her birthday party back in April 2016, he wanted to retrieve his belongings from their home while she was at the Coachella music festival.
He said his security guard advised against it and "showed me a photograph on his telephone of... it was a photograph of our bed, and on my side of the bed, was human fecal matter."
Depp added: "It was so bizarre and so grotesque that I could only laugh."
Depp Details Gory Fingertip Incident
Depp testified that Heard threw a large bottle of vodka at him during a fight while the former couple was in Australia, which resulted in the tip of his finger being severed.
The actor described writing on the walls with his own blood before calling his doctor, and said he had previously lied about the events of the evening to protect Heard.
"She threw the large bottle and it made contact [with the bar] and shattered everywhere. I honestly didn't feel the pain at first," Depp said.
"I felt heat, and I felt as if something were dripping down my hand and then I looked down and realized the tip of my finger had been severed and I was looking directly at my bone sticking out."
Heard has disputed those claims, saying that Depp cut his fingertip himself during a three-day bender.
Heard Admits Hitting Depp While 'on Ambien'
In a recording played to the court on Wednesday, Depp can be heard asking his former wife if she had "lost memory" about "kicking" in a bathroom door before allegedly hitting him "in the skull."
"I was upset, there was a lot going on and I was on an Ambien," Heard responded. "Why are you obsessing over the fact I cannot remember the way you are remembering it? I said I was sorry. I'm not denying it."
Depp's lawyers played a number of audio recordings of arguments between the former couple.
"I'm sorry that I didn't hit you across the face in a proper slap," Heard says in one clip. "I was hitting you, I was not punching you. You're not punched."
"Don't tell me what it feels like to be punched," Depp replied.