Amber Heard Admits on Tape to Hitting Johnny Depp While 'on Ambien'
A secret recording captured Amber Heard admitting that she hit Johnny Depp while explaining that she was not certain of all the details due to being "on an Ambien."
Heard made the admission during an argument surreptitiously captured by Depp while the couple was still married. The recording played Wednesday as the Pirates of the Caribbean star's $50 million defamation trial against his ex-wife continued. Heard is accused of defaming Depp in a 2018 Washington Post opinion article that suggested she was a victim of domestic abuse without explicitly naming her ex-husband.
In the recording, Depp can be heard asking his former wife whether she had "lost memory" about "kicking" in the door of a bathroom that he had retreated to, before allegedly hitting him "in the skull."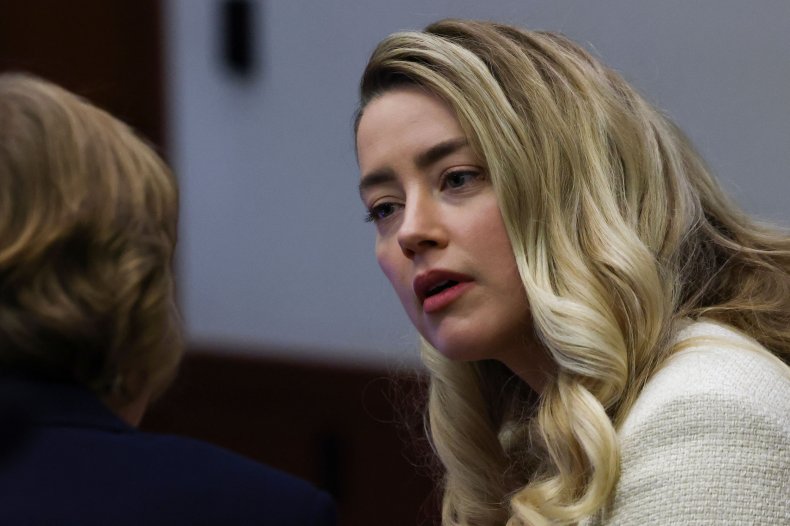 "I was upset, there was a lot going on and I was on an Ambien," Heard responded. "Why are you obsessing over the fact I cannot remember the way you are remembering it? I said I was sorry. I'm not denying it."
Ambien is a prescription sleeping pill. In 2018, Roseanne Barr claimed that the drug played a role in her tweeting racist comments about an aide to former President Barack Obama, prompting the drug's manufacturer Sanofi to tweet that "racism is not a known side effect" of the medication.
Later in the recording played Wednesday, Heard admonished Depp for repeatedly retreating to bathrooms when they have confrontations, arguing that he did not "escape the fight" but avoided "the solution" and efforts to "work it out." When Depp accused her of punching him, she disputed the specific claim but admitted to "hitting" him instead.
"You didn't get punched, you got hit," Heard said in the recording. "I'm sorry I hit you like this, but I did not punch you. I did not f**king deck you. I f**king was hitting you. I don't know what the motion of my actual hand was. But you're fine. I did not hurt you. I did not punch you. I was hitting you."
Heard also admitted to having "thrown pots and pans" at Depp. She went on to accuse Depp of being "a f**king baby" for "b**ching about" the apparent violence, saying that her attitude was "the difference between me and you."
"You are such a f**king baby, grow the f**k up, Johnny!" Heard said, before admitting that she "did start a physical fight" in response to a question from Depp.
Also on Wednesday, Depp took the stand for a second straight day and testified about a fight where Heard allegedly threw a large bottle of vodka at him, resulting in injuries that included the severing of part of his fingertip.
Heard has disputed the claim, saying that Depp cut his fingertip himself while being intoxicated for three straight days. She also alleged that Depp hit her, choked her and sexually assaulted her during the fight in question.
During Depp's first day of testimony on Tuesday, he accused Heard of "physical abuse" that was "constant," as well as the "bullying" of himself and others.
Heard first accused her ex-husband of domestic abuse and violence during the couple's divorce proceedings in 2016. She is currently countersuing Depp for $100 million.
Heard's attorneys accused Depp of becoming a "monster" while abusing drugs and alcohol during the trial's opening statements, arguing that the actor was "delusional" and "paranoid."
Depp previously lost a U.K. libel suit against a British tabloid that described him as a "wife-beater" based on Heard's accusations.
Newsweek reached out to Depp's attorney Benjamin Chew for comment. Attorneys for Heard told Newsweek that they would not comment on the case while the trial is ongoing.