Johnny Depp Details Gory Fingertip Incident, Said He Lied to Protect Heard
Actor Johnny Depp recalled gory details from the night his finger was severed during his second day on the stand in his defamation trial against his ex-wife Amber Heard, claiming that he had previously lied about the events of the evening to protect the actress.
On Wednesday, Depp testified that Heard threw a large bottle of vodka at him during a fight, resulting in him cutting off his fingertip.
"She threw the large bottle and it made contact [with the bar] and shattered everywhere. I honestly didn't feel the pain at first," Depp said. "I felt heat, and I felt as if something were dripping down my hand and then I looked down and realized the tip of my finger had been severed and I was looking directly at my bone sticking out."
"I don't know what a nervous breakdown feels like, but that's probably the closest I've ever been," the actor added. "I knew in my mind and my heart, this is not life. This is not life. No one should have to go through it."
Depp is suing Heard for $50 million, alleging that she defamed him with an op-ed in The Washington Post in which she insinuated she was a victim of domestic abuse. While Heard did not name Depp in the article, he claims that any reasonable reader would know she was referring to him.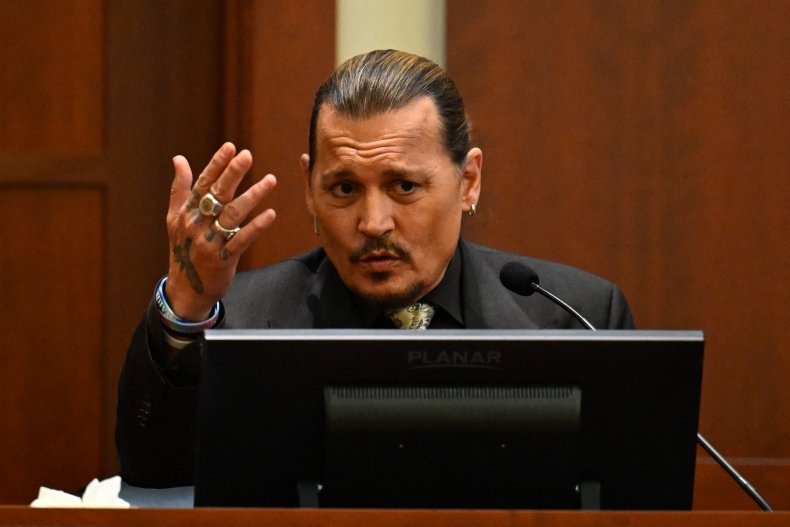 In court on Wednesday, Depp described writing on the walls with his own blood before calling his doctor.
When asked what he told the medical professionals had happened, Depp said, "I lied to him. I said that I had smashed it in these large accordion doors," adding that he lied because he didn't want to disclose that Heard was the one who allegedly caused the injury.
"I didn't want to get her in trouble. I tried to just keep things as copacetic and as easy as possible for everyone," he said in the Virginia courtroom. "I did not want to put her name in that mix."
Two days earlier, jurors heard testimony from Depp's private doctor and nurse about hunting for his fingertip in a house in Australia where the couple had been staying while Depp was filming the fifth installment of the Pirates of the Caribbean franchise.
Nurse Debbie Lloyd said a house manager found Depp's finger "in the kitchen area" and brought it to the emergency room where the actor was undergoing reconstructive surgery on his finger.
Heard has disputed those claims, saying that Depp cut his fingertip himself as part of a three-day bender that he was on. She alleged that during that particular fight, Depp hit her, choked her and sexually assaulted her.
In the lawsuit, Depp has alleged that it was Heard who was the perpetuator of domestic abuse in their relationship.
Specialists from the Rape, Abuse, and Incest National Network (RAINN) sexual assault hotline are available 24/7 via phone (1 (800) 656-4673) and online chat. Additional support from the group is also accessible via the mobile app.