Video clips of Johnny Depp alleging during a court testimony that his ex-wife, Amber Heard, defecated on their marital bed have gone viral on social media.
Pirates of the Caribbean star Depp, 58, has filed a $50 million lawsuit against Heard, 35, alleging that she defamed him in an opinion piece published by The Washington Post in 2018. Heard has countersued for $100 million.
Testifying in a Fairfax, Virginia, courthouse on Wednesday, Depp said that after he and Heard had an argument at her birthday party back in April 2016, he expressed a desire to retrieve his belongings from their home while she was at the Coachella festival. However, he said, his security guard, Sean Bett, advised against it.
"I had received some news," the screen star said. "I was shown a picture of what the problem was.
"I had gone to Mr. Bett and said, 'She's at Coachella. I think it's a good time to go downtown so that I can get some of my things and get them out of there,' especially things that were precious to me...
"And he said, 'I don't think now's a good time to go.' And I thought, 'It's the perfect time. She's not going to be home for two days.'
"Then he showed me a photograph on his telephone of... it was a photograph of our bed, and on my side of the bed, was human fecal matter."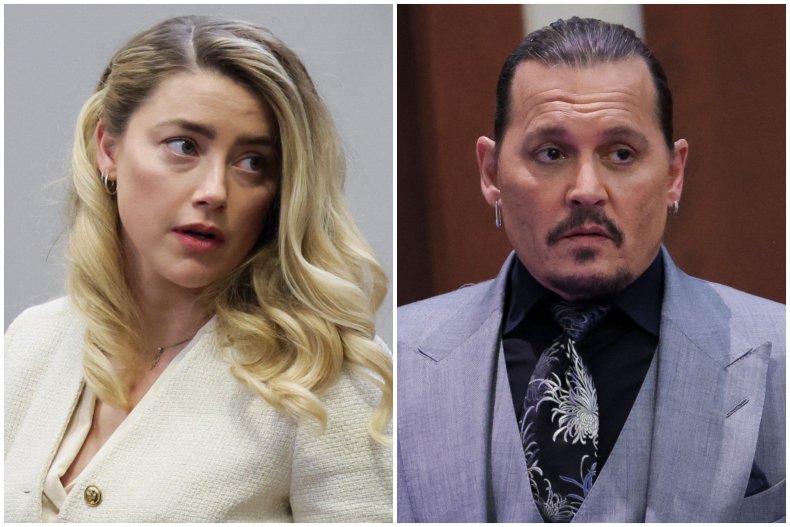 "I understood why it wasn't a good time to go down there," he continued. "My initial response to that was, I mean... I laughed. It was so outside. It was so bizarre and so grotesque that I could only laugh. So I did not go down there that day."
Depp testified that when he broached the subject of divorce with Heard soon afterward—and allegedly informed her that he wouldn't cite irreconcilable differences nor his claims of violence—the actress mentioned the feces on the bed.
The actor appeared to contain his laughter as he went on to allege that Aquaman star Heard "tried to blame it on the dogs."
When he was asked why he didn't believe the dogs were at fault, Depp responded: "They're teacup Yorkies. They weigh about 4 pounds each. The photograph that I saw—I lived with those dogs for many years. It was not the dogs... I didn't feel like I deserved that kind of treatment."
Clips of Depp have since been shared across social media, with "Amber Turd" and "#MePoo" trending on Twitter in the hours that followed the actor's testimony.
The latest trial, which started earlier this month, comes less than two years after Depp lost a 2020 libel case against British tabloid The Sun, which had labeled the actor a "wife-beater" in reference to Heard's allegations of domestic abuse.
Depp had also accused Heard of defecating on their bed when he testified during that trial, stating at the time: "I thought that was an oddly fitting end to the relationship."
Heard accused Depp of domestic abuse during their divorce proceedings in 2016. The stars, who wed in 2015, had their union officially dissolved in January 2017, months after Heard filed for divorce from Depp.
While Depp had repeatedly denied ever having been violent to Heard during the three-week trial in London, the overseeing judge found that the U.K. publication's claims that the actor was abusive to Heard were "substantially true."
The fallout soon followed for Depp, who was "asked to resign" from Fantastic Beasts 3, in which he was set to reprise his role as Gellert Grindelwald. He was subsequently replaced by Mads Mikkelsen.
During their latest courtroom showdown, Depp again denied that he ever struck Heard, or any other woman. He has, instead, alleged that Heard physically attacked him during their ill-fated marriage.
Depp is suing Heard on account of her 2018 op-ed, in which she stated that she had been the victim of domestic violence. While Heard didn't directly name Depp, the actor said that it was clear he was the one being referred to in the article. The trial is taking place in Fairfax due to its proximity to the Post's headquarters.