Fan Theories of Amber Heard Copying Johnny Depp's Court Outfits Go Viral
Johnny Depp and Amber Heard's tumultuous marriage is back in the spotlight as the former couple are in court for a multimillion-dollar defamation trial and fan theories surrounding the couple's clothing in recent days have gone viral.
The Pirates of the Caribbean actor took to the stand on Tuesday while testifying in court in Fairfax, Virginia.
The actor is suing his ex-wife for defamation over an op-ed she wrote about domestic violence in The Washington Post in 2018. While Depp was not named in the article, his attorneys argue that Heard's implication is obvious.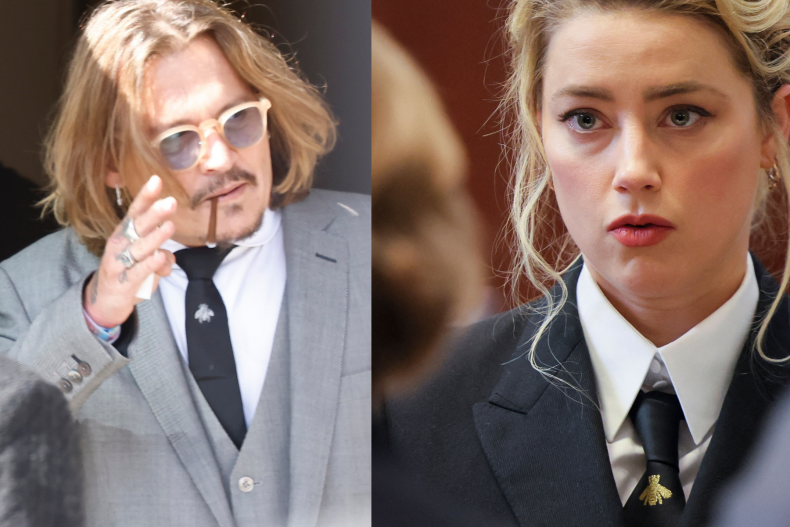 Heard is countersuing for $100 million for nuisance, with her legal team set to argue that the op-ed was a matter of public interest and she should therefore be protected from a defamation suit.
For this trial, Heard has worn a series of menswear suits with some viewers speculating that she is copying her former husband's sartorial choices.
On April 13, Heard wore a fitted, double-breasted blazer and necktie combo to court. The tie featured a small embroidered bee on the front.
Bizarrely, Depp wore the exact same Gucci tie featuring the small embroidered bee previously, on the first day of the trial.
Others pointed out that Heard donned a grey suit and black shirt combo, also previously worn by Depp.
One TikTok user, @saraliannex, pointed out the similarities in a video that has garnered 8.2 million views and a further 1.3 million likes.
Meanwhile, another creator on the platform, @delloliod, went into more detail about the bee necktie and said in a video: "Johnny wore a Gucci bee and then Amber wore a Gucci bee the very next day."
The user goes on to then say that Heard wore her hair in a ponytail the day after Depp wore his hair in a ponytail to court.
Several people have pointed out the similarities in Depp and Heard's outfits on Twitter also.
"Amber Heard is so scared of Johnny Depp that she keeps copying him. Last week after JD wore a bee tie she wore the same one. Yesterday JD had his hair tied into a ponytail and guess who showed up with a ponytail today," reads one tweet.
While another added: "Depp's tie Day 1. Heard's tie Day 3. True it's not body language, but I find this super creepy."
Another person tweeted: "So... Amber Heard showed up to court copying Johnny Depp's (distinctive) tie from the previous day's session. That honestly gave me chills. Deep in my gut."
Newsweek has reached out to Depp and Heard's representatives for comment.
While testifying in Virginia's Fairfax County Circuit Court on Tuesday, the actor said that the allegations were false and that he had never been physically violent towards women.
"Nothing of the kind had ever happened," Depp told the jury. "Though [in] the relationship there were arguments and things of that nature...but never did I, myself, reach the point of striking Miss Heard in any way. Nor have I ever struck any woman in my life."
"I am obsessed with the truth," he continued. "Today is...actually the first opportunity that I've been able to speak about this case in full."
Depp went on to testify that his former wife had instead subjected him to "physical abuse" that was "constant." He also accused Heard of "bullying" himself and others.
"There was quite a lot of verbal abuse, there was quite a lot of name-calling," said Depp. "Bullying. You know, making fun of whatever defect one might have...My brother wore glasses, so of course, he was 'four eyes.'"
During opening statements in the defamation trial, attorneys for Heard accused Depp of becoming a "monster" while abusing drugs and alcohol. Depp was described as "delusional" and "paranoid."
"Amber made a mistake millions before her and millions after who are victims of domestic abuse—she chose to stay," attorney Elaine Bredehoft told the jury. "She thought she could fix him. We're going to ask you...to hold Mr. Depp responsible. Enough is enough."