Amber Heard's Lawyers Vow to Expose 'Real Johnny Depp' in Opening Statement
The opening statements in the Johnny Depp-Amber Heard trial were heard in the courthouse in Fairfax, Virginia on Tuesday, with claims of physical abuse and "paranoid" and "delusional" behavior.
The Pirates of the Caribbean star is suing his ex-wife for $50 million over an essay she wrote about domestic abuse published in The Washington Post in 2018.
Heard, meanwhile, is countersuing for $100 million for nuisance.
In the article, Heard claimed that she was a victim of domestic abuse. While she didn't name Depp, his legal team argues it is clear that she was referring to her ex-husband, which led to him losing out on work.
The article was titled: "I spoke up against sexual violence—and faced our culture's wrath. That has to change."
Depp famously lost a defamation case in the U.K. against the British tabloid The Sun in 2020 over allegations of domestic violence against Heard.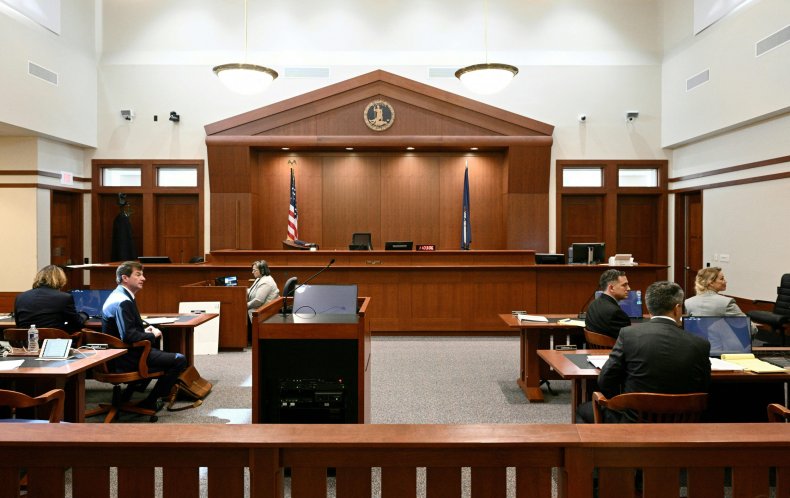 The actor repeatedly denied ever having been violent to Heard and the two gave evidence during the earlier trial where claims of brutal violence and intimate details of their tumultuous relationship were made public.
This time around, things are set to get ugly again.
Christi Dembrowski, Depp's older sister, was the first witness to take the stand in the trial.
In their opening statements, Depp's legal team argued that Heard is a liar and that she claimed to be a victim of domestic abuse to elevate her profile and career.
"Today, Johnny Depp's name is associated with a lie [that he abused Heard]," said his lawyer, Benjamin Chew.
"The evidence will show that the clear implication in Ms. Heard's op-ed that you have in front of you was that she was the victim of domestic abuse perpetrated by Mr. Depp. The evidence will show that that was a lie and it remains a lie when it was repeated and republished two years later," the attorney told the jury.
"Hollywood studios don't want to deal with the public backlash from hiring someone accused of abuse, even someone with an incredible body of work that Mr. Depp can be proud of. A false allegation can devastate a career," Chew continued in his opening statement.
"By choosing to lie about her husband for her own personal benefit, (Heard) forever changed Mr. Depp's life and reputation. You will hear him tell you the dreadful influence it had on his life."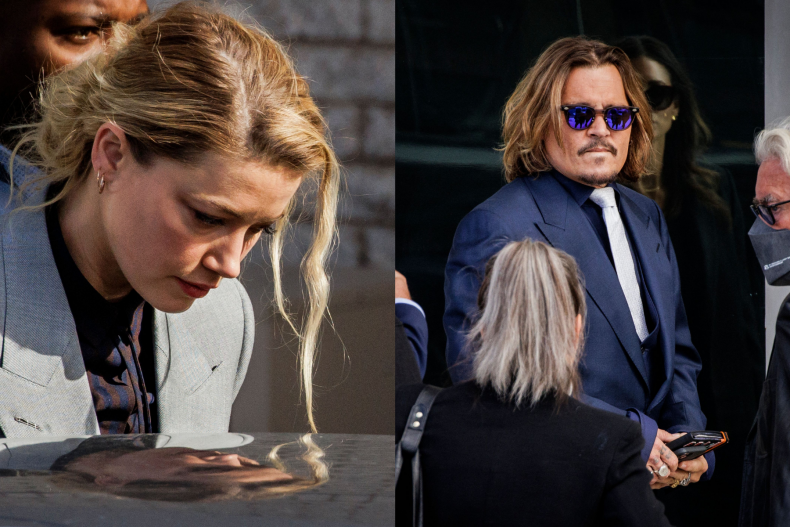 His co-counsel, Camille Vasquez, added: "You're going to learn that [Heard] is a profoundly troubled person who manipulated people around her, like she manipulated Mr. Depp.
Vasquez told the jury that Heard had taken the "role of a lifetime" in accusing Depp of domestic violence and now she can't back down from her allegations.
"[Depp] will go to his grave knowing there are people out there in the world who believe he abused a woman," Vasquez said. "We will ask you to tell the world that he is not the abuser that she described."
Heard's attorneys meanwhile predicted a "spectacle" trial about the most private details of the couple's 15-month marriage and vowed to expose the "real Johnny Depp" to the world.
"You're going to see who the real Johnny Depp is. Behind the red carpets, behind the fame, behind the money, behind the pirate costumes, you're going to see who that man really is," Heard's lawyer Benjamin Rottenborn promised.
"I am sorry Amber will have to relive it, but that is the case Depp chose to bring, and we're not going to stand by and let them sling mud and make inflated, false statements," Rottenborn said.
Regarding Heard's Washington Post op-ed, Rottenborn said that the actress writing about domestic abuse was a matter of public interest.
"You have to look at the words in the context of the piece—context matters," Rottenborn said. "The words she wrote are true...She drew on her experiences as someone who reported domestic abuse and there is no dispute she did in fact report this in 2016...This article is about the social change she is advocating and which the First Amendment protects."
Rottenborn's co-counsel Elaine Bredehoft's opening statement reflected on the 2020 trial against The Sun.
Bredehoft spoke about Depp's "crushing" drug and alcohol abuse and said he would become a "monster" when he was under the influence of substances.
The attorney described Depp as "delusional" and "paranoid," claiming that he would drink and take drugs before allegedly "assaulting" Heard on various occasions.
"He came off the sofa, got on his knees and started crying, 'I thought I had put the monster away for good,'" Bredehoft said. "Amber made a mistake millions before her and millions after who are victims of domestic abuse—she chose to stay. She thought she could fix him."
"We're going to ask you... to hold Mr. Depp responsible. Enough is enough," Bredehoft said.
Following Heard's attorneys' opening statements, representatives for Depp called the claims of violence "fictitious" and said they "were never made at the onset of Amber's allegations in 2016, and only advantageously surfaced years later once she was sued for defamation after noting in her op-ed that she was a victim of 'sexual violence.'"
"Words are key in a defamation case and conveniently, this allegation only came after that," a spokesperson said. "This follows a pattern of her elaborate, erroneous claims which have continued to change and evolve over time for the purpose of Hollywood shock value of which Amber has mastered and used to exploit a serious social movement."