Amber Heard 'Still Wants' Johnny Depp In Her Life, Claims Psychologist
Amber Heard "still wants" to have ex-husband Johnny Depp in her life, and is using her new TV interview to get his attention, a psychologist has claimed.
Heard, 36, recently sat with Today's Savannah Guthrie for a bombshell interview, with previews of the upcoming NBC News special showing that she has doubled down on her allegations that Depp, 59, abused her during their relationship.
Depp has consistently denied the allegations.
The interview comes after Depp sued her over a 2018 op-ed in The Washington Post, in which she said that she was a domestic abuse survivor. While Heard didn't name Depp in the article, his lawyers argued it was clear she was referring to the actor.
Following a six-week trial, the jury on June 1 awarded Depp $10 million in compensatory damages and $5 million in punitive damages.
The judge adjusted the punitive damages to $350,000, as Virginia law limits the value of punitive damages available.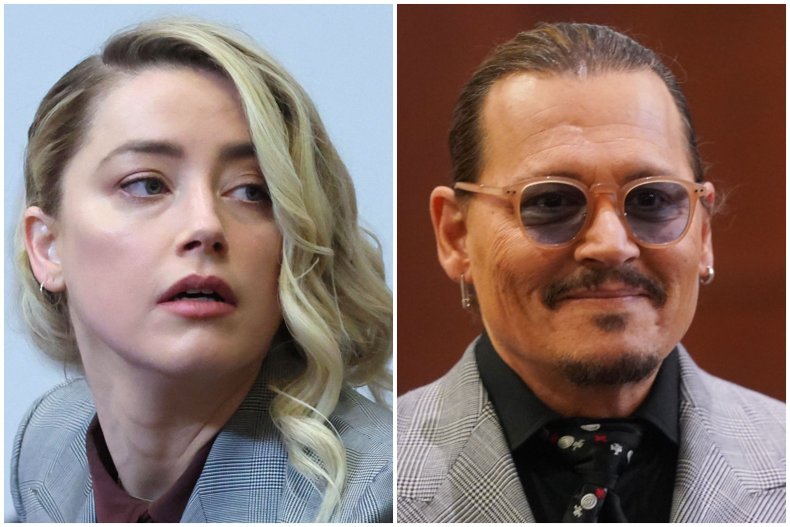 Heard, who had countersued for $100 million, was awarded $2 million by the jury, which found that Depp's former attorney, Adam Waldman, had made defamatory comments about the Aquaman star.
Reacting to the excerpts of the interview that have been broadcast ahead of its full airing on Friday, psychologist and podcaster Cooper Lawrence shared her belief that the op-ed and sit-down with Guthrie are a part of Heard's efforts to be remain in Depp's life.
Newsweek has contacted a representative of Heard for comment.
Making an appearance on Australian morning show Sunrise on Tuesday, Lawrence opined on Heard's "whole purpose behind this," saying: "Remember, they had divorced in 2017, things were over. She said, 'I want him to move on, I want to move on.'
"But then she wrote this article and she's been poking the bear ever since, because she still wants him in her life—even if it's in a negative way. And here she is again. It's not healthy. They do have a toxic relationship and she clearly wants to continue it."
However, Lawrence believes that those alleged intentions are not reciprocated on Depp's part, adding later: "I think he wants to have nothing to do with her. She's trying to get his attention. I don't think it's going to work this time."
Following much of her emotional testimony about the abuse Heard alleged she endured at the hands of the Edward Scissorhands star, she was criticized by a wave of detractors who accused her of acting during her time on the stand.
"Says the lawyer for the man who convinced the world he had scissors for fingers? I'm the performer?" Heard shot back when asked by Guthrie about the accusations. "I had listened to weeks of testimony insinuating or saying quite directly that I'm a terrible actress, so I'm a bit confused how I could be both."
Lawrence addressed that portion of the Heard's interview during her appearance on Sunrise, calling the screen star's comments "confusing," as she added: "It's like she can't get her own story straight that she memorized for this interview when she's not even under oath."
"I mean, the thing is, we know that Johnny Depp doesn't have fingers that are scissors," Lawrence continued of the Pirates of the Caribbean star. "We also don't think he was once a real pirate.
"The whole thing was really odd and really weird, and I'm trying to figure out what her intention is here, because it's not doing her any good. Social media is having a field day with her once again—and that's what she's trying to avoid."
With Depp having already successfully sued Heard for the allegations she had made against him, Lawrence added that the Texas native is opening herself up to another lawsuit from her former husband.
"She's getting herself in trouble here," Lawrence explained, "because she's coming out and saying they had a trial, the jury found that she did defame him and yet here she is defaming him again."
Ultimately, Lawrence believes Heard has likely made things worse for herself due to statements made about Depp in the interview—her first since the conclusion of her high-profile trial.
"The narrative isn't, 'Listen, I want to be seen as a good person here and I want my career back,'" Lawrence said of Heard's interview. "Instead, she's coming up with the same things that she said before that were already proven lies."
Describing Heard's narrative as being "all over the place," Lawrence continued: "I was kind of looking for her to be more likable and to be more honest here, and say all of the things we'd been hoping she'd say all along, which she does for like two seconds. But then she goes right back to her whole, 'Johnny's an abuser, he's a liar,' etcetera, etcetera. So it's weird."