Milani Cosmetics is the latest target of the fury of Amber Heard's supporters after they called for the company to apologize to the actress.
During the recent defamation trial between Heard and her ex-husband Johnny Depp, Milani Cosmetics posted a TiKTok video that went viral, seemingly contradicting testimony presented by Heard's legal team. Attorney Elaine Bredehoft had suggested Heard used a certain product by Milani Cosmetics to cover bruises caused by Depp, but Milani said that the product she presented during the trial wasn't in existence until a year after the pair divorced.
The campaigning Twitter account @LeaveHeardAlone created a thorough thread that explained how Milani Cosmetics overstepped the line during the trial, called for people to "boycott" the brand, and asked for them to apologize.
"Debunking the Milani Cosmetics Myth,the post begins. "Why we think Milani Cosmetics Should be Held Accountable."
@LeaveHeardAlone went through the stages of the case chronologically, recalling the first moment Bredehoft help up a "Milani Cosmetics conceal + perfect color correction palette" in the Fairfax County, Virginia, courtroom on April 12, 2022. She presented it during her opening arguments stating "this is what Amber Heard carried in her purse for her entire relationship with Johnny Depp."
Nine days later, Milani posted its TikTok video, which has now been viewed over 5 million times, claiming it had "debunked" Bredehoft's "evidence." It stated that the product Heard's attorney presented was not on the U.S. market during the couple's relationship.
"But there was nothing to debunk, because the Milani Palette was just a piece of demonstrative evidence," @LeaveHeardAlone wrote.
They went on to explain that demonstrative evidence should not be considered "hard" evidence and that the item held by Bredehoft was simply used as a prop to help remind the jury of what the lawyer's arguments were.
The same Milani Palette returned during the case as Heard gave her testimony. This time Heard made it clear that the item was "not the exact palette that she used." The Twitter user stated that this makes it clear that Milani Cosmetics "jumped the gun" in accusing Heard of lying as they "didn't understand the use of a courtroom prop."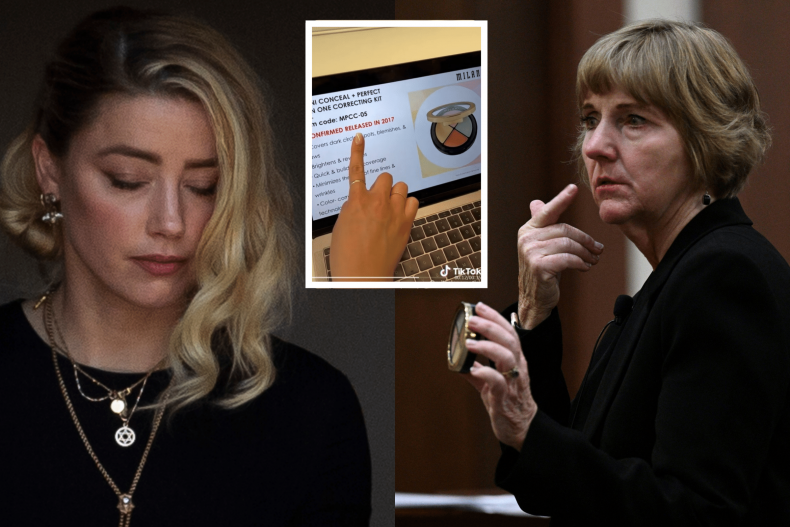 "Milani inserted themselves into a trial which concerned domestic violence & mocked Amber Heard." @LeaveHeardAlone wrote, "They should apologize for their mistake and take some responsibility."
The multi-tweet thread caused mass discussion between Heard and Depp supporters in the comments section, as many posts have before it.
"So essentially Elaine (an experience lawyer) made an error here by not stating this was a prop," @EstelleKiernan suggested. "Why hold Milani cosmetics accountable instead of Amber Heard?" asked another user.
On August 3, the Milani Cosmetics brand Twitter account was "ratio'd" online after it promoted its new "Viral" lipstick. Writer and activist Roslyn Talusan tweeted, "fyi, you're getting ratio'd because you enabled an abuser's smear campaign," while sharing a tweet relating to the salacious "unsealed documents."
"Amber Heard didn't even mention your brand and yet you chose to humiliate a victim of abuse on the world stage like it was some sick joke." @IvanaE received thousands of likes for her criticism of Milani and continued, "You were the first domino. She deserves an apology."
@NotExactlyEqual shared mocked up images of "honestly titled Milani products" which was a reference to the brand's involvement in the case.
Though the Depp and Heard defamation trial ended on June 1, with the jury largely siding with Depp, more details from the case have emerged since unsealed documents were released at the end of July. The documents revealed information that was banned from being included as part of the trial. They included details of Depp's erectile dysfunction, personal texts between Depp and friends, and Heard's refusal of millions of dollars in the divorce settlement.
Newsweek has reached out to Milani Cosmetics and representatives of Heard and Depp for further comment.