Amber Heard Refused to Claim 'Pirates' Money in Divorce—Unsealed Documents
Information emerging from unsealed documents, previously not seen during the Johnny Depp and Amber Heard trial, suggests Heard could have claimed millions of dollars more from Depp in her divorce settlement but chose not to.
The newly released documents revealed a number of details which were prevented from being mentioned during the recent defamation trial, which Depp ultimately won in Fairfax Country, Virginia. The unsealed documents have shed new light on Depp's severed finger, revealed personal messages between Depp and Marilyn Manson, and suggested that Depp's team wanted to use nude photos of Heard as evidence.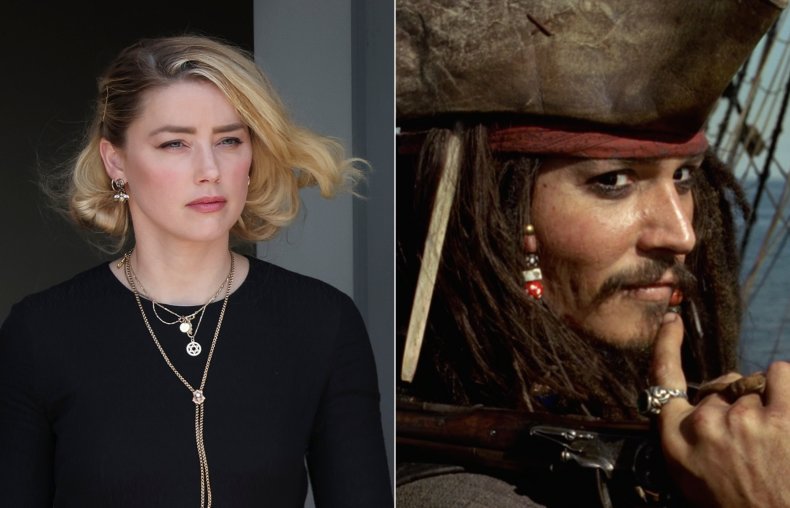 The documents also revealed that when Heard and Depp were going through divorce proceedings in 2016, she had the opportunity to claim half of Depp's income from his latest Pirates of the Caribbean movie.
Since Pirates of the Caribbean: Dead Men Tell No Tales was filmed while Heard and Depp were still married, she could have sought half of Depp's income that he made for the movie as it was considered a "community property asset." For the fourth Pirates movie, Depp made $33 million, so it was understood that Depp could have earned just as much for the fifth movie.
According to The Daily Beast, the court documents show that during their divorce proceedings, Heard's lawyers said she could be due "tens of millions of dollars" and "begged" Heard to reconsider her decision to walk away.
Heard's lawyers reportedly told her over email that she was being "amazingly true to your word, that this is not about the money." However, the judge in the defamation trial rejected the inclusion of this information, as was all evidence relating to their divorce proceedings.
The news of Heard's refusal to seek the fortune during the trial comes as reports emerge that she's set to sell her $1.05 million home in Yucca Valley, California — according to the Daily Mail.
During the trial, Depp's team questioned Heard's previous promise that she would donate her $7 million divorce settlement to charity. A famous exchange between Heard and Depp's attorney Camille Vasquez concluded with Heard admitting she had only "pledged" to pay the money, and the full payment had not been made.
On June 1, 2022 Depp won his defamation suit against Heard on three counts of defamation, while Heard proved Depp was liable for one count of defamation. In July both sides launched an appeal against the judge's decision.
Vasquez expressed in an interview that Depp's decision to file his own appeal was "never about the money."
The unsealed documents went viral online after they were summarized and shared online by @cocainecross with tens of thousands of Twitter users interacting with the multi-tweet thread.
Heard and Depp have yet to address the unsealed documents publicly.
Newsweek has reached out to representatives of both parties for additional comment.