Thousands of leaked documents have revealed additional information which was kept secret during the recent Johnny Depp and Amber Heard trial.
The unsealed documents revealed that Depp's team wanted to introduce evidence in that case that Heard previously worked as an "exotic dancer" years before she met Depp.
He's also been accused of trying to use "revenge porn" in the case by using nude pictures of Heard as evidence.
Depp sued Heard for defamation over a 2018 op-ed she wrote stating that she was the survivor of domestic abuse. After a seven-week trial in Fairfax County, Virginia, the jury sided with Depp and found Heard guilty on three counts of defamation, but Heard's team are currently appealing the verdict.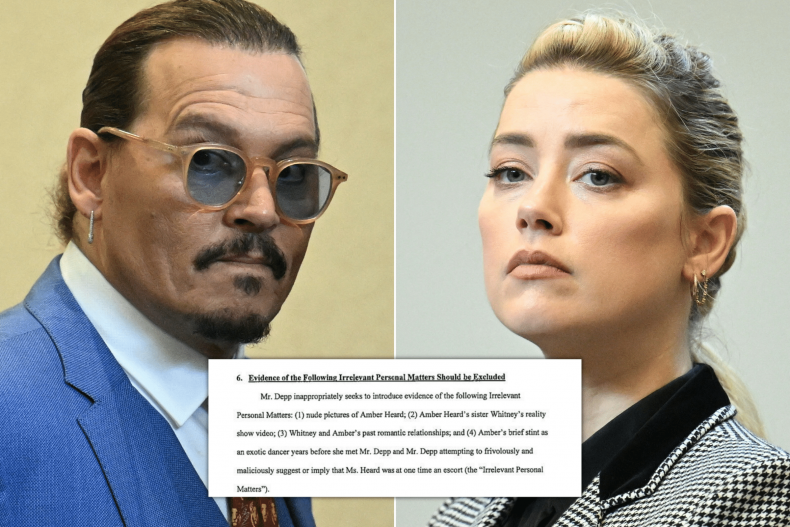 More than 6,000 pages of court documents were unsealed over the weekend.
Texts and emails sent between Depp and Marilyn Manson were included, as well as unedited audio recordings between Depp and Heard.
One of the major revelations was a document which highlighted material Depp and his legal team tried to introduce as evidence against Heard.
"Evidence of the Following Irrelevant Personal Matters Should be Excluded," the section in the documents reads.
It then lists four matters: nude pictures of Heard, Heard's sister Whitney's reality show video, the sister's past romantic relationships, and finally, Heard's "brief stint as an exotic dancer years before she met Mr. Depp and Mr. Depp attempting to frivolously and maliciously suggest or imply that Ms. Heard was at one time an escort."
A thorough Twitter thread posted by @cocainecross summarized many facts revealed within in the now-unsealed documents.
They class Depp's team's intention to use the nude images and suggestion that she was a stripper as "revenge p*rn" as they knew the "trial would be televised."
"There is no shame, but his intention was to shame her," @dianasouzands wrote. "Arrest this man and all the members of his legal team!!!" wrote @Jo88817.
Sex and culture critic Ella Dawson retweeted the extract from @cocainecross' thread and called the revelations "harrowing."
Hundreds of others retweeted the same part and criticized Depp, though there were others who pointed out that the section is missing vital context which vindicates Depp in this instance.
@Godlesswh_re criticized the use of nude photos and linked it to her own personal experience. "Thanks for contributing to rape culture," she wrote.
While some commenters damned Depp for reportedly trying to bring up this part of Heard's past, others defended the move and its relevancy to the case.
"Nude pictures were to counter false claims of injury," argued @TypicalDeviant, while @1BenP said it proves that Heard was "lying about being a stripper. Strippers usually naked. No shame in what legal work one does."
Many in the comment section claimed there was key context missing in the snippet that @cocainecross shared.
The documents show that Depp and his team did not "currently anticipate introducing evidence" relating to the four aforementioned matters. The passage continued, "Mr. Depp reserves the right to use such materials to the extent that they become necessary on rebuttal."
"Can one of you swerf losers explain what Amber Heard being a stripper has to do with the case?" asked @bimbomarxistt. Explaining the context, @roaringrapids22 stated that "Mr. Depp in texts, referencing her as a stripper weren't inaccurate or derogatory. Just fact."
In an expletive filled text, sent by Depp to talent agent Christian Carino in August 2016, he referred to Heard as a "50 cent stripper."
Tens of thousands of people liked, commented and retweeted the extensive thread by @cocainecross which exposed a number of details which Depp "tried to keep private" in their opinion.
The emergence of the unsealed documents led Depp and Heard to start trending once again, almost two months after the verdict was given in the trial. The two actors were widely discussed across Twitter and Reddit with thousands of people once again weighing in.
Heard and Depp have yet to address the unsealed documents publicly.
Newsweek has reached out to representatives of both parties for additional comment.