Marilyn Manson Fans Target Evan Rachel Wood In Echo of Depp-Heard Trial
Johnny Depp's defamation trial against Amber Heard dominated the social media landscape during its six-week run, leading to a boom of self-styled sleuths sharing video clips, photos and articles that supported the actor.
With the trial now concluded, a number of social media accounts that saw an explosion in followers through sharing a barrage of anti-Heard content have taken aim at Evan Rachel Wood, amid her legal battle with Depp's friend Marilyn Manson.
Wood, 34, has been sued by former fiancé Manson, 53, after publicly alleging that she was subjected to domestic abuse at the hands of the shock rocker during their relationship.
On March 3, the legal team representing Manson, real name Brian Warner, announced that a defamation lawsuit had been filed against Wood and "her on-again, off-again romantic partner" Ashley "Illma" Gore in the Los Angeles Superior Court.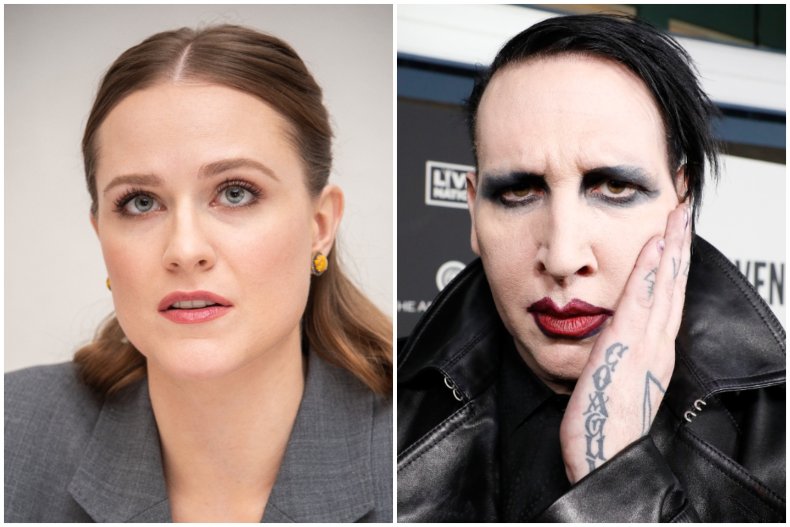 Manson's attorney Howard King told Newsweek at the time: "This detailed complaint has been filed to stop a campaign of malicious and unjustified attacks on Brian Warner.
"Years after the end of Evan Rachel Wood's long-term relationship with Warner, she and her girlfriend Illma Gore recruited numerous women and convinced them to make false allegations against him—claims that Wood and Gore scripted for them."
With another celebrity legal battle set to likely dominate headlines, the social media landscape is already seeing a rise in opinion-based coverage on the case across various platforms—much like what occurred during Depp and Heard's trial.
Depp, 58, had filed a $50 million defamation lawsuit against his ex-wife Heard, 36, over a 2019 op-ed for The Washington Post, in which she stated that she was a public figure representing domestic abuse.
Following a televised trial that concluded in late May, the jury on June 1 ruled largely in Depp's favor, awarding him $10 million in compensatory damages and $5 million in punitive damages (the latter of which was adjusted to $350,000, per Virginia law limits).
Heard, who had countersued for $100 million for nuisance, was awarded $2 million in compensatory damages by the jury.
Throughout the trial, Heard was the focus of countless negative posts on Twitter, Instagram, YouTube, and TikTok—the latter of which Depp joined post-trial.
It would appear that Wood is now on the cusp of receiving similar attention online, with posts on the aforementioned platforms springing up over the past several days.
Giving a taste of the flavor of some of the posts thus far, one 41-minute video was shared to YouTube on May 31 titled: "An Amber Heard Sequel? The Hoax Against Marilyn Manson is Amber Heard Vs Johnny Depp On Steroids!"
Staying in the same anti-Wood arena, another was shared on May 27—the day the Depp vs. Heard trial concluded ahead of deliberations—titled "Evan Rachel Wood's 'Victim' Recruitment + Parallels Between the Marilyn Manson & Johnny Depp Cases."
Like many of the other videos and posts that have started to flood the platform, doubt has been poured all over Wood's allegations.
TikTok videos have also been shared, with such hashtags as "#Hoax," "#AmberHeard 2.0" and "#MenToo" populating the space in reference to Wood's allegations against Manson.
Reacting to an article about the effect the Depp-Heard verdict may have on Manson and Wood's legal battle, one Manson fan wrote on Twitter: "They're already panicking another famous woman may be exposed as a liar...
"And they have good reason to. The world will soon see that Evan Rachel Wood is Amber Heard 2.0. #JohnnyDeppGotJustice #DeppVsHeard #IStandWithMarilynManson #MarilynMansonIsInnocent."
A number of women, including Wood and fellow actress Esme Bianco, are pursuing legal action against the musician amid allegations of abuse. Manson, who has not been criminally charged, has denied the allegations.
In her HBO documentary Phoenix Rising, Wood accused Manson of grooming her as a teen and subjecting her to domestic abuse during their relationship.
Wood first publicly named Manson, whose real name is Brian Warner, as her alleged abuser in a post on Instagram on February 1, 2021, in which she said Manson had "horrifically abused [her] for years" and said she was "brainwashed and manipulated" by him.
On the same day that Wood named Manson publicly, four other women also came forward and accused the musician of sexual and physical violence, as well as mental, physical and emotional abuse.
As reported by Rolling Stone, at least 16 women have now come forward to make allegations against Manson.
Late last month, a Los Angeles judge dismissed a lawsuit filed by Manson's former assistant Ashley Walters, who had initially sued the musician in May 2021 alleging sexual harassment, abuse, sexual battery, intentional infliction of emotional distress and wrongful termination in May 2021, per court documents.
Los Angeles Superior Court Judge Michael L. Stern stated "plaintiff has plead too few facts too keep this case in court, and too late." The case was dismissed with prejudice, preventing Walters from suing her former employer again over the same allegations.
Walters' attorney Tanya Sukhija-Cohen had claimed in court that her client, who worked for Manson between 2010 and 2011, "couldn't exercise her claims because she was unaware they occurred until the memories came back," as she attended a support group meeting with other women who have accused Manson of abusing them.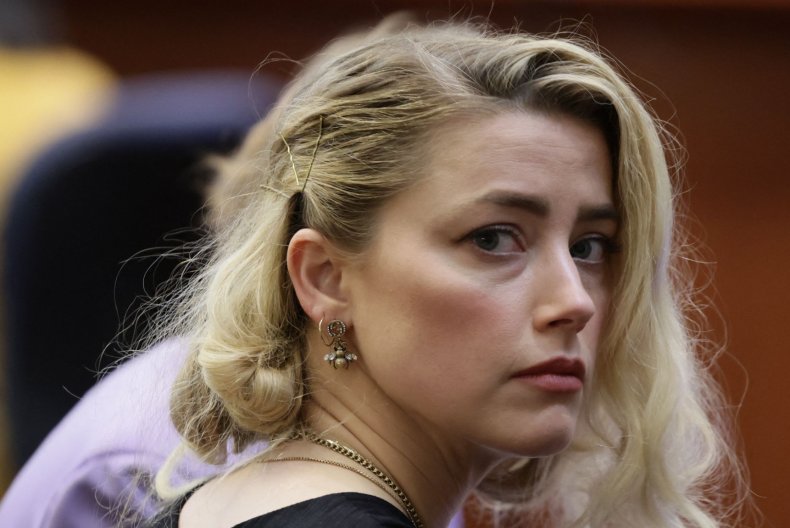 It was also reported last month that Manson is unlikely to see any charges stemming from sexual assault allegations made against him in a separate case.
Per TMZ, officers in the Los Angeles Police Department are set to submit their findings to the Los Angeles County District Attorney's Office.
While the decision lies in the hands of the District Attorney's Office, investigators have reportedly indicated that charges are not likely, save for new evidence emerging.
Phoenix Rising sees Wood share details of this alleged abuse, which includes her claiming that Manson had raped her on camera while they filmed the music video for his song "Heart-Shaped Glasses" in 2007.
Manson has vehemently denied all allegations made against him and has launched a defamation lawsuit against Wood over the documentary.
Wood and Manson first met when she was 18 and he was 37, and their relationship became public in 2007. They became engaged in 2010, but broke up shortly thereafter.
In 2018, Wood first spoke about the alleged abuse she experienced when testifying in front of U.S. Congress during a hearing of the House Judiciary Subcommittee on Crime with fellow activists, though she did not name Warner at the time.
She then testified in April 2019 in front of the California Senate Public Safety Committee to pass The Phoenix Act, a bill that called for the statute of limitations for sexual assault survivors to be extended from two to four years to 10 years.
On February 2, 2021, a day after Wood publicly named him as her alleged abuser, Manson shared a statement on social media in which he said: "Obviously, my art and my life have long been magnets for controversy, but these recent claims about me are horrible distortions of reality.
"My intimate relationships have always been entirely consensual with like-minded partners. Regardless of how—and why—others are now choosing to misrepresent the past, that is the truth."
Manson's legal representatives have also released a statement, which is shown in Phoenix Rising, that says: "Mr. Warner vehemently denies any and all claims of sexual assault or abuse of anyone.
"These lurid claims against my client have three things in common—they are all false, alleged to have taken place more than a decade ago, and part of a coordinated attack by former partners and associates of Mr. Warner who have weaponized the otherwise mundane details of his personal life and their consensual relationships into fabricated horror stories."
Manson recently made headlines when Depp said during testimony in his trial that he had taken recreational drugs with the musician.
Update 6/9/22, 08:30 a.m. EDT: This article was updated to include further information on the cases Manson has faced.