A former lover of Marilyn Manson has claimed she was approached by his accusers as part of what his lawyer calls an alleged conspiracy to defame the singer, who is battling several sexual assault lawsuits and allegations of abuse.
The musician has launched a robust defense against these allegations of sexual abuse made against him by his ex Evan Rachel Wood and is now suing the Westworld actress for a "campaign of malicious and unjustified attacks" she allegedly orchestrated to take him down.
The shock rocker—real name Brian Warner—has, in a new lawsuit, accused Wood, along with her "on-again, off-again" partner Ashley "Illma" Gore, of defaming him as "a rapist and abuser—a malicious falsehood that has derailed Warner's successful music, TV, and film career."
The singer alleges that Wood and Gore "provided checklists and scripts to prospective accusers, listing the specific alleged acts of abuse that they should claim against Warner."
Newsweek has reached out to representatives for Wood and contacted Gore for comment.
One woman, who confirmed she had a sexual encounter with the musician in 2011, has said that she was approached by Gore on behalf of Wood to be recruited into this alleged group of accusers.
The woman, who goes by the stage name Greta Aurora, is mentioned in the lawsuit of another of Manson's accusers, Ashley Walters, his former assistant who is suing him for sexual assault, battery and harassment.
Aurora told Newsweek she met Manson in Vienna, Austria, in January 2011, where Manson was attending an art exhibit. Manson was 42-years-old at the time, while Aurora was 19.
"I had a brief sexual relationship with Marilyn Manson in January 2011 while he was visiting Vienna, Austria," Aurora said.
"His personal assistant Ashley Walters, who is one of the women suing him, was there with him, and I spent some time talking to her. She asked me to put my number in her phone at one point, so she could text me later that day to let me know when they were going to be back at the hotel where we were staying.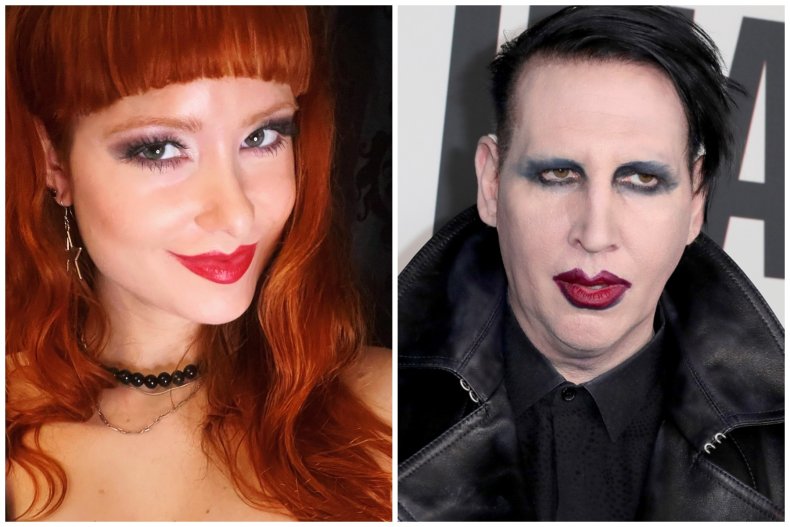 "I believe it was Ashley who passed my details on to Illma Gore. I'm even referred to in Ashley Walters's lawsuit as the sole example of his 'degradation of his female fans.' This is a lie. I wasn't degraded or disrespected in any way."
Aurora, a model and poet based in England, is cited as an (unnamed) victim of Manson in lines 67 and 68 of Walters' lawsuit against the musician.
Aurora has disputed Walters' account in the lawsuit and believes that Walters is the one who gave Gore her contact info in 2020.
Newsweek has attempted to contact Walters for comment.
Evan Rachel Wood created the nonprofit The Phoenix Act to help survivors of abuse in California and Aurora said she was contacted by Gore on behalf of this initiative on two occasions and believes that she was being recruited into an alleged accusers group formed to defame Manson.
"Illma Gore contacted me on two occasions (first in October 2020 and second in January 2021) in an attempt to get me to attend the Zoom meetings they were organizing at the time to coordinate their allegations against Marilyn Manson," Aurora said.
"She used her closeness to Evan Rachel Wood as a bait to get me involved, but I didn't really know who any of these women were at the time, so I ignored the emails. I've attached the screenshots."
In a screenshot of an email seen by Newsweek, Aurora is contacted by Gore and invited to a "meet-up" where a group of people will "talk about experiences they had similar to yours."
Manson is not named in either email shared and Gore tells Aurora that she would not be obligated to speak if she were to attend.
In court documents (seen by Newsweek) for the lawsuit against Wood, Manson's legal team wrote that Gore and Wood "provided checklists and scripts to prospective accusers, listing the specific alleged acts of abuse that they should claim against Warner."
Aurora offered no such "script" to Newsweek but Manson's lawyer provided what he says is a script that Gore gave to women who made accusations against Warner.
The image provided by Manson's lawyer to Newsweek is a photo of a sheet of paper with handwritten statements like "He texted me saying he could rape me" and "I woke up tied up being raped" written on it.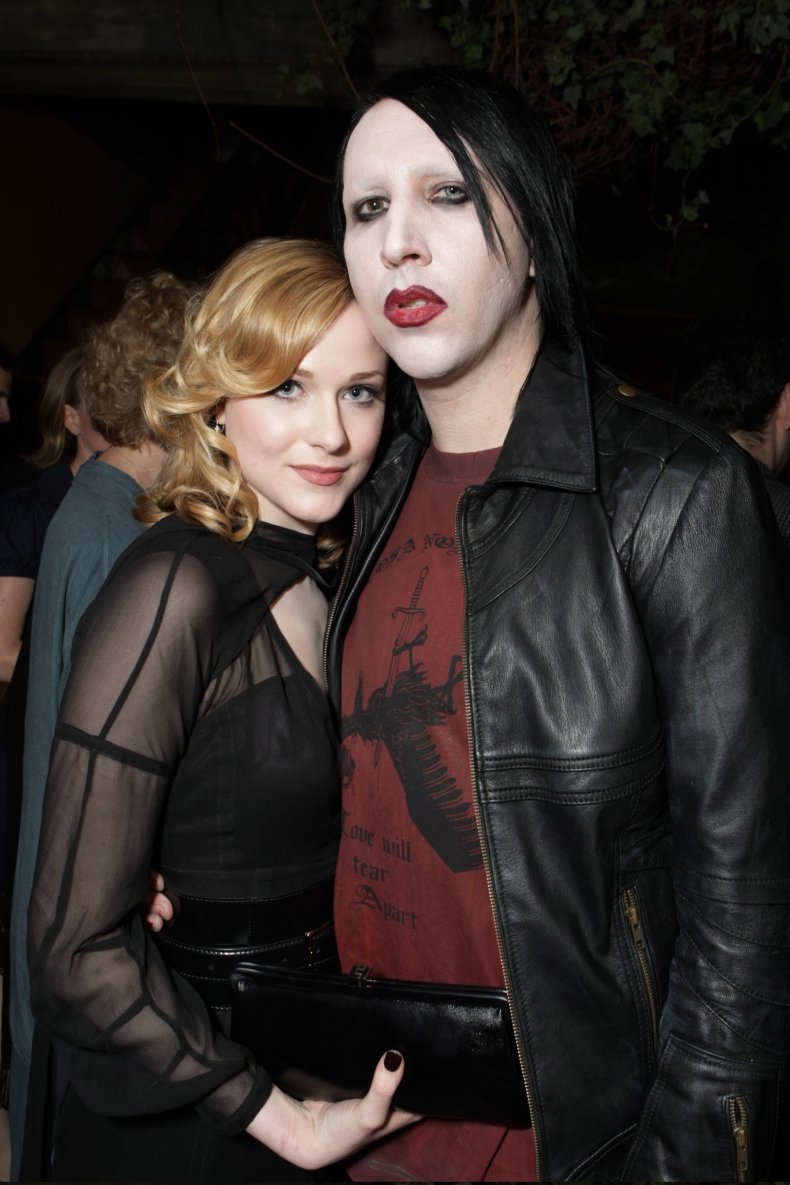 Aurora went on to say that Manson was "extremely nice" towards her and that she "willingly chose to lose [her] virginity to him."
"He could've done to me anything he wanted to. I'm originally from Hungary, and I didn't speak very good English at the time, let alone German. Naive and young, I would've been the ideal victim for someone with predatory tendencies," she said in an email to Newsweek.
She added: "Yet, he treated me with utmost respect and asked me if I was feeling okay regularly. He always wanted me to confirm I was okay with any intimate acts (which I initiated most of the time). It was all consensual and enjoyable. He also made sure I always had something to eat."
On Wednesday, March 3, Manson's legal team announced that a lawsuit had been filed against Wood for defamation in the Los Angeles Superior Court.
"This detailed complaint has been filed to stop a campaign of malicious and unjustified attacks on Brian Warner. Years after the end of Evan Rachel Wood's long-term relationship with Warner, she and her girlfriend Illma Gore recruited numerous women and convinced them to make false allegations against him—claims that Wood and Gore scripted for them," Manson's attorney Howard King told Newsweek.
The lawsuit comes as Wood and Gore are due to appear in a new documentary this month called Phoenix Rising about the actress' life and career that also includes her allegations against Manson.
King added that Wood and Gore "illegally forged a letter impersonating an actual FBI agent and falsely claiming that she was conducting a criminal investigation of Warner" and that they allegedly used that "fabricated FBI letter not only to convince others to join their crusade but also to dupe HBO" into distributing the documentary.
Manson's legal team has called the documentary "one-sided" and "premised on the existence of an entirely fictitious federal investigation."
"Even though HBO and the producers have been made aware of these serious acts of misconduct, they have thus far chosen to proceed without regard for the facts," said King. "But the evidence of wrongdoing by Wood and Gore is irrefutable—and this legal action will hold them to account."
Newsweek has contacted HBO for comment.