Evan Rachel Wood and More Allege Abuse From Marilyn Manson: What We Know About the Accusations
Evan Rachel Wood has accused her ex, rock star Marilyn Manson, of committing "horrifying abuse" against her for years. The 33-year-old actor shared her allegations in an Instagram post on Monday, writing, "I am here to expose this dangerous man and call out the many industries that have enabled him, before he ruins any more lives."
Wood previously detailed alleged abuses from a former partner when appearing in court in 2018, in front of a House Judiciary Subcommittee; she was testifying as part of a campaign to see the Sexual Assault Survivors' Bill of Rights passed in all 50 U.S. states. However, Monday's post marked the first time that she named her former fiancé—Marilyn Manson, born Brian Warner—as the alleged culprit.
The public accusation against Manson has led to four other women coming forward with their own accusations against the controversial musician. Their allegations include rape, sexual assault, brainwashing and manipulation. Read details of their accounts below.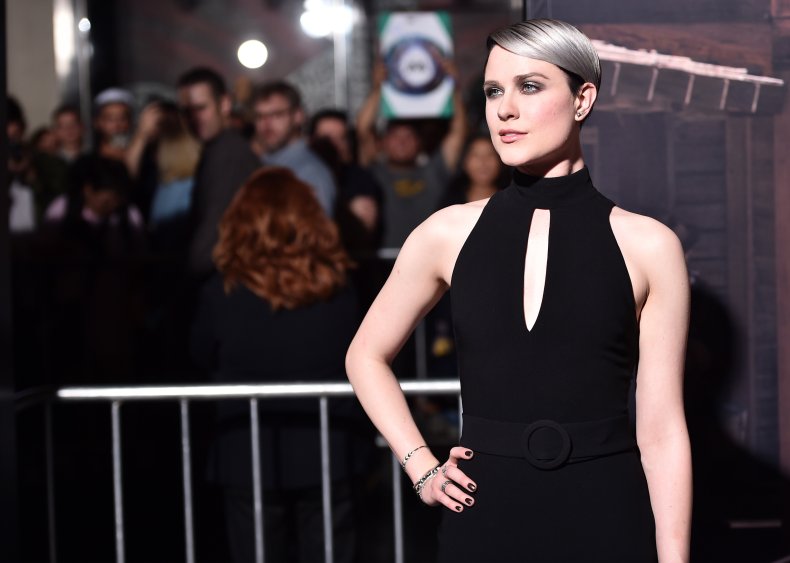 Evan Rachel Wood
In an Instagram post on Monday, Woods claimed that Manson "started grooming me when I was a teenager and horrifically abused me for years."
"I was brainwashed and manipulated into submission. I am done living in fear of retaliation, slander, or blackmail," she wrote. "I stand with the many victims who will no longer be silent."
Wood first met Manson when she was 18 years old and the two began a romantic relationship by 2007, when she was 19. He was 36 at the time, and freshly out of his marriage with the model and burlesque dancer Dita Von Teese. Although Wood and Manson briefly broke up in 2009, the couple were engaged in 2010. However, several months after they entered into the engagement, they completely ended their relationship.
As mentioned above, Wood opened up about the abuse she allegedly suffered while in her relationship with Manson when speaking before a House Judiciary Subcommittee in 2018.
"My experience with domestic violence was this: toxic mental, physical and sexual abuse which started slow but escalated over time, including threats against my life, severe gaslighting and brainwashing, waking up to the man that claimed to love me raping what he believed to be my unconscious body," she said during the hearing.
Following Wood's testimony, rumors circulated that Manson was her alleged abuser, given how the details she described seemed to overlap with the time that the two were together. However, Manson's reps have strongly denied the speculation.
In 2020, Manson made headlines when he abruptly hung up on an interviewer from Metal Magazine who asked the singer what he thought about Wood's 2018 testimony and who questioned a quote that Manson gave to SPIN in 2009, in which the singer claimed that he had "fantasies every day about smashing her skull with a sledgehammer." Manson's reps responded to the Metal Magazine article with a statement claiming that the comments to SPIN were "obviously a theatrical rock star interview promoting a new record and not a factual account. The fact that Evan and Manson got engaged six months after this interview would indicate that no one took this story literally."
Wood's reps told Newsweek that she has no further comments at this time.
Ashley Walters
Shortly after Wood's named Manson as her alleged abuser, another woman—Ashley Walters, a photographer—shared her own account of alleged abuse from Manson. In an Instagram post, Walters wrote that Manson first contacted her on social media in 2010. According to her statement, after the two became close personally and she eventually started working as his personal assistant, she "soon became a victim of his psychological abuse."
Walters wrote that she witnessed "horrifying, deranged behavior" from Manson. "He was extremely interested in mind control, torture tactics [ie: different sound frequencies that would shift your mood, or make you nauseous], and spy devices to gather information for blackmailing and manipulation."
Later in the post, Walters accused Manson of isolating her from friends and family, not allowing her to sleep some nights and also throwing "items including glass plates and heavy objects" at her. She shared that while their professional relationship eventually ended, she continues to suffer from PTSD and deals with depression because of Manson's alleged behavior.
Sarah McNeilly
Model Sarah McNeilly wrote in an Instagram post on Monday that Manson "lured" her in with "love bombing." She alleged that at some point, though, his "perfect boyfriend" act dissipated. McNeilly wrote that she felt that she was being "tortured" when they were together.
Elsewhere in the post, McNeilly accused Manson of locking her in rooms when she was "bad" and forcing her to listen to his interactions with other women. She also alleged that Manson kept her from certain friends, and that he controlled her social circle. And in addition to verbal abuse, McNeilly claimed that Mason was also physically abusive toward her.
"I was thrown up against a wall and he threatened to bash my face in with the baseball bat he was holding, for trying to get him to pick out a pair of paints prior to a music video," McNeilly wrote.
She added that she also deals with PTSD, and speculated that Manson "gets off on ruining people's lives. I stand in support of all that have and will come forward. I want to see [Manson] held accountable for his evil."
Ashley Lindsay Morgan
Another model, Ashley Lindsay Morgan, wrote on her Instagram on Monday that she first came in contact with Manson when she was modeling in Thailand in 2010. She claimed that he "seemed intelligent, authentic and caring" at first. But, she wrote, once she moved in with Manson, "things turned dark very quickly." Morgan alleged that she suffered "abuse, sexual violence, physical violence and coercion" during their relationship.
"He would throw me out of the house in next to no clothing if I fell asleep at 3 am. I wasn't allowed to eat, or sleep, or leave. I was awoken with loud music if I fell asleep. He made me feel like him cutting me, burning me, his fist in my mouth was 'our thing,'" she wrote.
Morgan, who is Jewish, also alleged that Manson asked her to bring him Nazi memorabilia from Thailand. "I brought him swastika throwing stars, knives, rings, it felt so wrong because I am jewish," she wrote. "I brought him all of this horrible stuff, and feel so much guilt and shame because of it."
At the end of her post, Morgan alleged that Manson is engaging in similarly abusive behavior with other people. "I know he is still doing this to a rotating door of young girls, and causing irreparable damage. I am coming forward so he will finally stop."
Gabriella
An artist—only known as Gabriella—also accused Manson of "love bombing" and then abusing her. In an Instagram post, the woman said she was 22 when she met Manson backstage at a concert in 2015. He was 46 at the time. She alleged that, during their initial meeting, Manson invited her onto his tour bus and offered her cocaine before telling her to "take off all my clothes and take a shower in front of him."
Gabriella claimed that when she met Manson a second time, he "broke a wine glass in the hotel room and demanded we make a blood pact together. He cut both of our hands with the broken glass." She also accused Manson of later tying her up and raping her while they were touring Europe together, and of taking naked photos of her while she was asleep and sharing them with his friends. There are numerous other allegations, which can be read via the Instagram post above.
To close her statement, Gabriella wrote, "I blocked out a lot of the memories, but the feelings remain and manifest in various ways. The reason I'm finally sharing this traumatic experience is for my healing and because I'm done being silent. I don't believe it's fair for someone to not be held accountable for their horrific actions. I'm not a victim. I'm a survivor."
Newsweek has reached out to Manson's reps for comment, but did not hear back in time for publication.