Amber Heard Met Elon Musk After Johnny Depp Stood Her Up at Met Gala
Amber Heard has revealed during her court testimony how she met Elon Musk at the 2016 Met Gala after Johnny Depp stood her up.
The Depp v. Heard trial continued on Monday after taking a week-long hiatus. Heard returned to the stand to face questioning and give her own testimony against her ex-husband. The pair are embroiled in a $50 million defamation lawsuit because of a 2018 op-ed Heard wrote stating she is a survivor of domestic abuse.
Musk's name has been mentioned several times during the current trial, as Heard went on to date the South African businessman for a year after her divorce from Depp. In Monday's testimony, she told the jury how her husband's absence from the Met Gala led to her meeting the billionaire owner of Tesla. Heard and Musk started dating a month after her divorce from Depp in 2017 but they broke up for good in February 2018.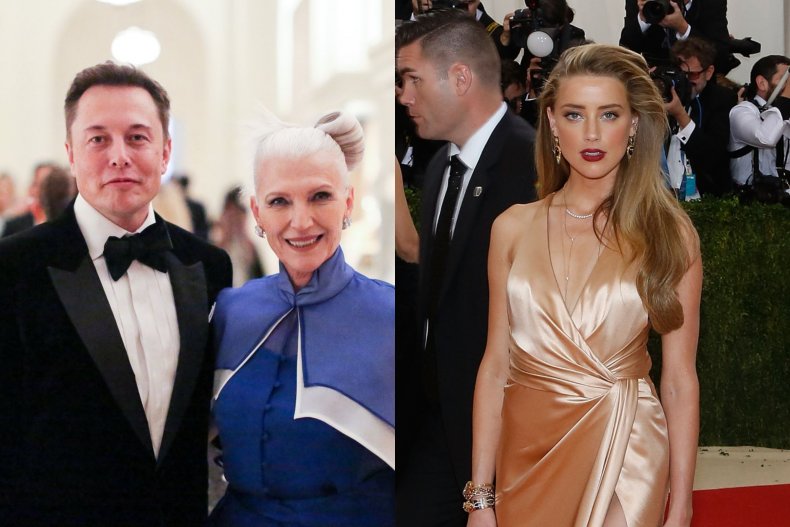 Heard and Depp were due to attend together as guests of Ralph Lauren, but after Depp missed the fitting, Heard was left not knowing if Depp would make the actual event. "I didn't have a phone at the time because I couldn't get it reinstated after Johnny threw it out of the window," Heard told the Fairfax County courtroom in Virginia.
"No one would talk to me on his team. No one would tell me. I didn't know. So I ended up going by myself. Frankly I wasn't sure if he'd show up on the carpet or if he'd show up at the hotel before. I had no way of knowing," she said.
Heard then recalled the moment she attended the ceremony on her own. "I got out of the car and walked the red carpet by myself escorted by someone on Ralph Lauren's team and I sat next to an empty place setting for Johnny that they cleared as soon as we realized he wasn't... he effectively stood me up on the red carpet."
Questioned by her own attorney, Heard was asked who she met at the Met Gala that night. "I was standing in line right in front of a gentleman. It was Elon [Musk]. I didn't recognize him until we started talking. And he reminded me that we had met once before. He was with his mother." Musk has attended the Met Gala with his mother Maye Musk several times.
Heard described how this chance encounter helped them develop a relationship. "He seemed like a real gentleman, he was really nice. He sat next to me, he sat kind of in a nearby table and we got to speaking that night and then eventually became friends," Heard said.
Heard was also asked if he was the "high-profile male" who visited her Los Angeles home on May 9, 2016. She claimed she was in London at that time.
It is unclear when exactly the two had met previously as Heard mentioned but social media users quickly began pointing to other times Heard is alleged to have met Musk.
Instagram account @thejdcase shared previous court records suggesting that someone had seen Musk come to Heard's house in 2015. In another post they point out that they are credited as starring in the 2013 movie Machete Kills, however they don't share a scene together.
The Depp v. Heard trial is set to continue throughout May and Newsweek will continue to cover the biggest breaking stories from the Circuit Court in Fairfax County Virginia. Click here to see Newsweek's live blog covering the trial.