Amber Heard Told to 'Stop Playing the Victim' Ahead of NBC Interview
Amber Heard continues to ruffle feathers on social media as people are reacting to the announcement that she has sat down for her first post-trial interview with Savannah Guthrie.
Many were quick to dismiss Heard's upcoming appearance on NBC, with British journalist Piers Morgan calling for Heard to "stop playing the victim."
Heard lost her multi-million defamation case against ex-husband Johnny Depp earlier this month. Depp's team claimed that a 2018 op-ed she wrote which said she was a survivor of domestic violence, resulted in a loss of career earnings.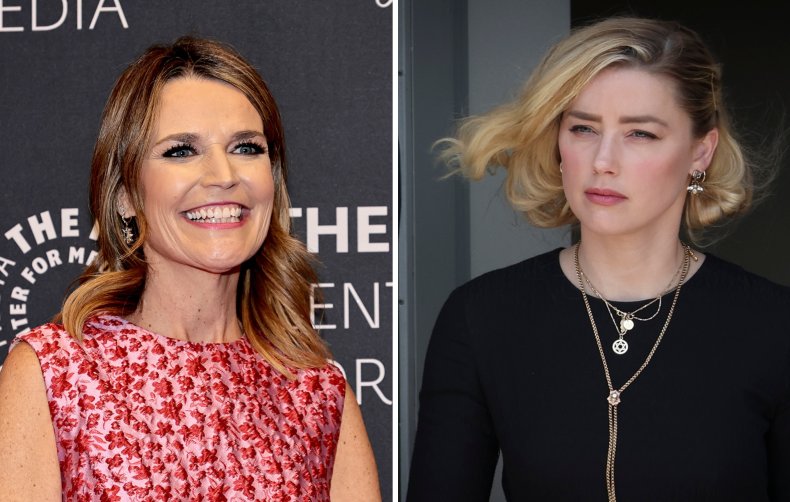 Heard's team has defended the star's decision to do the interview. "Johnny Depp's legal team blanketed the media for days after the verdict with numerous statements and interviews on television, and Depp himself did the same on social media," a spokesperson for Heard told Newsweek. They said Heard intends to respond to what Depp's team "aggressively" did last week during their own interviews.
NBC has released short preview clips from the interview, before the full one-hour-long special airs on Friday on Dateline.
In one of the preview clips, Heard told host Guthrie that she doesn't believe her representation on social media has been fair. Even the brief snippet from the interview got people talking once again.
"The jurors didn't read any of the social media stuff, they listened to the evidence & concluded she was lying," wrote Morgan, retweeting the interview clip. "I suggest it's time for Ms Heard to stop playing the victim."
Actor Greg Ellis, who was vocal throughout the trial with his support for Depp, also called out Heard. "The narcissist craves attention," he said, and added, "The victimology tour continues."
In another clip from Heard's interview with Guthrie, the Aquaman actress says she doesn't blame the jury for reaching their verdict. "I actually understand. He's a beloved character and people feel they know him. He's a fantastic actor," she said about her ex-husband.
"Honestly, this seems insulting to the intelligence of the jurors," wrote Law&Crime Network journalist Angenette Levy on Twitter.
Across Twitter, many people reacted with anger upon seeing what Heard had to see during her interview with Guthrie.
"Amber Heard is never wrong, blames everyone else, insults everyone's intelligence, along with the legal process. Always a victim! She takes ZERO responsibility for any of her abusive actions," wrote vocal Depp supporter @ThatBrianFella on Twitter
Others online called Heard a "sore loser" for her latest interview while another asked her to "please stop gaslighting us all." @Leighd11006917 continued, "Just pay the money, stop lying and move on!"
Guthrie's interview with Heard will air on Tuesday and Wednesday on Today, while the special edition of Dateline will air on NBC at 8 p.m. ET on Friday, June 17, 2022.