America Is Exporting Its Extreme Right Abroad via Social Media, Experts Warn
The battle against far-right extremism will be a significant part of President Joe Biden's domestic agenda. Long on the fringes of American society and politics, far-right extremists were energized and emboldened by former President Donald Trump and his allies, who did little to discourage their rise and at times even helped it.
Biden came to office days after a right-wing mob stormed the U.S. Capitol, sending lawmakers running for their lives and horrifying those who still considered the American political system—for all its obvious faults—the pinnacle of democracy.
Since 9/11, far-right extremism has played second fiddle to Islamic extremism in the U.S. It was not the priority, even as far-right activists continued organizing, plotting and killing.
Such groups interpreted President Barack Obama as proof that white Americans had their historic hold on the country, and that extreme actions were required to wrest it back.
Trump and allies validated them. The former president repeatedly refused to condemn white supremacists and at times even gave them his veiled approval. At least some of those who stormed the Capitol in January were confident they were doing so with the support of Trump and GOP lawmakers.
Conservatives continue to falsely equate such far-right violence with leftist anti-fascist action, despite clear evidence showing the former is far deadlier and more widespread than the latter.
Far-right extremist groups have used this cover to tie themselves to mainstream conservative lawmakers, groups and ideologies, making it even more difficult to build a bipartisan front against them.
As the old adage goes: "When America sneezes, the world catches a cold." Though usually used in an economic sense, the same is true of the U.S. far-right problem, experts are warning.
The Far-Right Rabbit Hole
Far-right extremism is not new to any country, but extremists across the globe—and particularly in the Anglosphere—are increasingly taking their lead from the U.S.
Recent research by the U.K.-based Sibylline strategic advisory firm warned that prominent American far-right Telegram groups are helping British extremist channels gain subscribers and grow the reach of their radicalizing material.
James Barth, the author of the report and a North America analyst for Sibylline, told Newsweek that the influence of American groups on their fellow ideologies abroad has been "growing pretty massively," especially since the Capitol was stormed on January 6.
"Increasing transatlantic connections are boosting both membership and content for U.S. and European far-right groups," the firm wrote in its report. "This is especially apparent in the U.K. where the common language creates more opportunities to share content and membership."
In one instance, the "Proud Boys: Uncensored" Telegram channel appealed to its 40,000 followers on January 10 to follow "Tommy Robinson News," a far-right British channel inspired by far-right activist and former soccer hooligan Stephen Yaxley-Lennon. The Tommy Robinson channel jumped from 37,781 subscribers on January 9 to 78,741 by January 28.
In another case, the U.S.-based "The Trumpist" channel asked its 281,000 followers to subscribe to the "Britain First" channel on January 27. Though the post was deleted the following day, it still helped Britain First's membership jump from 19,712 on January 26 to 24,712 by January 28.
These shout-outs boosted followers and reach. Sibylline used its Engagement Rate by Research metric to establish the number of people that see posts by certain Telegram groups, and found that the Tommy Robinson and Britain First groups enjoyed a roughly 25 percent jump in visibility after the shout-outs by the American groups.
These are just two examples of the boost American groups are giving similar far-right organizations abroad. Specifically American ideologies are also finding fertile ground abroad, whether the QAnon conspiracy theories or the "Western chauvinism" espoused by groups like the Proud Boys.
Platforms like Telegram—largely uncensored and anonymous—are creating what Barth called a "funnel" effect. Proud Boy channels are "maybe two or three accounts removed from some incredibly white nationalist white supremacist platforms which are by far worse," he said.
"You can easily go down a rabbit hole with Telegram," Barth explained, noting that extremist users can use public groups to identify potential recruits and then approach them through direct messages and guide them into closed, more extreme channels.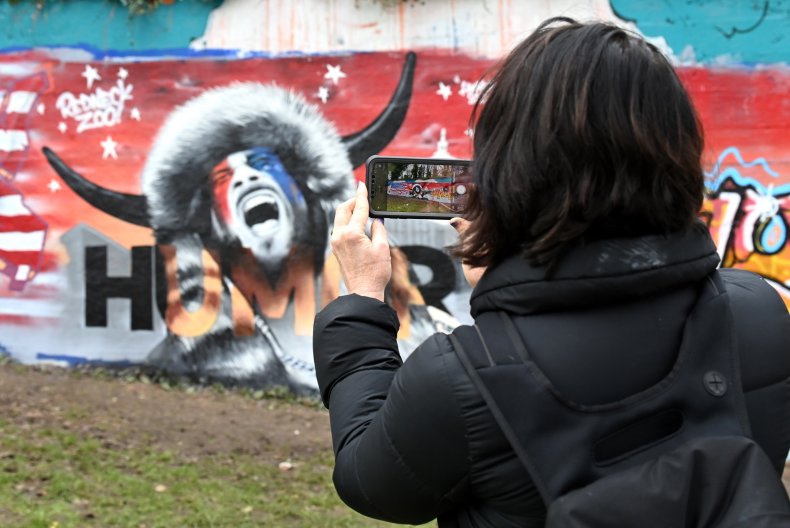 A Modern Threat
Matthew Feldman, the director of the Centre for Analysis of the Radical Right and a professorial fellow at the University of York in the U.K., told Newsweek that social media has created a "historically different" far-right threat, one more capable of leaping across borders and—to an extent—language barriers.
"They're happy to take somebody who's 13, 14, 15 years old, if that person has committed," Feldman said. "The recruitment, the way in which propaganda radicalization happens, those are different."
"Thirty years ago, it was very hard to just stumble across right wing extremism and say, 'Oh, that's compelling.' That is completely different now," Feldman added. "I think that we have to catch up with the fact that right wing extremism is almost like it's built for those things the internet does: global connection, anonymity, permanency."
The 2008 financial crisis left many Americans disaffected and others destitute. The stubborn march of globalization and automation has ripped the manufacturing heart out of many communities, while others have been ravaged by the opioid epidemic. Inequality has ballooned, the gulf between the haves and have-nots has become a battle cry on the left and right.
Trump promised much but delivered little. The coronavirus pandemic has throttled prosperity for many, choking—especially for younger Americans—whatever they managed to squeeze out of 15 years of economic turmoil. Climate change threatens more chaos, and all the while American rivals are growing more influential on the world stage.
The problems that feed right-wing extremism are not going anywhere, even if Trump is out of office. Indeed, as under Obama, living under a Democratic president, a Democratic Senate and a Democratic House of Representatives might push more to extremes.
And while America grapples with its far-right, foreign nations will experience ripple effects. "With U.K. groups and other European groups, say in France, or Spain or Italy, you start to get the motivation and the inspiration from U.S.- based groups," Barth said. "We could see copycat perpetrators."
Right-wing groups have struggled to create a unifying message in recent years. In contrast to Islamic extremists, for example, the calls to action from the far-right have often been localist and sometimes niche.
"Islamic terrorism was so successful because it had such a holistic message to what it is," Barth said. "And it was applicable anywhere in the world—right wing extremism doesn't have that same message just yet."
But that is changing. The far-right is leveraging the globalized nature of the modern world to spread its messaging abroad, playing off shared experiences and shared grievances. There are dozens of Proud Boys and QAnon Telegram groups, for example, scattered across Europe and elsewhere.
The coronavirus pandemic is perhaps the most salient of all. "COVID has become a talking point for all far-right groups everywhere across the world," Barth said. "QAnon is supposedly a U.S. government inside leak. And yet, we're now finding QAnon on channels in Brazil and France, in Israel, in Portugal—all across the world."
"We are seeing a slightly more holistic, right wing extremist message," Barth said.
Feldman added: "This is no longer British or French or American, it's the white race. A global brotherhood with very diverse national chapters."