Michigan Is Front Line of GOP Slide Towards Extremism, Democrats Say
For many lawmakers in Michigan, the storming of the U.S. Capitol came as no surprise. As they watched the far-right mob rampaging through the heart of American democracy, state politicians felt an unsettling déjà vu.
They had already lived through their own version in last April's storming of the Michigan Capitol in Lansing when lawmakers were barricaded inside the chamber as protesters clad with body armor and armed with rifles walked freely around the building.
Then, Michiganders warned that any state capitol could be targeted next unless the temperature of America's political hysteria cooled quickly. Months later, it would happen at the center of federal power.
"I knew what was happening as soon as the Senate went to recess," said state Sen. Erika Geiss, a Democrat, who was watching the January 6 vote count in Washington, D.C. with her husband at home. "Something very perilous was afoot."
Geiss told Newsweek it "reminded me of the chaos of April 30," referring to the Lansing incident orchestrated by right-wing groups infuriated by Democratic Michigan Governor Gretchen Whitmer's coronavirus shutdown orders.
"As reports trickled out that there were members there on January 6, in D.C., who also participated in the siege of the Lansing Capitol, it became very clear that was a trial run."
Now, politicians are warning that the state is again a bellwether for right-wing extremists who are growing more organized and brazen.
This time, their influence is reaching the very heart of state Republican politics as the national GOP grapples with a civil war over its post-President Donald Trump identity.
In recent weeks, Michigan Democrats have raised the alarm about the state's Republican Senate Majority Leader Mike Shirkey, who was recorded claiming the January 6 attack on Congress was a hoax.
Shirkey was forced into what was described as an apology, though he was soon caught on a hot mic reaffirming his belief in the conspiracy theory while on the Senate floor.
Democrats have long been concerned about Shirkey's affiliation with extremists. The senator met with militia leaders last summer and has shared a stage with far-right activists, including one later implicated in the plot to kidnap and kill Whitmer.
Shirkey is also accused of using a charity to funnel $500,000 to an anti-lockdown group, to which the Michigan GOP also contributed $600,000.
Neither Shirkey nor the Michigan GOP responded to multiple Newsweek requests for comment.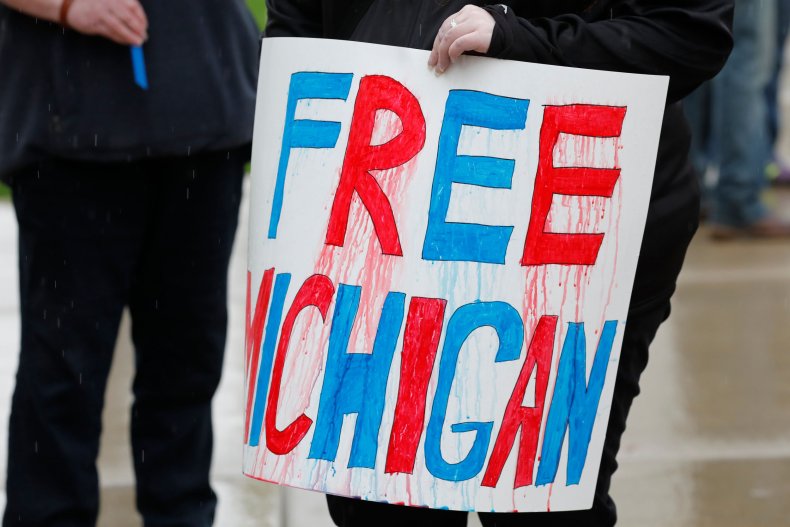 The top Michigan Republican's attempts to absolve the far-right mob of responsibility for the January 6 attack are, several Democratic lawmakers told Newsweek, a worrying premonition of what the rest of the country might soon face.
"I actually thought the apology was even more unsettling," said Karen McDonald, the prosecutor for Michigan's Oakland County.
Conspiracy theories have found fertile ground among voters concerned about government corruption, a lack of representation, and curtailed freedom during the coronavirus pandemic.
But prominent elected officials peddling the same baseless falsehoods in public is a "troubling" trend, McDonald said.
Others are outraged but not surprised. "I am shocked that those words escaped his lips," Geiss said of Shirkey's claims. "However, I am not surprised that he has somehow given himself over to such types of conspiracy thinking and really destructive language."
Michigan House Democratic Leader Rep. Donna Lasinski dismissed Shirkey's apology out of hand.
Shirkey's hot mic moment shows he is "standing by all of the actions that he's taken over the last year, that supported and led to a dress rehearsal here in Michigan for the insurrection at the U.S. Capitol and gave oxygen, fueled the flames of the violence that we saw played out," she said.
"There is no apology because he stands firm in what he said," Lasinski added.
"He stands firm that it was right and appropriate for him to have extremist paramilitary groups in a closed-door meeting in his office where he advised that and how to get their messages across more effectively."
A Deeper Rot
But as in April, the furor swirling around Shirkey points to a deeper problem within the GOP.
Republicans are already at each other's throats in Washington, D.C. over where the party will go next. Shirkey's conduct—and the failure of the state party to do anything about it—show the party could yet be consumed by the conspiracy theories it has fanned.
"We should not and cannot ignore Mike Shirkey," McDonald said, adding: "I just can't imagine how the public will continue to support people like that."
But she and other lawmakers who spoke to Newsweek acknowledged that politicians drifting to extremes are doing so with at least some backing from constituents. Combined with gerrymandering, right-wing extremism may even offer a path to a safe seat.
"Some of the communities he represents don't feel as if he has been extreme enough," McDonald said.
Democrats are calling on their GOP colleagues to speak out against Shirkey's inflammatory behavior. But the party appears to be going the other way.
Earlier this month, the state Republican Party convention elected Meshawn Maddock as its new vice-chair.
Maddock, an organizer of anti-lockdown protests that set the stage for the siege at Lansing and the storming of Capitol on January 6, is the state head of Women for Trump. She protested the electoral result at a Michigan vote-counting site in November.
"I believe that the Republican party here in Michigan has made clear where they stand and what types of actions they are willing to support," Lasinski said.
"Quite frankly, the statements that we've seen from Senator Shirkey, I would expect to come from a leader of a QAnon chat group," she added, describing Shirkey's apparent immunity as "an unacceptable new low."
"It is not enough to denounce the violence itself," Lasinski said. "We have to denounce the actions, the words, the support, the funding that has led to these violent acts. And that is where the Michigan Republicans are falling short."
The state and national GOP are tapping into the same seam of anger and disillusionment that put Trump in the White House, hoping it holds the key to power. But as lawmakers found out on January 6, such fury is not easy to control.
"If you look at Michigan, it really represents what's going on on the national stage," McDonald said.
McDonald would usually expect around 20 to 25 homicides each year in Oakland County; the wealthiest and second-most populous county in the state. This year there were 10 homicides in the first 30 days.
"I think people are feeling the effects of a very unsettling time in our nation, and in our state," McDonald said. "The pandemic has created a lot of hopelessness and isolation. People are suffering."
Her thoughts keep returning to a Michigan man from her county—Michael Joseph Foy—filmed attacking Capitol police officers with a hockey stick on January 6.
"Such rage and anger," she said. "And where is it coming from? I do not think this is as simple as they think the election was stolen."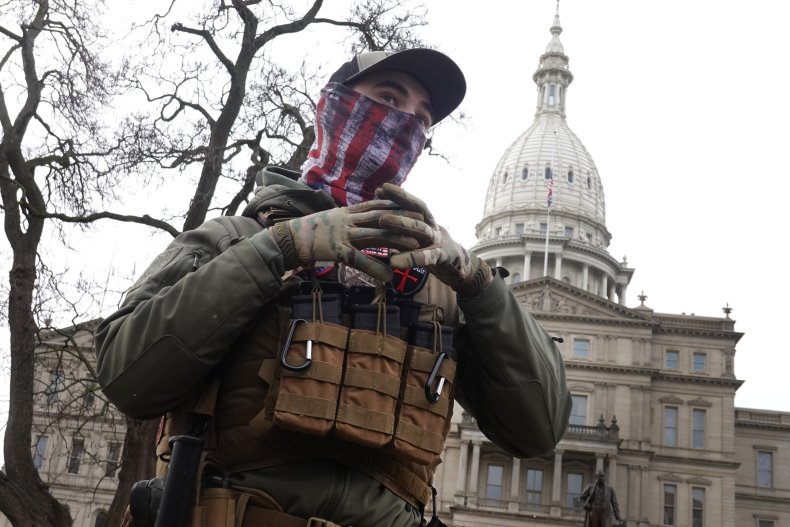 Waiting for an Awakening
Such rage must be handled carefully. Geiss warned that people in high positions of power who lend credence to extremism and fuel conspiracies create a "snowball effect" that "as we've seen is incredibly dangerous—not just figuratively dangerous, but physically and literally dangerous." She noted the Klu Klux Klan as an example.
Matthew Feldman, the director of the Centre for Analysis of the Radical Right and a professorial fellow at the University of York in the U.K., told Newsweek history is littered with conservative parties consumed by the extremists they considered useful allies.
Mainstream right-wing parties unsure of their own ability to win elections are "seduced" by the apparent strength and simplicity of those further to their right, seeing them as "useful allies rather than dangerous demagogues" or extremists.
Fascists and other right-wing movements have never been strong enough to take power alone, Feldman said. At first, it is "always in coalition or partnership with conservatives."
The storming of the two capitols has not so far been enough to jolt Republicans into substantial action.
Even as the body of slain Capitol Police Officer Brian Sicknick lay in state in the building last week, Republicans in Washington, D.C. were strategizing on how to protect Trump in his second impeachment trial.
Lasinski argued that the Michigan GOP is sliding towards extremism for electoral reasons.
"It is only gerrymandered districts that have allowed Republicans to control our capitol," she said. "I think that is fueling some desperation on their part, trying to find their base, and they're doing it in the most violent, reprehensible manner that I can imagine."
America is increasingly awake to right-wing extremism, a danger now recognized by the Department of Homeland Security as the biggest national security threat.
But years of neglecting the problem has allowed far-right ideology to infiltrate sections of conservative politics. Trump might be out of office, but the more extreme forces that helped him get there remain.
Law enforcement was not adequately prepared for April 30 in Lansing or January 6 in Washington, D.C., despite clear evidence that extremists were planning their actions months in advance.
"It has to be taken very seriously when they say they're planning something," Geiss said.
There are already warnings about a planned march in Washington, D.C. on March 4, when QAnon believers still think Trump will be sworn in for a second term.
"I hope the concern is real enough," Geiss said. "Part of their reason for being is creating that fear and terror. So whether something manifests or not, they want that fear, they want to deal with that fear and terror."
As Shirkey and the Michigan GOP push through the outrage and Republicans on The Hill do the same, Lasinski and others across the aisle are asking what it will take to shock them into meaningful action.
"My fear is that it will be an absolutely dramatic, traumatic event that will finally cause that awakening," she said.